15 Essential Items & Equipment for Online Teaching in 2023
When starting any new job, it's normal to worry about what supplies you'll need in order to successfully do your job. Luckily, the equipment for online teaching is pretty straightforward and you won't need a lot of specialized tools or resources.
I've been teaching English online since 2017 and have mastered my online classroom! I've used a lot of different types of equipment for online teaching over the years, with different degrees of success. Now, I know exactly what I need to be the most effective teacher possible.
15 Essential Items & Equipment for Online Teaching
In this post, I'll break down exactly what equipment you'll need for online teaching and how to choose the best supplies and resources. This is based on my more than six years of personal experience as an online teacher.
I'll divide these 15 items into three categories: must-have technology, must-have equipment, and educational resources.
Must-Have Technology for an Online Classroom
If the name didn't give it away, your new job as an online English teacher will involve a bit of technology.
Though there is some variation between companies, you'll definitely need a teaching device such as a laptop or tablet, a headset with a microphone attachment, and a strong internet connection.
Here's a list of the equipment for online teaching when it comes to tech:
1. Laptop or Tablet
For most online ESL companies, having a relatively new desktop or laptop computer will be sufficient for online teaching.
Some companies will allow you to teach from an iPad. Companies such as Palfish even let you teach from your smartphone.
No matter which device you're using, make sure you've updated your operating system. On a laptop or desktop, you'll need to use at least Windows 7 or Mac OS 10.8. You'll also need to make sure you're running the latest version of Flash.
2. HD Camera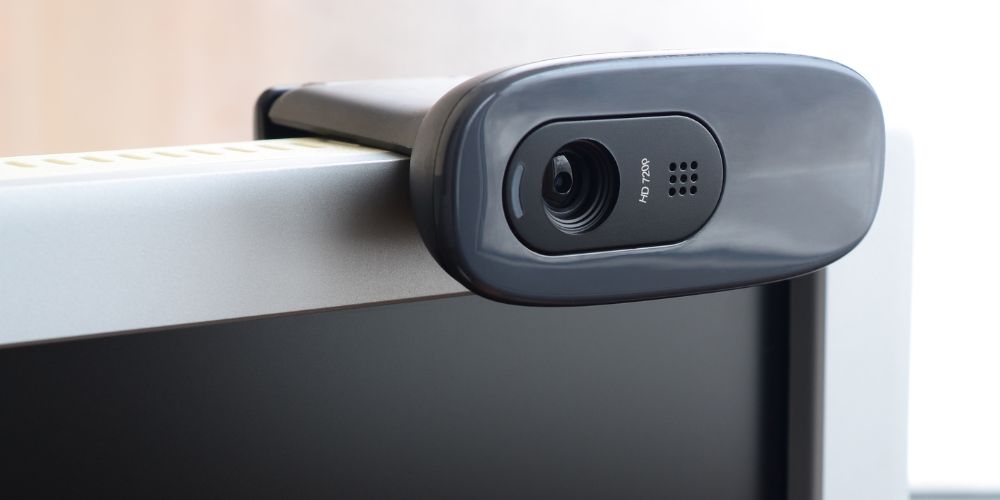 Most modern computers have a built-in HD camera that will work just fine for your online English classes. If you're using an older computer or a desktop without a built-in camera, you'll need to buy an HD external camera so your students can see your face and teaching resources — in focus.
Click here to compare costs and brands of HD cameras on Amazon.
3. Headset with Microphone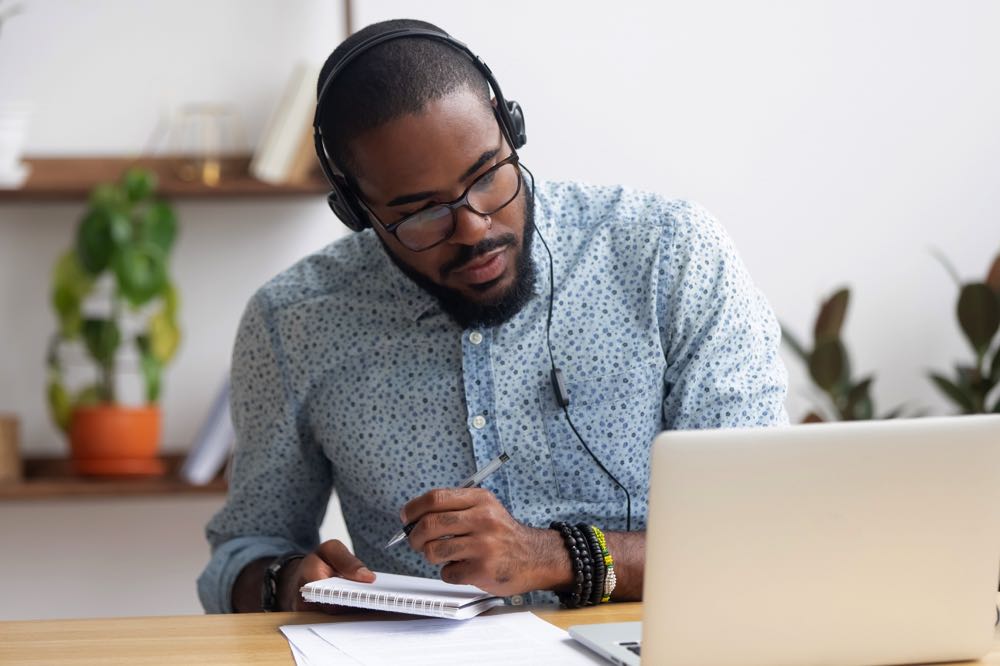 All online teaching jobs will require some kind of headset with a microphone attachment. This is because teaching without one can cause a weird echo sound for you or your students. This is distracting and should be avoided.
Some companies are particular about their teachers using overhead headsets, but other companies are more flexible.
For online teaching, I've used Apple earbuds and a regular headset from time to time. I typically use the regular headset when I'm home and the Apple earbuds while I'm travelling. So far, I haven't had any problems with the sound.
Click here to compare costs and brands of headsets on Amazon.
☞ SEE ALSO: Working as a VIPKID Teacher: An Insider's Review
4. Internet Connection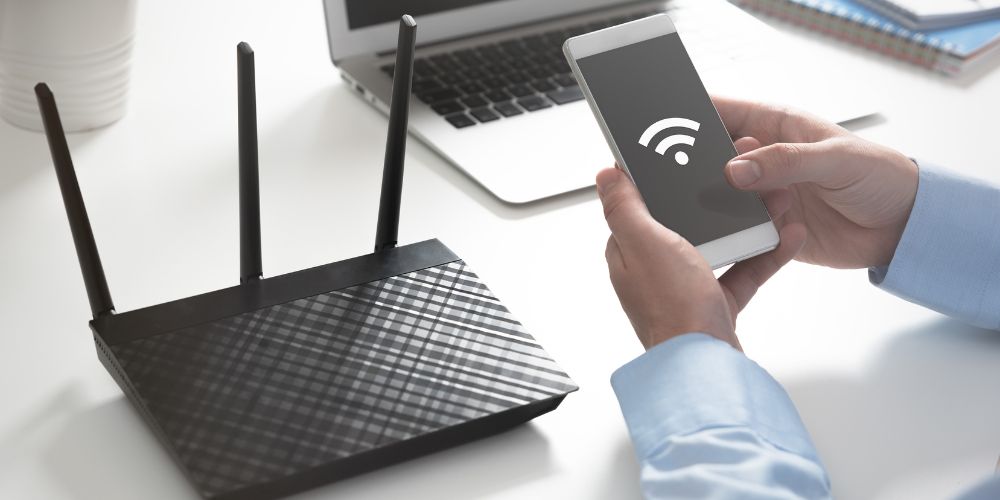 If possible, you'll want to make sure you have an internet connection of at least 20 megabytes per second (Mbps) for teaching online. This is recommended by most online teaching companies.
I've been able to teach successfully on less than that when absolutely necessary, but slower speeds can cause lags.
It's harder to have a conversation with a student when there is a delay, and you could get in trouble with your teaching company if the delays are significant.
Teaching at slower speeds can be stressful, so aim to teach with 20 Mbps of internet speed if possible.
You can check your internet speeds on websites like speedtest.net. When you use the speed test website, look at the download speed section.
Don't worry if your upload speed is much lower than your download speed. That's normal. Also, a low ping score is a good thing!
5. Ethernet Cord and Adapter
One way to improve your connection while teaching is to use an ethernet cord. An ethernet cord will allow you to connect directly to your router and reduces the risk of internet connectivity issues. When I'm not travelling, I try to always use an ethernet cord.
It's important to note that some newer laptops don't have a designated ethernet port. If this is the case for your laptop, you'll need to purchase an adapter to plug in your ethernet cord.
Click here to compare costs and brands of ethernet cable adapters on Amazon.
☞ SEE ALSO: Teaching English in China: Get Paid $2,900 / Month
6. Backup Internet Source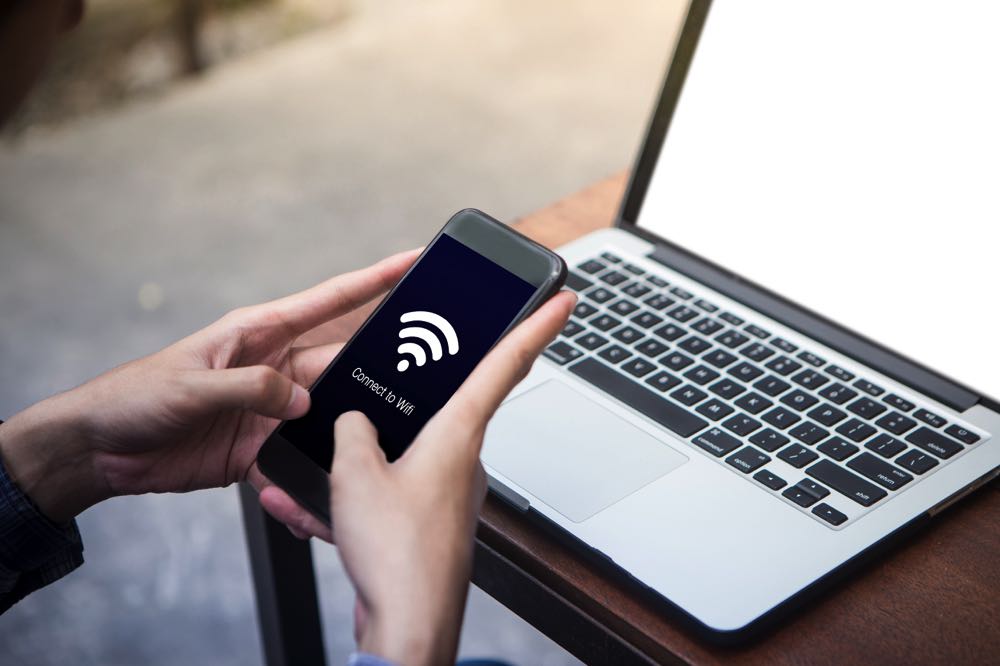 Even if you've set up your technology perfectly and have the fastest internet money can buy, sometimes things happen that are beyond our control — especially when you're travelling and teaching abroad.
The power goes out. A storm comes through and rattles the internet connection. Your router just stops working for no apparent reason. You forgot to pay the WiFi bill…
When that happens, you'll be so thankful you have a backup internet source.
The easiest way to get connected in a pinch is to use a hotspot from your mobile phone.
Make sure you have a plan that allows you to enable a hotspot and a few gigs of data available. In general, you can teach about ten, 25-minute video classes on 1GB of data.
When the WiFi isn't strong enough, or the power is cut, go to the settings on your phone and turn on your hot spot.
Then go to the internet icon on your computer and click it so you see the different options. You should see one called "[Your Name] iPhone" or something similar. You can now connect to this hotspot just like you would any other WiFi network.
Equipment for Online Teaching I Use for Online Teaching
These are some typical resources required by companies for online teaching:
Computer: Desktop, Laptop, Mac, PC, or Surface Device
Camera: HD Integrated Camera or HD external Camera
System: Windows7 or higher, Mac ios 10.x or higher, latest version of flash
Internet: At least 20 Mbps, ethernet cord recommended
For online teaching, I use:
Computer: 2015 Macbook Pro with Mac OS Operating System
Camera: Built-in HD Camera that came standard on my Macbook
Headset: Apple Earbuds or MPow headset
Internet: Ethernet cable when I'm home, WiFi when I'm travelling, Mobile HotSpot for back up
Must-Have Equipment to Make Your Online Classroom Comfortable and Professional
You have the technical gear, but how do you put it together into something that resembles a classroom? In this section, I'll talk about the equipment needed to teach English online to make your classroom comfortable and professional-looking.
7. Desk and Chair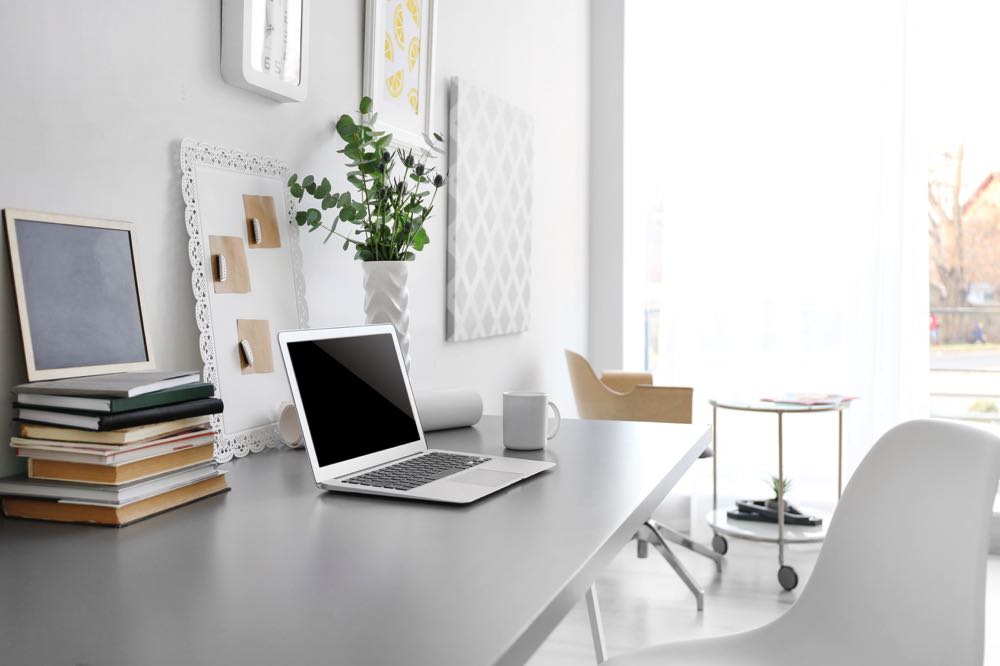 Since you'll be spending a lot of time in your online ESL classroom, it's important to have a comfortable space. A desk and quality desk chair will save your back and shoulders during long teaching stints.
I love teaching from a desk with plenty of legroom and a chair with proper back support.
8. Overhead Lights and a Desk Lamp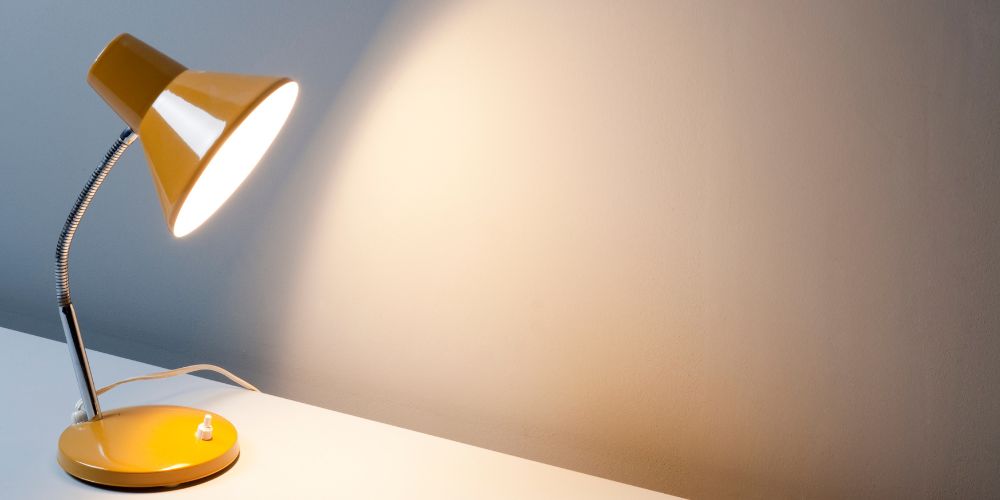 Having good lighting is an important part of online teaching.
Lighting allows your students to see your mouth movements. This is critical to language acquisition. Good lighting makes your classroom looks more professional. It also allows students to see your teaching resources when you're using them.
To get good lighting, you have a few options: overhead lights and a desk lamp, a selfie ring light, or professional photography lights.
One easy option is using the overhead room lights as well as a desk lamp for teaching. Make sure to put the lamp directly behind your computer with the light pointing toward your face.
This prevents shadows on one side of your face. If you have a white lampshade, this also helps soften the light on your face, giving you a more natural look.
9. Selfie Ring Light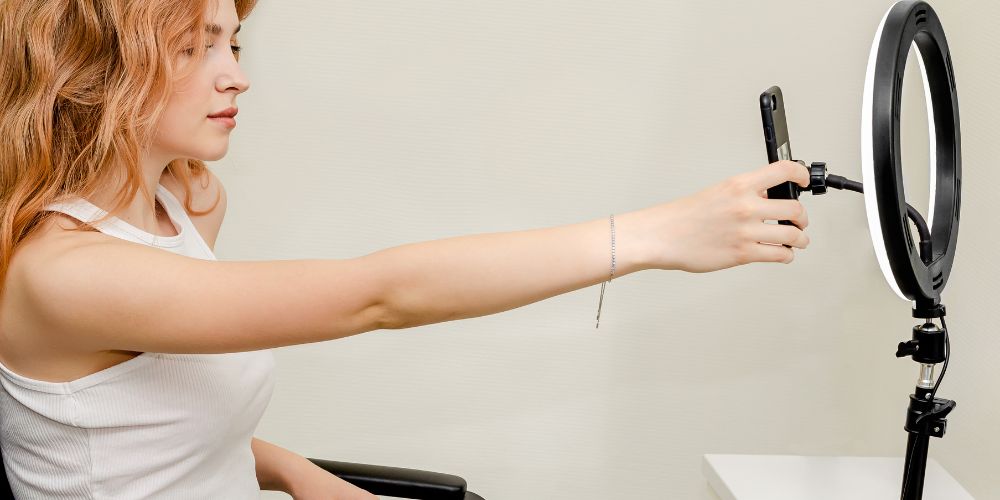 If that's not enough, you can use a selfie ring light that can clip onto your laptop for additional lighting. Selfie ring lights are usually rechargeable and offer a ring of bright white light for several hours at a time.
Clip one of these portable teaching lights to your laptop for extra bright lighting in a pinch. Compare brands and costs on Amazon here.
10. Professional Photography Lights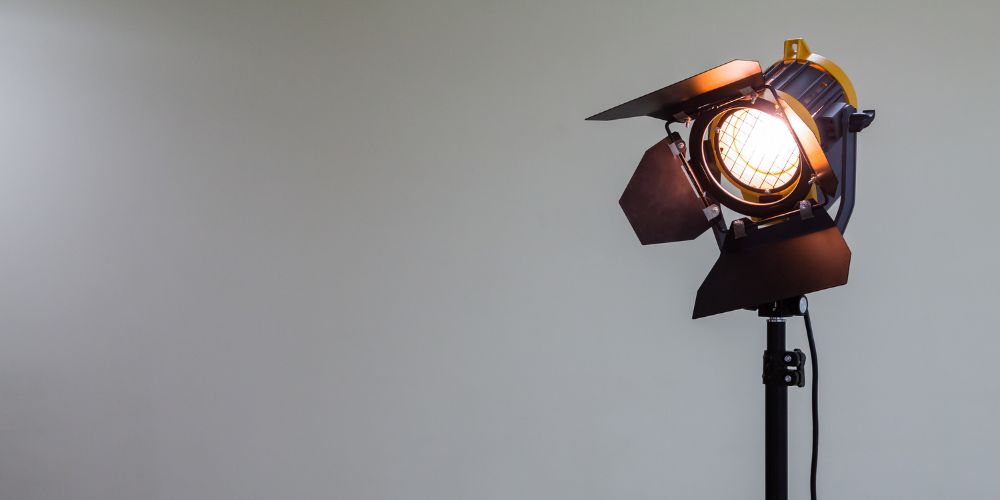 If you want something of higher quality, you can also use freestanding lights designed for photographers or videographers.
Just type YouTube lighting into Amazon and you'll see plenty of kits that are more than enough for your online teaching needs. You'll see halos with different color filters, photoshoot-ready soft lightboxes, and bright white lights with umbrellas to soften the glare.
With options like these, you could go as simple or complex as you want.
Full disclosure, I've never used anything this luxurious in my own classroom and it's never been a problem. If I had a more permanent classroom area, I'd consider using some of the softboxes as the ring light can be too harsh after a few hours.
That being said, I'd only recommend using this kind of lighting if you have a larger classroom area and won't be moving your classroom set up often. Trying to relocate a large lighting rig every few days would not be worth the slight improvement in light quality.
If you plan to travel while teaching, definitely stick to the ring light.
☞ SEE ALSO: Teaching English in Japan – A Guide To Finding Jobs
11. Laptop Stand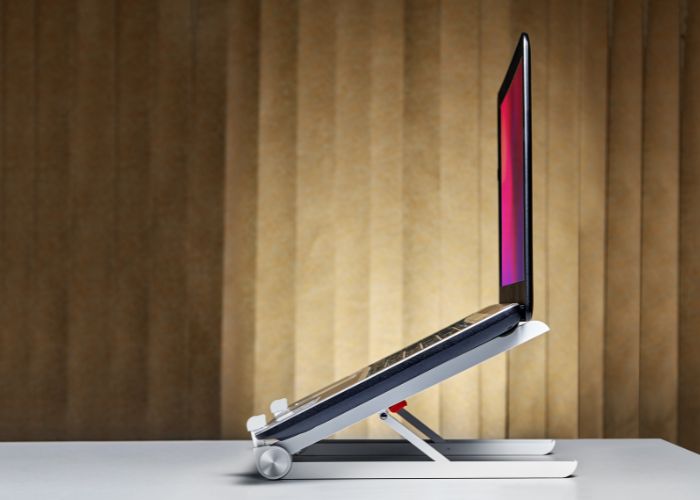 Proper posture is the key to feeling good during your lessons. A laptop stand puts your computer at a better height so you sit up straighter and put less strain on your back.
I'd recommend a laptop stand for anyone who works on a computer because it reduces the need to hunch over.
A laptop stand is also an awesome resource if you plan to teach and travel as it allows you to put your computer at the proper height no matter what your desk situation is.
Click here to compare prices and brands of laptop stands on Amazon.
☞ SEE ALSO: 15 Pros and Cons of Being an Online English Teacher
Equipment for Online Teaching: Educational Resources
Now that you have the technical basics down, it's time to get creative! As an online English teacher, you have the unique challenge of making your lessons interesting and engaging through a tiny screen.
Especially if you're teaching young children, your classroom should allow you to explain difficult concepts in a way that's fun and effective — otherwise, your students will lose interest, quickly.
12. Classroom Background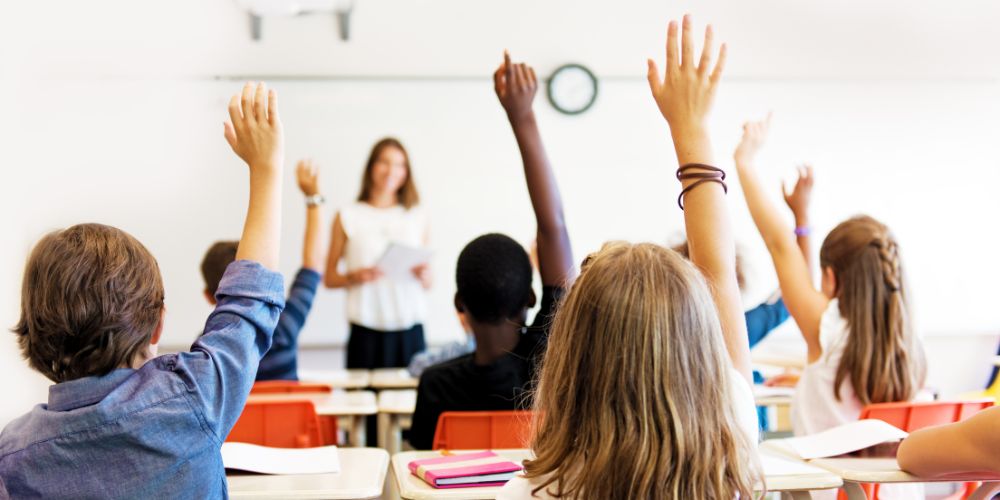 Your classroom background is a great way to get creative and show your students your personality.
While many companies are fine with you just having a blank wall behind you while you teach, other companies prefer that you have something kid-friendly and academic behind you.
No matter what, you want your background to be clean and non-distracting. It should enhance the class rather than detract from it. You shouldn't teach with your camera showing a room in your home behind you as this can be very distracting for students.
For classroom background ideas, here are a few of my favorites that I've used over the years. All of these can be hung with command strips and poster putty.
Paper World Map: You can reinforce the corners with tape to allow for multiple hangings
ABC Posters and Other Academic Classroom Signs: These can often be found in the dollar store or at school supply stores
Shower Curtain: Pick one with something kid-friendly on it, like world flags, animals, ABC letters, etc.
Felt or Fabric Backdrop: Attach felt letters to a large piece of fabric to welcome kids to class.
Decorated Poster Board: You can use markers, paints, and other crafting supplies to make a unique poster board background.
If you plan to make your own classroom decorations, you can include things like the name of your teaching company, your name, and phrases like "Welcome to Class." Click here to find some teaching supplies and ideas on Amazon.
13. 3D Props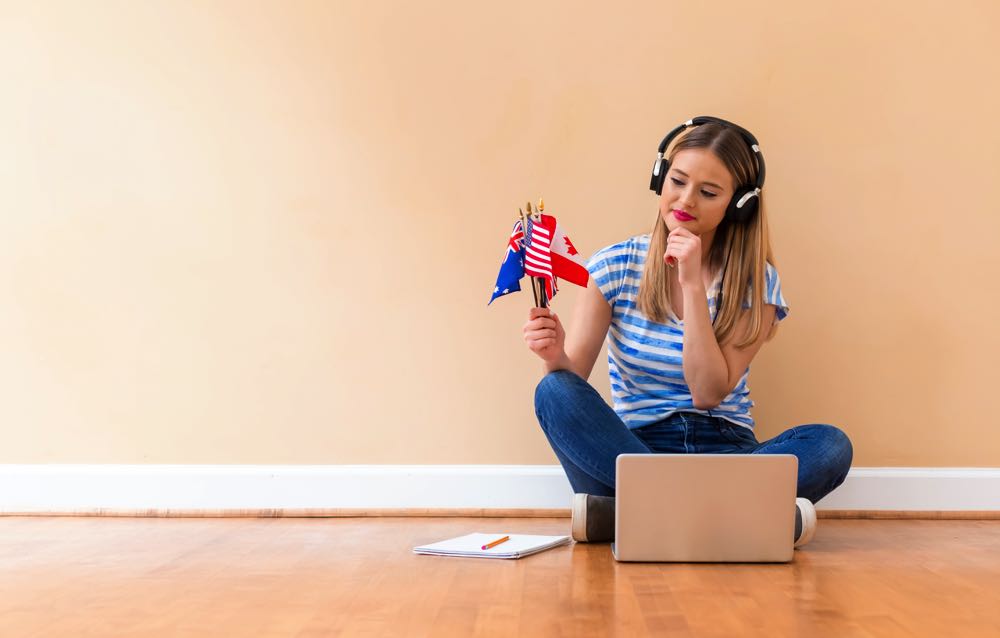 While you don't need a lot of bulky teaching items, you should plan to have a few 3D props in your bag for teaching online. My most useful 3D props are:
A small dry erase board and markers
One large puppet or a set of small finger puppets for demonstrating conversations (I have a set of ten small finger puppets from IKEA and they are amazing)
A set of ABC Flashcards
14. 2D Props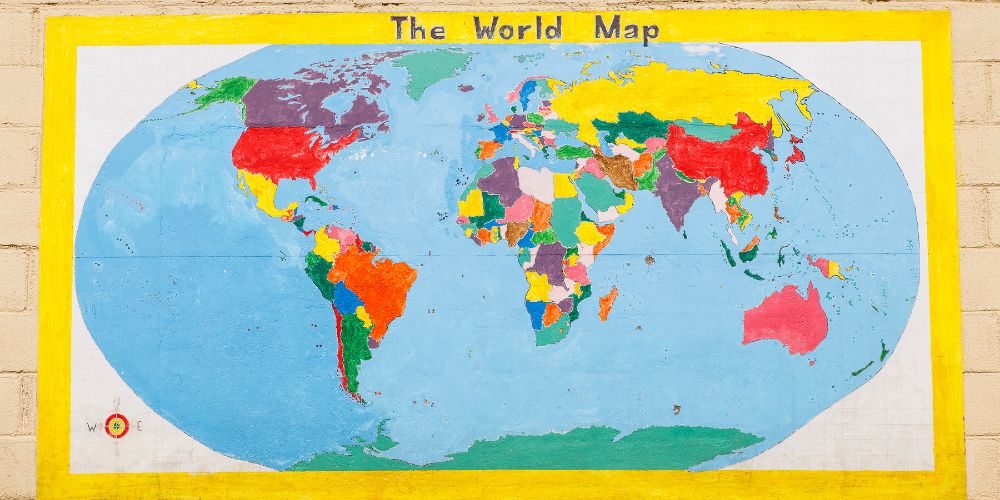 While relying on too many 3D props will clutter your classroom fast (and are more difficult to travel with), 2D props are another story. 2D props are my bread and butter.
Making them is simple. Either draw or find pictures of images you'd like to use in your classroom, print them out, and laminate them so they're durable. I usually have the following 2D props:
Flags for the USA, Canada, and China (adapt this to match the nationality of the students you teach)
A picture of a family
Pictures of different foods
Photos of nature and national monuments around the world (for example, a beach, mountains, the Great Wall of China, the Statue of Liberty, etc)
Pictures of maps
Pictures of different clothing items
2D props are awesome because they don't take up a lot of space in your teaching area.
When I'm home, I organize my pictures in a little set of drawers on my desk. By labeling each drawer, I can quickly grab the props I need during a lesson without disrupting the flow of the conversation.
When I'm travelling, I have a Ziploc bag for my laminated pictures. Since all the pictures are jumbled in there together, I have to pick out which props I'll need at the beginning of my workday.
When it's time to travel, the bag of pictures is easy to pack and it slides in right next to my laptop, taking up essentially no extra space.
To determine exactly which 2D props you should make, keep a notepad next to your computer while you teach for a few days. Whenever you teach a concept and think "hmm, I'd like to have a picture of that" make a note on the notepad.
After a few classes, you should start to see some themes emerge for concepts that would be easier to teach with a visual aid.
15. Rewards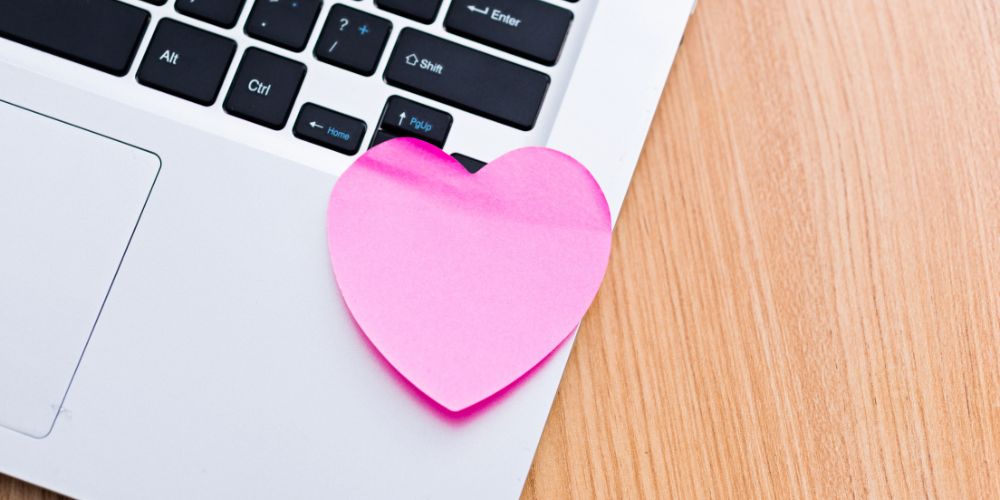 If you're working with children, classroom rewards can be a fun way to keep kids interested in the lesson. I started using rewards with my youngest learners.
When they did a good job, I would add a heart-shaped sticky note to my whiteboard. At the end of class, we would count up how many sticky notes they earned. It was simple, but it worked.
Over time, this evolved into more complex English games and more exciting rewards, but the concept stayed the same: give students something external to look forward to during class and use this as a way to reinforce good behavior and progress.
If you'd like to incorporate rewards into your classroom, start with something simple like sticky notes or little erasers or stickers.
☞ SEE ALSO: 10 Things To Know Before Becoming an Online English Teacher
Tour My Classroom!
After talking through all the best equipment for online teaching, let's see how this looks when put together. I'll show you through two of my classroom setups over time to give you some ideas of what yours can look like.
Admittedly, my classroom for online teaching is a little pared down because I usually throw it into a backpack and travel. Still, I have used some more stable elements when I teach English from home in the USA, so I'll show you both.
My Home Classroom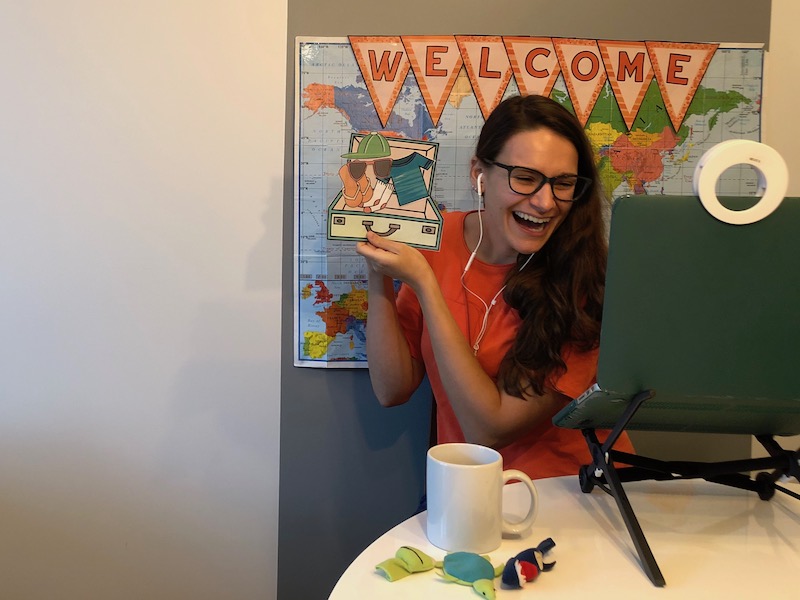 In my home classroom, I sit at a table with my back to the wall. On the wall behind me, for a backdrop I have a world map and a welcome banner for decorations.
I use my 2015 MacBook Pro for my teaching device with the built-in camera and either my Apple earbuds or an over-the-ear headset.
For lighting, I use the overhead lights in the room as well as the selfie ring light to make sure my face is nice and bright.
I have my laptop on a laptop stand so I don't have to hunch over. Using a variety of 2D and 3D props like the ones pictured keeps my students engaged.
My Travel Classroom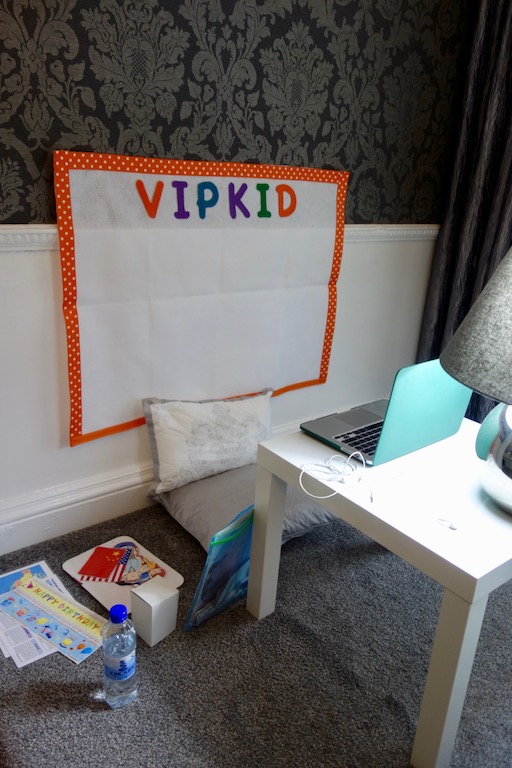 I took this picture while travelling and teaching online. Since I was staying in a hotel room, I didn't have a proper desk and chair to teach from.
In this arrangement, I used an end table as my teaching surface and sat on the floor with pillows for support. Behind me, I used a piece of felt that I decorated with felt letters and ribbons.
For lighting, I used a lamp I found in the room set up behind my laptop. My Apple earbuds worked great for travelling since they packed down small. I used my laptop without a laptop stand because the table was high enough as it was.
As you can see, I prefer to use 2D printable props while travelling so they don't take up so much space in my bag. I've got a small dry erase board and a few helpful printables ready to go beside my teaching space.
When to Set Up Your Online Teaching Equipment
Ideally, you should have your classroom set up before your first interview with a prospective online teaching company.
I totally understand not wanting to go out and buy a ton of gear just for a job interview, but you have the best chance of getting hired if you have all your equipment ready in advance.
Plus, many of the props and resources you'll need can be made yourself or purchased from the Dollar Store or some other affordable shop.
Before you do your online ESL job interview, you should have
Your laptop or iPad teaching device
A headset, either earbuds or an over-the-head version
Good lighting
A classroom background
Teaching props
Reliable internet connection
Most companies are looking to see that you meet their requirements from the get-go. You have a much better chance of getting hired if you can show that you have the right gear and a strong enough connection for teaching.
You don't have to go too wild with it. No need to convert your guest bedroom into a full-fledged educational experience. But you should make an effort to show that you're ready to teach as soon as possible.
Before you fill your shopping cart on Amazon, take a look around your house and see if you can find things that will work in your classroom.
This is especially helpful for finding props and teaching materials. I taught my first month of classes with a dog toy as a prop, no questions asked.
FAQs About Equipment for Online Teaching
Still have some questions about the best equipment for online teaching? Read on for answers to some frequently asked questions. Most of these were answered above, but you can find concise answers here.
What equipment do you need to teach virtually?
The most basic equipment for online teaching is a laptop with a camera, microphone, and internet connection. Beyond that, you'll need a desk and chair, adequate lighting, and teaching aids.
What do I need to set up an online class?
First, you'll need to check your internet connection and sign up for whichever platform you'll use to teach. Then, you'll need to arrange your workspace and your equipment for online teaching.
What tools can be used for online classrooms?
Google classroom is a common tool for online classrooms. Communication apps like Skype are also commonly used in online teaching. If you work for an online teaching company, they may use their own specific platform.
What device is best for virtual learning?
Although some online teachers use their smartphones, a laptop is probably a better choice. The screen and keyboard are larger, and you can set it in a fixed place. If portability is important to you, a laptop is more suitable than a desktop computer.
What are five basic tools would you need for effective online learning?
Five basic tools for effective online learning are a laptop, a camera, a microphone, an internet connection, and adequate lighting.
Now You Know the Best Online Teaching Equipment
By taking some time upfront to gather the best equipment for online teaching, you'll have an easier time getting started with your awesome new job.
For the technical aspects, give your devices a tune-up and make sure you have good video, audio, and reliable internet no matter where you teach.
For the more creative aspects of your classroom, you'll have some flexibility. You can choose to go more minimalist with a plain wall and simple dry erase board as your prop, or unleash your inner artist and create your own classroom masterpiece.
Look around your house, take a field trip to the Dollar Store, or break out the markers and draw some teaching visuals. The sky's the limit.
At the end of the day, you've succeeded if you've created an environment free from technical mishaps where students can learn and can have fun doing so.
I hope this article helped to give you some good ideas for teaching resources and equipment. If you're an online English teacher, what did I miss? Which props do you use? Leave a comment below!
Some of the images in this article are courtesy of Shutterstock — a top website for finding royalty-free photos and videos.
Like This Article? Pin It!
The post 15 Essential Items & Equipment for Online Teaching in 2023 appeared first on Goats On The Road.