5 Exciting Hobbies for Stay at Home Moms (That Make Money)
Are there hobbies for stay at home moms that actually make money? Yes there are!
I'm sure you have seen friends on Facebook making a side income from their hobbies and earn some money at home.
But how can stay at home moms make some extra money from their fun hobbies to help support their families?
There are a lot of hobbies for moms to make an extra income that don't require a ton of time and energy.
Since we all know moms are already in short supply of those!
It can be hard enough just taking care of your family, cooking, cleaning, and running the kids around. While you want to help support your family, you might not have the time or energy left over for a part-time job.
I think I overload myself with my many blogs, my two businesses and having twins to take care of!
But, I know if I can do it (and still have a relatively clean house and be in the moment with my twins during the day), then I know you can find time to make money with something you love.
So here are five simple – but oh so exciting – hobbies for stay at home moms that make money that you can do during nap time or while the kids are running around.
1. Start a Blog
Ok, I admit it, I'm just a bit partial to blogging.
I mean, I only have like seven of them…
While blogging in itself is easy, there is a lot that goes into it.
Your blog has to have intent and be set up correctly in order to make money.
Blogging is also not going to make you money overnight. Unlike the other items on our list, you can't just put up a post and get paid that day.
You can check out my ultimate guide to starting a blog here which goes into detail about how to set up and run a money making blog.
Blogs That Make Money
There are many different kinds of blogs that make money. My blogs cover my freelance writing services, freelance writing, health and fitness, pregnancy and postpartum, and blogs about blogging.
A few of them make a full-time income but most of my sites bring in money one way or another.
On Twins Mommy I have quite a few posts on other types of blogs that make money. Here is a handful of them:
As you can see, you can make money blogging about so many different topics. Even within the mom blog space you can break that down even further and focus on pregnancy, toddlers, teenagers, homeschooling, unschooling, Christian parenting, and so on.
And what's great is that many on this list of blogs that make money are hobby-based! Yes, you can monetize a knitting or sewing blog or craft blog or tech/gadget blog!
Make Money with Sponsored Blog Posts
Another great way to make money with a blog, once you start to build an audience and get traffic, is through sponsored posts.
While I have not personally done sponsored posts, I know this is a favorite income stream for a lot of bloggers. Bloggers like TheSavvyCouple and Jenny Melrose from TheMelroseFamily consistently make $10,000 or more per month from sponsored blog posts.
While it will take some time to build up to that kind of income, you can get sponsored blog posts even if you don't have a huge following.
Sponsored posts are just working with a company or brand to promote their product to your audience.
You don't always have to do sponsored blog posts either! Many bloggers leverage social media to promote and share their sponsors.
For example, Aly of What Moms Love, does a fantastic job with sponsored posts on Instagram. She gets thousands of likes and comments on her sponsored posts and makes $20,000 a month from this income stream alone!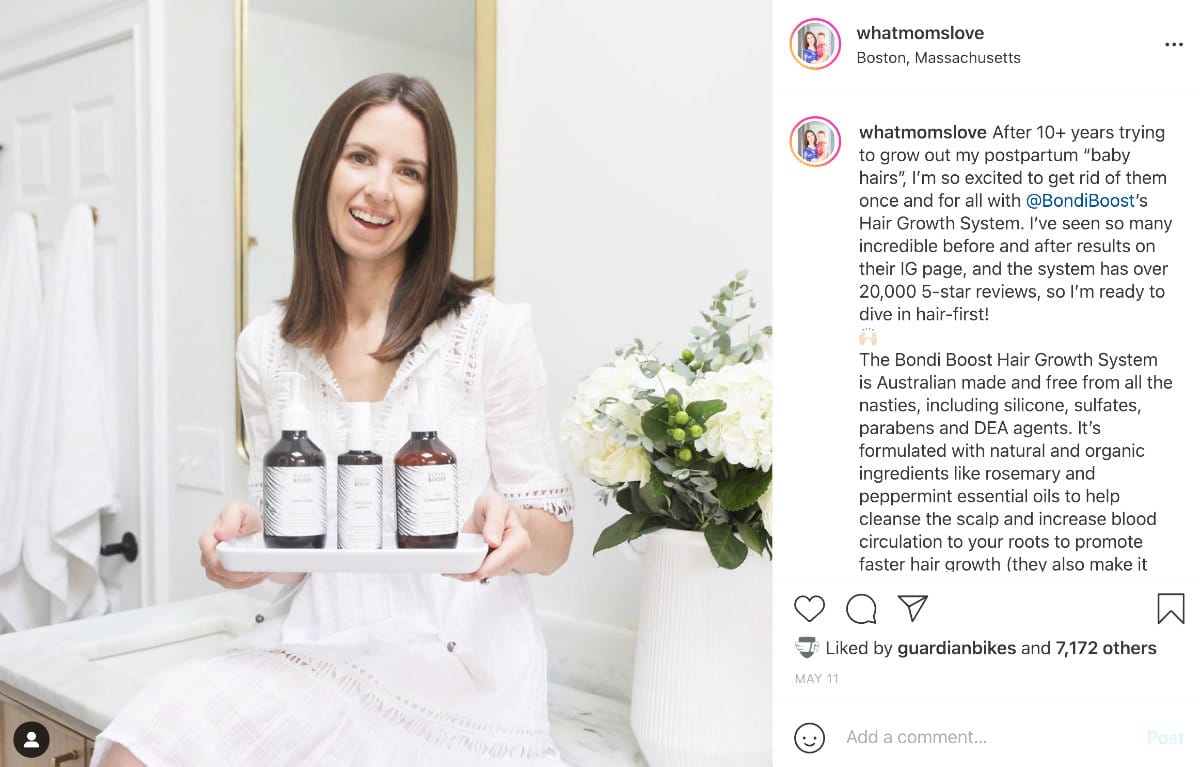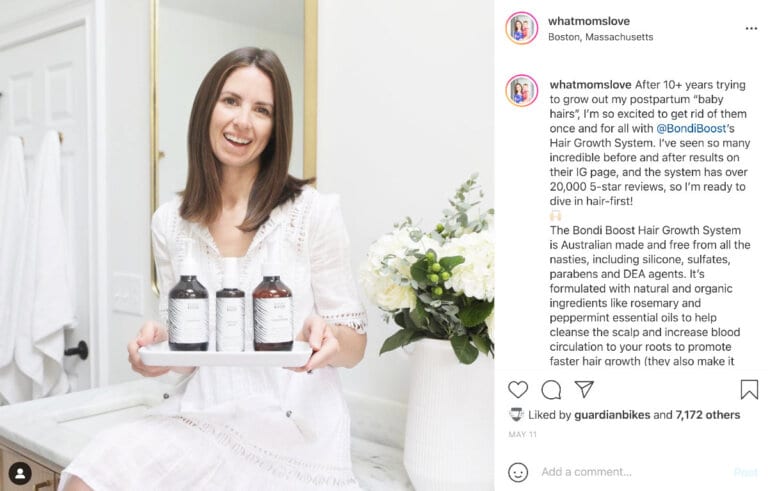 2. Crafts You Can Make and Sell Online
If you love to craft, why not make some money from it?
In a previous post, I compiled 87 different things that you can craft and sell online or locally to make money.
You can sell crafts through your own website, on Etsy, a Shopify store, or even on Facebook marketplace. Pick one to start with and work your way from there.
Etsy and Facebook marketplace are great places to start because they already have built in traffic.
Here's a handful of the craft ideas that you can sell online. It's the perfect hobby for stay at home moms too!
Wood crafts (think wine racks, signs, photos transferred on wood)
Stuffies and plushes
Knitted and sewn items (scarves, hats, mittens)
Candles
Soap
Natural body products (location, salves, lip balms)
Jewelry
Mugs and other ceramics
Baby blankets and fabric toys
Cell phone cases
There are seriously so many ideas!
Don't forget, if you are buying things and using them in your side hustle or business, it's a tax write off.
So make sure to remind your husband of that then he rolls his eyes at you when you buy more craft supplies!
3. How to Make Printables to Sell Online
Printables are a great way to rake in the passive income.
You heard me right…make money while you sleep! That's the dream, right?!
And, if you enjoy design work, this is a great hobby stay at home moms can learn to excel at easily!
The best thing about printables is that you create the product once and people can buy it again and again without you doing any further work to it.
While you do have to do the work marketing a platforms like Pinterest and Etsy, it's crazy simple.
Just like with crafts, there are about a billion ideas for creating printables to sell online.
Creating printables is as easy with a software like Canva.
Here's a quick snapshot of some of the printables that are easy to make and sell like hotcakes:
Calendars
Lists and checklists
Coloring pages for kids and adults
Educational worksheets for kids
Finance and budgeting sheets
Meal planners
Chore charts
Health and fitness trackers
Printable art and quotes
Greeting cards
Baby shower games
Photo booth props
While these printables generally don't cost your customers a lot, you can make a ton of money from your digital printables.
Like Sarah Titus who runs The Million Dollar Shop and makes over a $1M a year selling printables!
Now it has taken her years to build up an audience and brand, but that just goes to show you the power that a simple piece of paper can have.
4. Mason Jar Crafts to Make and Sell
If you're like me, you have a stash of Mason jars hiding in just about every cupboard in your house. Time to take those and make some money!
This is the hottest hobby for stay at home moms to make money on Pinterest!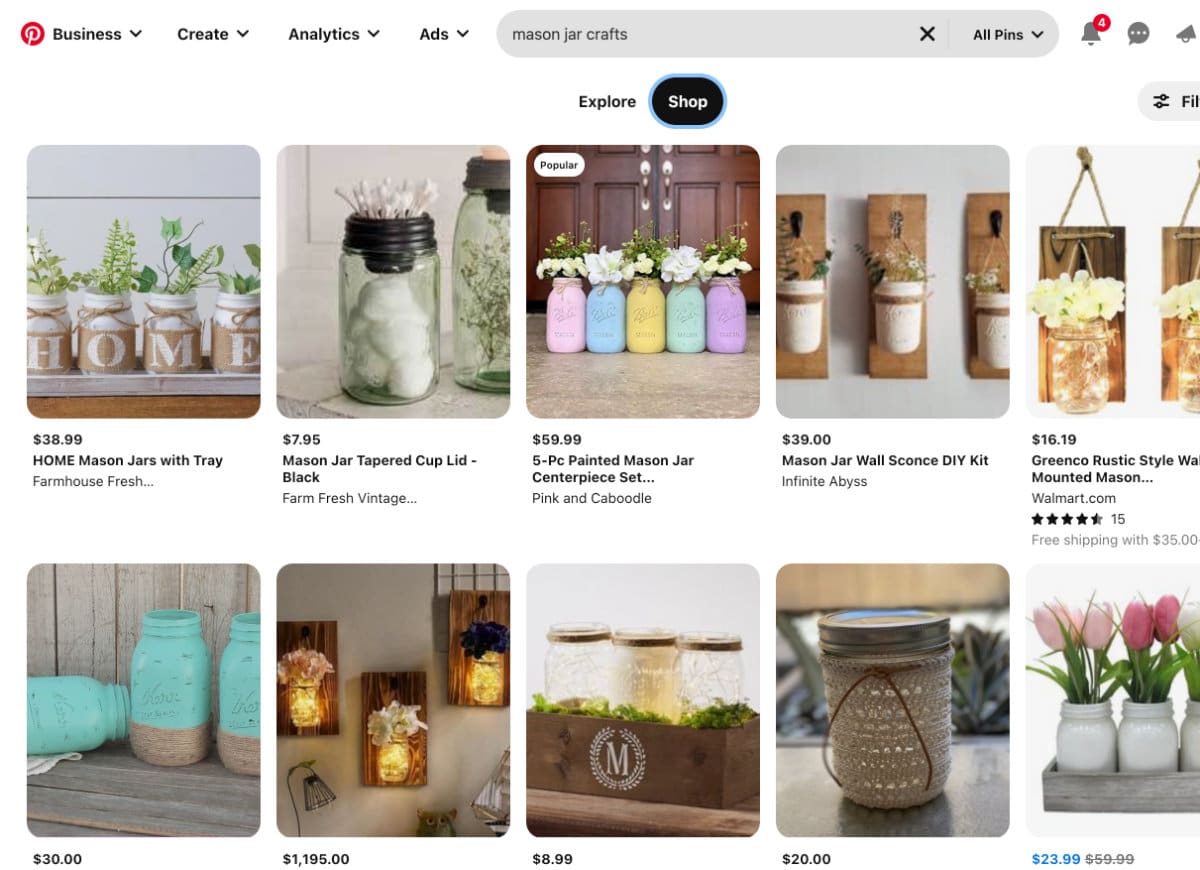 Mason jar crafts is another great hobby idea to make and sell for extra income.
These easy DIY crafts are budget-friendly and fun to make.
Again, Etsy and Facebook marketplace are a great place to start selling your Mason jar crafts.
Amazon has also added a handmade section to their website that you can apply to here.
Of course, don't forget to go to your local farmers and flea markets to sell your crafts as well.
If you don't already have a ton of jars sitting around, you can ask grandma to steal her stash, check at your local thrift stores (I see them for $0.50 often), ask your friends and family, or purchase them in bulk online.
Here are just a few things that you can craft with Mason jars and sell:
Candles and candle holders
Cakes and parfaits
Baking mixes
Body scrubs and other natural body products
DIY emergency kits (like sewing, wedding, and winter)
Various home decor items
Holiday themed crafts
Home storage solutions
Again, so many possibilities!  
5. Best Jobs for Stay at Home Moms Going Back to Work
No perhaps you aren't a very creative person or have a toddler that would destroy anything you make. Then maybe it would be best to just find a part time job working from home that you can do while the kids are sleeping.
If you are looking to go back to work but don't want to leave your littles with a sitter all day, don't worry, we got you covered!
And, you never know, these jobs can be a great hobby too!
In addition to blogging, there are a ton of jobs for stay at home moms.
Freelancing
FreelancerFAQs.com covers everything related to being a freelancer, no matter your niche. From finding your first client to essential tools for freelancers just starting out.  
My other site is all about freelance writing.
Psst…I offer a free course on this site on getting paid to write. Check it out if you are interested in making money as a freelance writer.
I started freelance writing when my twins were first born. I know the struggles of working from home and caring for your littles. You can make it work!
Coaching
If you have an expertise in a certain topic (weight loss, keto, finances), then consider coaching.
You can become a coach if you have already done something that others aspire to do.
Plus, you can do coaching on your schedule and make a pretty good income. Even beginner coaches can charge $100+ an hour for their services.
Blog or Social Media Management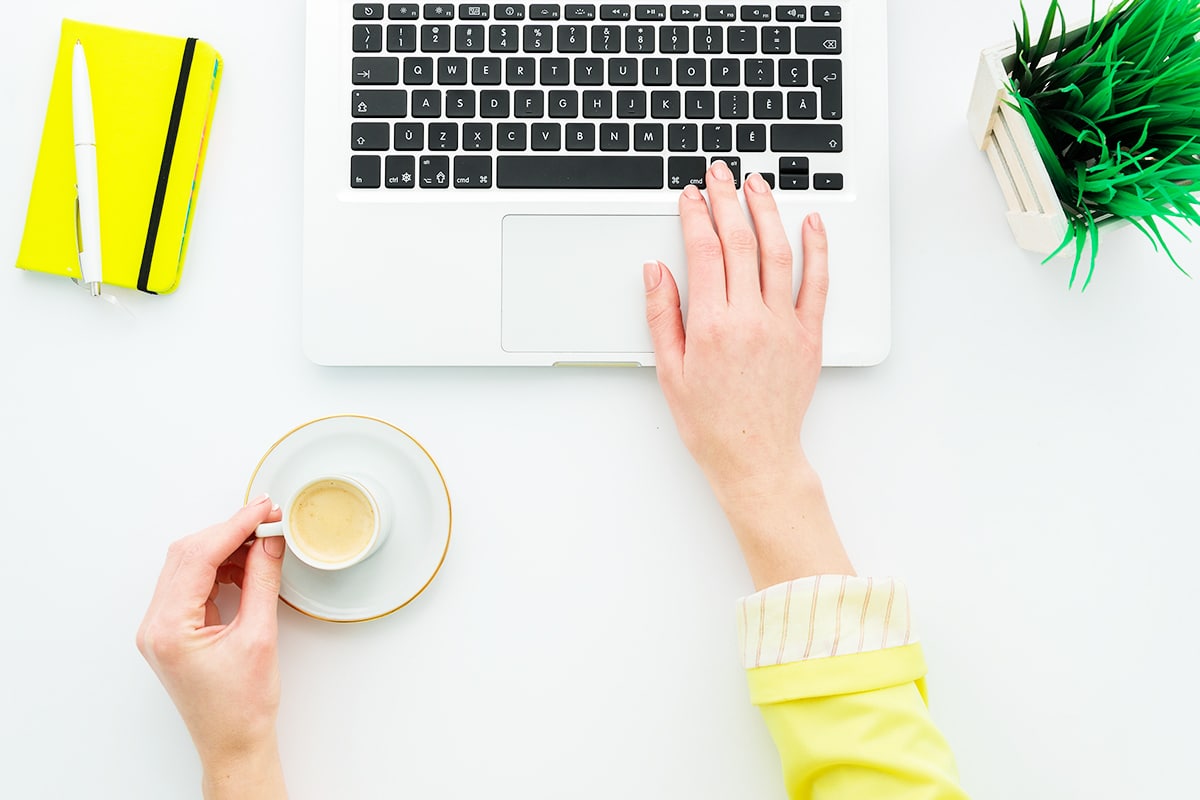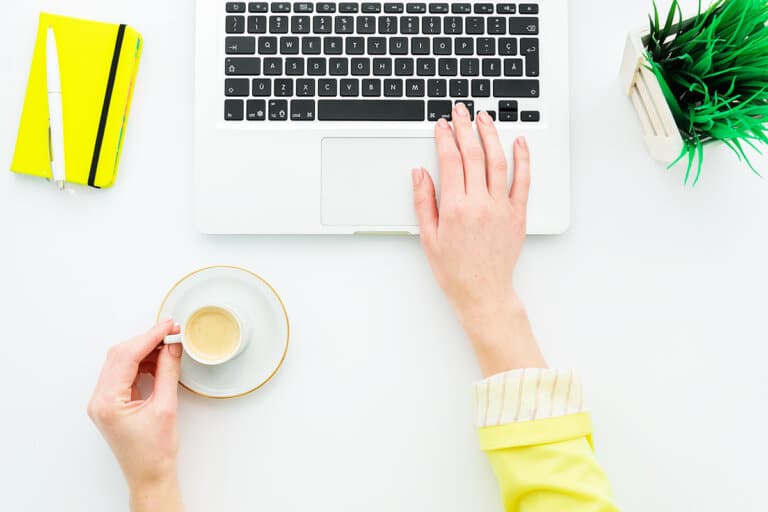 Are you great at Pinterest or know your way around Insta? Soloprenuers and small business owners often don't have the time or expertise to do all of the tasks they need to do.
You can make money by helping other business owners manage their social platforms and blogs.
Graphic Design
Just because you didn't go to graphic design school doesn't mean you can't be a graphic designer. If you have an eye for design and can use simple platforms like Canva and PicMonkey, honey, you a graphic designer!
Virtual Assistant
With more businesses moving online and more people starting small businesses, there is a need for virtual assistants.
As a VA you handle a variety of tasks, from answering emails to handling social media tasks, there is no shortage of things you can do as a VA.
Photography
Gone are the days that you need a crazy expensive camera to take quality photos. Most likely you already have a phone that takes high quality photos. You can take stock photos to sell or use your phone camera to do food or product photography.
Web Design and Development
Just like with graphic design, you don't have to be a professional developer to actually do web development.
If you are pretty tech savvy, or at least willing to learn, then you can create stunning websites for people.
Editing and Proofreading
It's a good chance that if small businesses are hiring writers, they are also going to need someone to edit and proofread that content.
If you enjoy reading and are a stickler for spelling and grammar, then this is a great job opportunity.
Amazing Hobbies for Stay at Home Moms to Start Today!
Are you excited yet?
I simply love working from home and being able to stop work, go downstairs and see my twins or do a quick puzzle with my twins before heading upstairs for more work time!
The work I do is a wonderful hobby. Blogging and writing are creative outlets for me and I hope in this list of hobbies for stay at home moms that you find one that you love to do and that can help you make money so you can stay home for good!
For more help check out these other posts to help you make money from home:
Over to you – which hobby are you going to try! Tell me in the comments below!
Remember, pin me!