8 Chic Ways To Make Spring Cleaning More Fun + Beautiful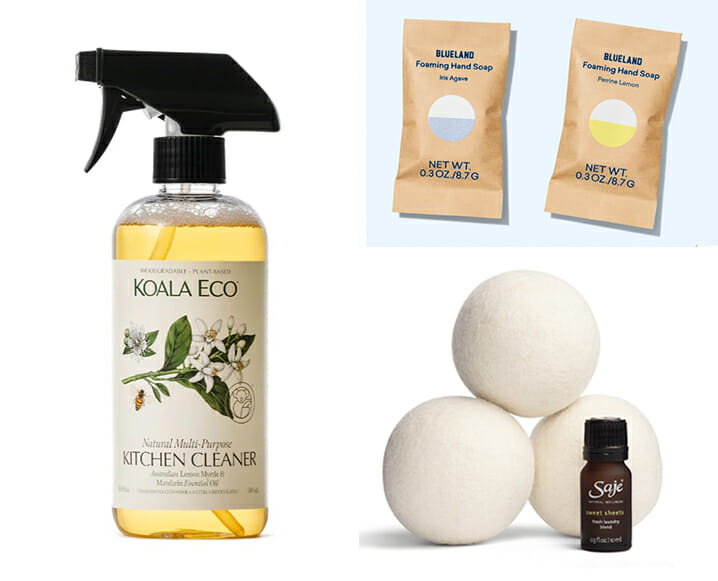 So fresh and so clean (clean). That's the way we want our homes to feel as we open up all the windows to invite in the sunnier, sweet-smelling season.
Yes, spring cleaning is a chore, but this list of products and ideas makes it all a bit more beautiful. Once you're done cleaning, reward all that elbow grease with a great candle or diffuser.
01 Blueland hand soap starter sets | Stop buying new hand soap pumps! One of our favorite eco-cleaning brands, Blueland makes low-waste hand soap tablets that can be popped right into a foaming pump dispenser full of water. The tablets come in a variety of great scents and remove every trace of guilt we have over all those wasted soap bottles. Pick up Blueland's foaming pump soap bottles too, in black or white.
02 create a cleaning playlist | If you're dreading the deep clean or have a particular room that's troublesome, start by setting the tone with a good playlist. If you're sorting a closet, put on calming, feel-good music or an educational podcast. If you're cleaning a bathroom or garage, build a playlist like this one and get it into your earbuds to keep your energy high and the minutes flying!
03 Koala eco Plant-based cleaners | I mean, have you ever seen such a gorgeous bottle of floor cleaner? Honestly, we'd use these beautifully-packaged cleaning products even if they were just greenwashing — which they most certainly are not. Koala Eco uses no new plastic and is environmentally friendly, biodegradable and vegan. Their products use no synthetic fragrance, no dyes and no phosphates. We love keeping their veggie wash sink-side and have grown to love all their cleaners for kitchen, bathroom and beyond!
04 Make a cuppa | Especially if you're sensitive to the extra dust and pollen that cleaning can kick up, consider making a cup of lung-supportive tea. "Licorice root (Glycyrrhiza glabra) is a demulcent (contains goo) and is wonderful in protecting the mucous membranes from excessive particulate matter." We like traditional medicinals licorice tea for this, but read through these lung-supportive ingredients for more ideas and options.
[TAG2]
05 Saje Wellness Cleaning Kit | Another eco-cleaning brand we love, Saje's essential oil-based cleaning kits are low-waste, beautiful, functional, and smell amazing. These sets would make a weirdly good gift for the fellow clean freak in your life and we love the rubber stoppers labeled with the name of the room they're meant to clean.
06 Saje Dryer Balls with Essential Oil | Reduce your toxic inputs while adding an incredible scent to your laundry routine. Another home run from Saje Wellness, these old school wool dry balls come with their Sweet Sheets oil (lavender, lemon, bergamot) and will give you a small thrill every time you use them.
07 dyson V8 stick vac | These last two products are a bit more of an investment, but if you're looking for a new vacuum cleaner, this Dyson V8 is a game-changer. Hovering around $400 around the web, the Dyson is something of a luxury appliance. That said, if vacuuming is your least favorite or perhaps most frequent chore, give it a good look. The V8 is cordless, quiet, lightweight and thorough — such a breeze to use that we actually love to vacuum now! [TAG3]
08 molekule air purifier | You've seen this super-chic air purifier in our gift guides and home cleaning stories for years, and with good reason. The function of the Molekule is on a whole other level than most 'air filters'. The Molekule actually destroys questionable particles in the air — and looks great doing it. Forget keeping a bulky, industrial-looking unit in the corner, you'll want to place the Molekule someplace you can see and enjoy!
Read Next: The Wellness Issue We Don't Talk About: Dealing With Air Pollution At Home
The post 8 Chic Ways To Make Spring Cleaning More Fun + Beautiful appeared first on The Chalkboard.