9 Sustainable Brands Selling Hair Ties And Scrunchies Your Hair Will Love
THE BEST ECO-FRIENDLY HAIR TIES AND SCRUNCHIES
It is estimated that each day, around 15 million hair ties are purchased in the United States. If we assume that the same number of elastics are thrown away or lost, it means that 20,000 pounds of hair ties are discarded in landfills, or worse, in nature, every single day.  
This is in the United States alone. But we need to remember that hundreds of millions of people use hair elastics around the world, so the environmental impact is huge. 
The main issue is that conventional hair ties are made from petroleum-based materials, such as synthetic rubber and polyester. 
Those do not decompose when they end up in nature or landfills and might take hundreds, if not thousands of years to break down. During that time, those tiny plastic elastics are polluting natural ecosystems and are a threat to animals' lives.
Conventional hair elastics and scrunchies are also rarely made to last and they break fairly easily, sometimes just after a few uses. 
Think about how many hair ties you have lost or broken in your lifetime? It all adds up over time and the environmental costs are too high to ignore. 
Fortunately, there are some eco-friendly alternatives, hair elastics that do not hurt the environment like their conventional counterparts. 
If you are looking to purchase new hair ties or scrunchies, you should check these 14 sustainable brands that create better alternatives for you and the planet. 
WHAT MAKES A HAIR TIE OR A SCRUNCHIE SUSTAINABLE?
A sustainable hair tie or scrunchie is well-made, durable and high-quality, so that it does not break or stretch out easily. 
It is also made from 100% natural and biodegradable materials. That way, if you lose or break the elastic, it will be able to decompose and break down quickly, without harming the environment. 
But above all, a sustainable hair tie or scrunchie is one you will cherish and keep track of, one that you are less likely to lose. It is one that you won't need to replace regularly because you always know where it is. 
WHAT ECO-FRIENDLY MATERIALS SHOULD YOU SEARCH FOR?
Natural materials are the best for eco-friendly hair ties because they are biodegradable. Try to always look for ones that have an elastic made from natural rubber. 
For the fabric part, linen, bamboo, cotton and hemp are great options. Those materials are even more sustainable if they are organic or if you manage to get ones that are certified Standard 100 by OEKO-TEX.
Besides natural materials, some companies make hair ties from recycled plastic. Even though the material is not biodegradable, it is a great option because you are contributing to diverting waste from landfills or oceans. 
NOW, OUR TOP PICKS FOR BRANDS SELLING SUSTAINABLE HAIR TIES AND SCRUNCHIES:
Materials: Organic Silk, Natural Rubber, Organic Cotton
Price: $7-12
Sustain By Kat is a sustainable brand that creates high-quality, timeless clothing and accessories for women and children. Its products are all made from natural and organic materials. 
The brand sells several types of hair ties, available in a large selection of colors.
They are made using organic silk, organic cotton and natural rubber, meaning they are entirely biodegradable. 
Something I love about Sustain By Kat's hair ties is that the company uses non-violent silk (or Ahimsa silk), which is a lot more ethical than conventional silk. Plus, a great benefit of silk hair ties is that silk helps reduce breakage and pulls, making the elastic last longer. 
Made in Los Angeles, the brand's hair ties are all dyed with plants, and the dyes are GOTS certified organic, meaning they are safer for you and the environment.
Shop Sustain by Kat
---
Materials: Cotton 
Price: $12-14
Fair Anita is a women-owned company that creates stylish, thoughtfully-sourced and affordable accessories, like bags, jewelry and scarves.
Its collection includes two beautiful scrunchie sets, and each set comes in a pair of two. Fair Anita's scrunchies feature fun geometric patterns and colors, which give your outfits a more unique touch. 
The brand's scrunchies are made in Vietnam or India, from 100% cotton, complying with all fair trade principles. They are made using traditional techniques such as pedal loom weaving, natural dyeing and block printing. 
Fair Anita works with cooperatives that employ women artisans in developing countries. Those pay them two to four times the national minimum wage, and offer them health insurance as well as educational scholarships.
Shop Fair Anita
---
Materials: Recycled Polyester, Tencel, Organic Cotton, Modal
Price: $16-18
Encircled promotes slow fashion by selling ethically made and eco-friendly clothing and accessories for women, all made in Toronto, Canada. 
The company has two beautiful scrunchies on its website. Ultra-soft and made using upcycled textile waste, the Renew scrunchie is made from modal or a blend of Tencel and organic cotton.
You get to choose between seven different colors. 
You can also pick Encircled's black Recycled Satin scrunchie that is made from a luxurious, silky recycled polyester blend. This one is very chic and you'll want to keep it on hand at all times. 
Encircled is a certified B Corporation, and all its products are OEKO-TEX 100 certified, which means that no harmful substances are used during the manufacturing process.
Shop Encircled
---
Materials: Cotton, Recycled Cotton
Price: $6-13
Ten Thousand Villages sells unique handcrafted accessories and home goods, made by small artisans who use traditional maker skills that have been passed down from generation to generation. 
The brand creates a few scrunchies that are handmade in Bangladesh or Guatemala using natural materials, like cotton and recycled cotton. 
Each scrunchie has a beautiful pattern and color, and you can read all about the maker who handcrafted it and how it was made.
Ten Thousand Villages is a member of the Fair Trade Federation and the World Fair Trade Organization. 
The company employs more than 20,000 artisans in more than 30 countries. It also works with women and artisans with disabilities to help them gain independence and break the cycle of poverty. 
Shop Ten Thousand Villages
---
Materials: Viscose
Price: $20
TAMGA Designs is a sustainable brand that sells women's clothing and accessories. It was created when its founders lived in Bangladesh and witnessed the pain of people after a garment factory collapse.
TAMGA Designs makes a zero-waste scrunchie, available in three different styles. Each has a very chic and feminine pattern, and they are perfect if you want to add a pop of color to your outfit.
They also feature eye-catching knotted details that elevate your hair game instantly. 
Printed with GOTS-certified dyes, the company's scrunchies are made from fabric off-cuts from one of its collections. They are made from LENZING ECOVERO, a sustainable viscose, which uses 88% less water than mainstream viscose, and it is entirely traceable. 
TAMGA Designs is a member of 1% For The Planet, and it has partnered with two non-profits to help protect Indonesia's rainforests.
Shop TAMGA designs
---
Materials: Organic Cotton, Natural Rubber
Price: $15-20
Kooshoo is a small family-owned business founded by two yoga teachers, selling sustainable hair accessories for both women and men. 
The company created the world's first 100% fair trade, plastic-free scrunchies and hair elastics. They are all completely biodegradable as they are made from GOTS-certified organic cotton and sustainably harvested natural rubber. No worries if you lose a Kooshoo hair tie as it will soon go back to the soil! 
The brand's hair ties and scrunchies come in different colors and are designed to work for all hair types. They are great to complement any outfit, and they can even double as bracelets when not in your hair. 
Kooshoo works with artisans using traditional techniques, like vegetable dyeing, hand dyeing and block printing. The company is a SEDEX member, which ensures it has a responsible supply chain.
Shop Kooshoo
---
Materials: Recycled PET
Price: $6-9
Girlfriend Collective creates sustainable activewear and accessories for women, and aims to be as transparent as possible. 
The brand has two types of scrunchies on its website, and they are all made from recycled plastic bottles. Either sold individually or in a pack of three, Girlfriend Collective's scrunchies are very affordable and created in a large range of colors.
Purchasing one of those contributes to diverting one plastic water bottle from landfills. The brand also discloses the amount of CO2 that is prevented and how much water is saved by choosing one of its scrunchies compared to a conventional one. 
To make them even more sustainable, Girlfriend Collective's Neutral Multi Scrap Sport scrunchies are made from excess fabric from one of its collections. That way, the brand reduces its textile waste and turns it into new products.
Shop Girlfriend
---
Materials: Organic Cotton, Natural Rubber
Price: $15
Terra Ties is a small online brand that specializes in creating 100% biodegradable hair elastics. 
The brand's hair ties are made using natural rubber from rubber trees and organic cotton, two renewable and biodegradable resources. They come in a pack of 27 black hair elastics to have you covered for years to come, without harming the environment. 
Terra Ties makes hair ties that are softer, thicker and more durable than most conventional hair ties, and they also do not pull or damage your hair. 
Terra Ties' biodegradable elastics are ideal for all genders. They are colored with natural dyes, making them a healthier alternative for you and the planet. 
To top it all, the product and shipping packaging is plastic-free and made with recycled content.
use code sustainablychic10 for 10% off
Shop Terra Ties
---
Materials: Tencel, Recycled Polyester, Organic Cotton
Price: $8-20
Tentree is an eco-friendly fashion brand that plants ten trees for every item sold. It has planted more than 66 million trees to date! 
The brand sells different sets of scrunchies that all come in a pack of three. They are affordable and are 5-star rated by more than 150 Tentree customers!
It has scrunchies made of 100% Tencel as well as recycled polyester. Tentree even makes some from upcycled materials, using a blend of organic cotton, Tencel and recycled polyester. 
When you buy a scrunchie from Tentree, you also get to see the amount of CO2, water and waste you contribute to saving compared to if you purchased a non-sustainable option. How fun is that?! 
The company is a certified B Corporation and is completely climate-neutral as it offsets its entire carbon footprint.
Shop Tentree
---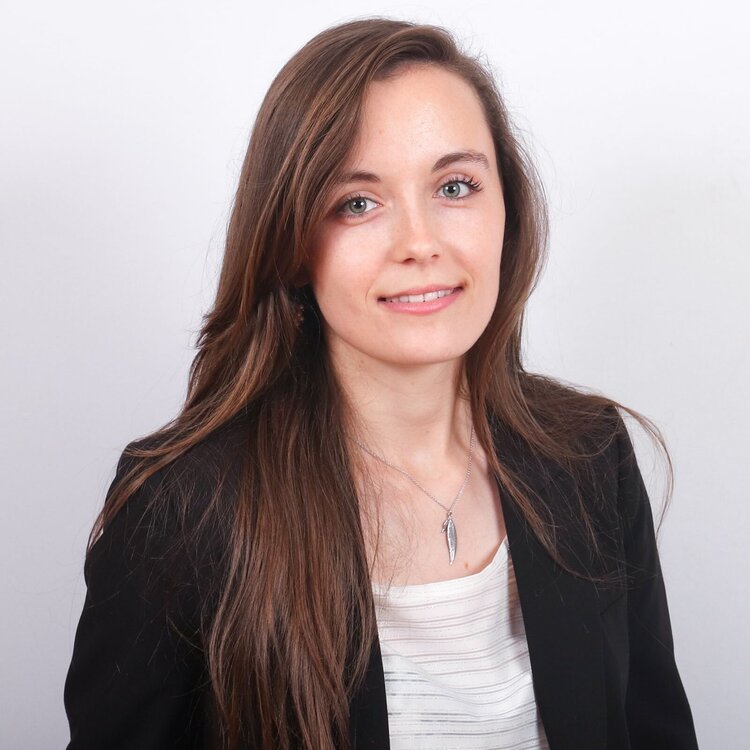 About the Author:
Eva Astoul is a French freelance writer, specializing in content related to sustainability, simple living, and a growth-focused healthy lifestyle. She runs her own blog, Green With Less, to inspire people to live a more minimalist and sustainable life.
---
MAKE SURE TO PIN THE PHOTO BELOW TO SAVE THIS POST FOR LATER!
---
WANT MORE SUSTAINABLE BRANDS? VISIT OUR BRAND DIRECTORY!
Our Brand Directory is home to hundreds of sustainable brands, from makeup to cleaning supplies, from underwear to shoes. We have broken everything down by category for easy shopping, along with discount codes unique to Sustainably Chic viewers.
Shop the Sustainable Brand Directory
---
RELATED READING YOU MAY ALSO ENJOY: