Best digital marketing training resources and websites for 2020
Something that most people do not know about me is that I am a self-taught marketer. I never took a marketing class in college or really ever had anyone teach me directly.
During my time at HubSpot as a sales rep, I was able to learn so much, and then I continued that educational journey as I grew into marketing strategist. 
We know that marketing is always changing, and the more we know about what is new, the greater the advantage we have compared to our competition.
Additionally, the more we grow and learn, the better everyone around us will become as well.
Below are some of my favorite resources to ensure you are always up to date on the latest marketing trends.
HubSpot Academy is the source for all things content marketing, with coursework suited for users from novice to expert.
HubSpot Academy offers certifications as well. While some courses are just for exploration, some end with a quiz or practicum. Passing this exercise will give you a certification badge you can share with your organization, your clients, or on LinkedIn.
HubSpot Academy offers over 20 certifications in sales, marketing, service, and other tutorials, and these are updated frequently.
David's take: After earning the inbound marketing certificate I felt like I was a marketing expert. This course empowers you to grow in your marketing education and challenge the thoughts of those around you.
If you have not taken this course or some of their newer courses, I would highly recommend starting there.
Content Marketing Institute is all about helping you create the best content for your digital marketing efforts.
CMI University is a hub for all things related to content marketing education and training — for marketers of all levels. This is a great place to go if you are new to content marketing or you are trying to be the best content writer to ever walk the earth.
Whatever you are looking to accomplish, CMI will be able to help.
David's take: I personally need to come back to the basics every few months. I tend to make things more complicated than what they need to be, and my guess is you do too. This article is a great refresh to bring me back to reality of why I create content.
Though there is a cost associated with its resources, the value that Digital Marketer provides cannot be compared to any free resources
Digital Marketer offers 11 certifications and master courses that cover paid media, content marketing, social media, email marketing, and more.
What's more, a community of fellow learners and professionals can support you in your quest for knowledge and growth.
Digital Marketer offers checklists and execution plans that help you become the best digital marketer possible, with easy step-by-step processes that explain how to master even the most challenging marketing tactics.
David's take: I know it might be tempting to think you have everything you need. However, If you are on a small marketing team this needs to be in your budget!
IMPACT offers a tremendous library of free educational resources, including thousands of articles, podcasts, news updates, videos, tutorials, playbooks, and more.
We publish roughly 20 new pieces of content per week focusing on all aspects of digital marketing and sales — as well as THE LATEST newsletter which can keep you up to date with the freshest content.
At our core, IMPACT focuses on Marcus Sheridan's philosophy of They Ask, You Answer, which advises businesses to obsess over the questions they get asked each day by prospects, customers, and clients.
Along with these hundreds of free resources, IMPACT has an online learning platform called IMPACT+.
This is a one-stop learning center that provides video trainings from thought leaders and quizzes to help test your knowledge when it comes to They Ask You Answer, content creation, and video for sales training. 
There are also virtual peer groups based on roles to enable you to brainstorm ideas with others facing the same challenges as you and to see and discuss how others are realistically adapting what they learn.  
The best part, it is only $39.00 per month per user. Some other members-only offerings are hundreds of dollars per month, but you can even start for free with some of my favorite courses like How to Build a Content Strategy in the Digital Age. 
David's take: Before I worked here at IMPACT, the company's resources helped me put marketing plans together and stay up with the latest trends. If you are looking for an all in one marketing news feed, this is your place to be.
Now with IMPACT+, there's a whole new world of great insights, but I would recommend taking the Fundamentals of They Ask You Answer with Marcus Sheridan to get started.


MarketingProfs' framework is what makes it such a great resource. Their marketing process is as follows — Strategy, Planning, Creation, Communication, Analysis, Management.
Often we just want to jump into creating and communicating, but MarketingProfs challenges us to take a step back and ensure we have the proper strategy in place before creating a marketing asset.
It does cost money to be a member of MarketingProfs and get all of the value they offer, but there is limited free content in the blog that is well worth the daily read.
There is always something new to learn and apply to your marketing strategy and execution.
David's take: MarketingProfs is especially valuable for team members with unique responsibilities. If you have a social media team and a lead nurturing team, everyone should start here. That way, all the team members are working with the same level of knowledge.
Like the name suggests, Search Engine Land focuses on all aspects of SEO. As search algorithms update and evolve, this is an essential resource for all marketers and digital professionals.
This is great for everyone, even if you are an SEO beginner or a card-carrying expert.
Search Engine Land is one of the only publishers that talk about Bing. Though Bing is not the gold standard, it is something to keep on your radar.
David's take: When I want to learn more about a specific SEO topic, this is the first place I go. The content is easy to read and gives me enough to make recommendations to clients and colleagues.
Sometimes, you need to go to the source. When it comes to Google Ads, this is the place to go to master your game.
The Ads Academy has wonderful modules that take you step by step through setting up an account, tracking progress, and making changes over time. It almost feels like a video game. The cherry on top is that it is free!
David's take: The first time I tried to launch an ads campaign, I had no clue where to start or what to do. A coworker at HubSpot told me about these courses. After reviewing them all and failing at them a few times, I gained the confidence to try out Google Ads!
The "Learn SEO and Search" marketing library at MOZ has every resource that you will need to master that skill set. With how-to articles, videos, and infographics, it is an incomparable free SEO educational resource.
Once you think you have mastered everything, MOZ is notorious for releasing a new quiz or course that will continue to advance your skills.
David's take: I use MOZ to help me understand all the technical topics that go into helping or hurting domain authority and technical SEO. 


Even though you may not be a designer at heart, we know it comes with the job. Without having to learn photoshop, this is a great place to create marketing assets your team may need to launch a campaign or use for a presentation.
Though Canva does have some great free resources, the real value is found with their templates and design tools they offer.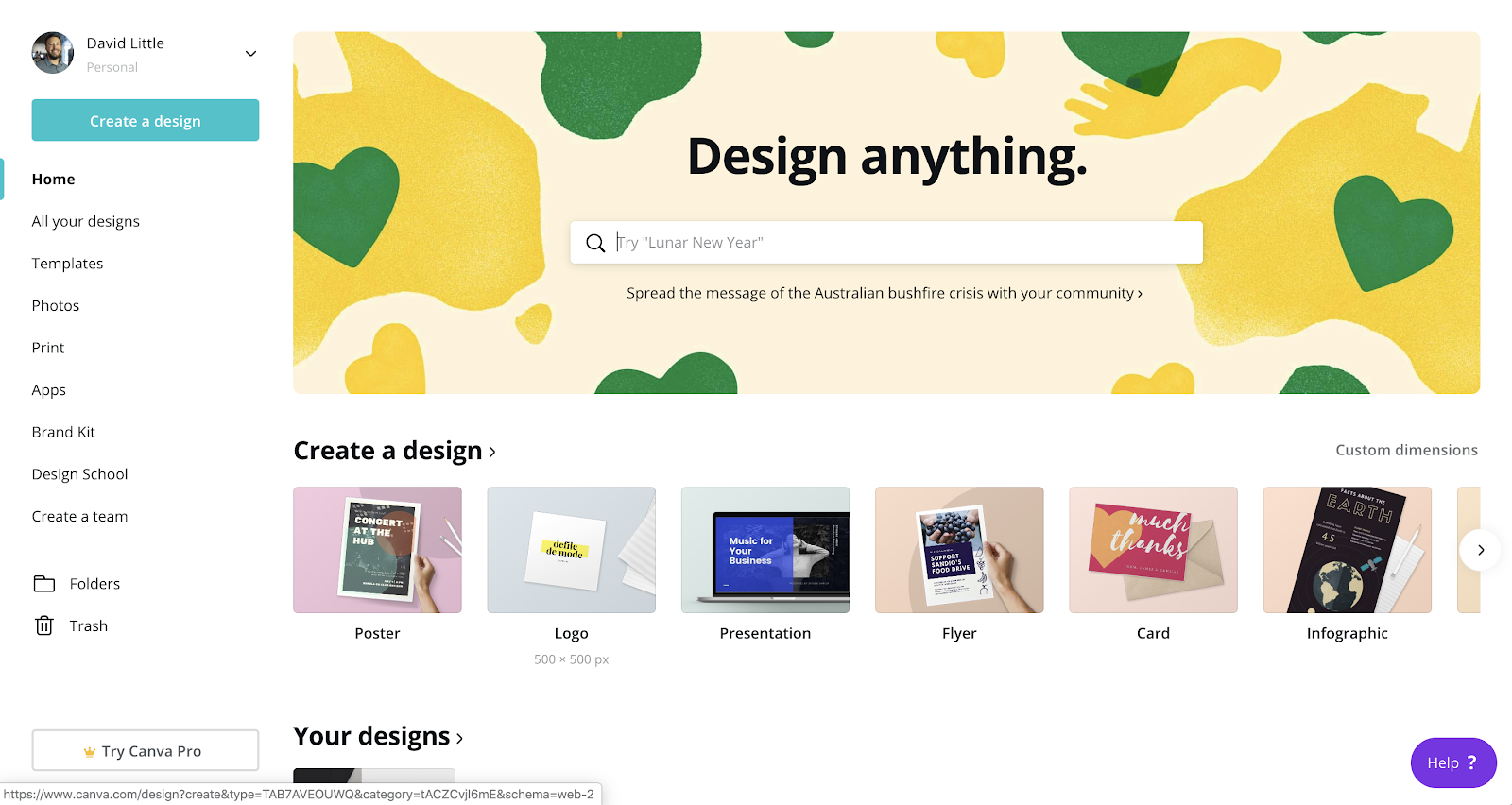 David's take: I am not a designer, at all. My handwriting looks like a child's. However, Canva gives me the confidence to design something of high quality without having to hire a designer or freelancer.


Creating new landing pages can be scary. Often we do not know if they are going to convert, and whether we are following industry best practices.
That's where Unbounce comes in.
They provide industry standards and tips to create the best landing pages that are going to look great and convert visitors into leads.
This is a great place to check in every few months to brush up on the foundational elements and see if there is anything new to learn.
David's take: Even though you might have HubSpot or another tool, there is something to be said about a company that masters just one thing. That is why I love Unbounce, they are masters in the landing page game — and that is all they care about.


Get after it!
Though this list might feel overwhelming, don't lose heart. The best thing to do is to just start. Start with what is going to make the greatest impact in your career and your own personal development.
Choose a site, browse, create a login, and start learning. Your future self will thank you.