Intel announces new Ohio plant, social media users increasingly value privacy, and CVS Health CEO stresses purpose over politics
Also: State Farm ditches Super Bowl ads for TikTok campaign, Snapchat faces lawsuit after teen suicide, and more.
Hello, communicators:
With Super Bowl LVI weeks away, several brands are already launching advertising efforts to build hype around their campaigns ahead of game day. State Farm is one company that won't be advertising at the Super Bowl, however—despite airing its first-ever Super Bowl ad in 2021, the insurance company has decided to spend its efforts creating a TikTok challenge instead.
For the company's #TeamStateFarm TikTok challenge, the "Jake from State Farm" character shares a Superbowl and sports-themed message to entice auditions from TikTok users that hope to star alongside him in the next State Farm commercial:
"Rather than focus solely on one day and a traditional on-air spot, which admittedly was a huge success for us last year, we decided to tap into the ongoing excitement of #TeamStateFarm to extend engagement from the regular season into the postseason and beyond," State Farm marketing VP Alyson Griffin told Adweek. ""By tapping into the creative TikTok community, we see this activation as a chance for State Farm to show up in a dynamic and completely unexpected way while further sharing our 'good neighbor' values."
Here are today's top stories:
Intel explains investment in new Ohio chip manufacturing site
Intel announced that it will spend at least $20 billion to build a 1,000-acre chip factory site near Columbus, Ohio that the company says is the "largest silicon manufacturing location on the planet." Per Intel, this site will help boost production of semiconductor chips and solve supply chain issues wreaking havoc for many manufacturers. The company pledged an additional $100 million to launch regional partnerships with educational institutions that will build a pipeline of talent and promote research programs.
"We are putting our chips on the table," Intel CEO Patrick Gelsinger quipped at a White House event announcing the project.
According to Intel's press release:
"The impact of this mega-site investment will be profound," said Keyvan Esfarjani, Intel senior vice president of Manufacturing, Supply Chain and Operations. "A semiconductor factory is not like other factories. Building this semiconductor mega-site is akin to building a small city, which brings forth a vibrant community of supporting services and suppliers. Ohio is an ideal location for Intel's U.S. expansion because of its access to top talent, robust existing infrastructure, and long history as a manufacturing powerhouse. The scope and pace of Intel's expansion in Ohio, however, will depend heavily on funding from the CHIPS Act."
What it means:
Intel's news about its manufacturing site comes after the Creating Helpful Incentives to Produce Semiconductors for America Act, or CHIPS Act, was passed by a bipartisan vote in the Senate but was embroiled in the House amid fights over President Biden's "Build Back Better" agenda.  Arriving one year later, news of this Ohio site doubles as a commitment from Intel to uphold its end of the public/private partnership ($20 billion and another $100 million), with hopes that Congress will finally pass the $52 billion in subsidies for the industry.
Gelsinger's most quotable lines, such as "chips on the table," demonstrate how a soundbite can create a sticky point for the key messages in your statement to resonate with general audiences. Esfarjani's words about the importance of a "small city" and a "vibrant community" further humanize the massive undertaking by putting a focus on the American people and the region that will benefit from the investment.
---
MEASURED THOUGHTS
A new survey from Go Verizon found that 81% of people are more concerned about their privacy on social media than they were last year. Sixty-nine percent have deleted or thought of deleting a social media account because of recent social media data breaches.
Despite the widespread concern, just 53% of social media users said they create unique passwords for each of their accounts.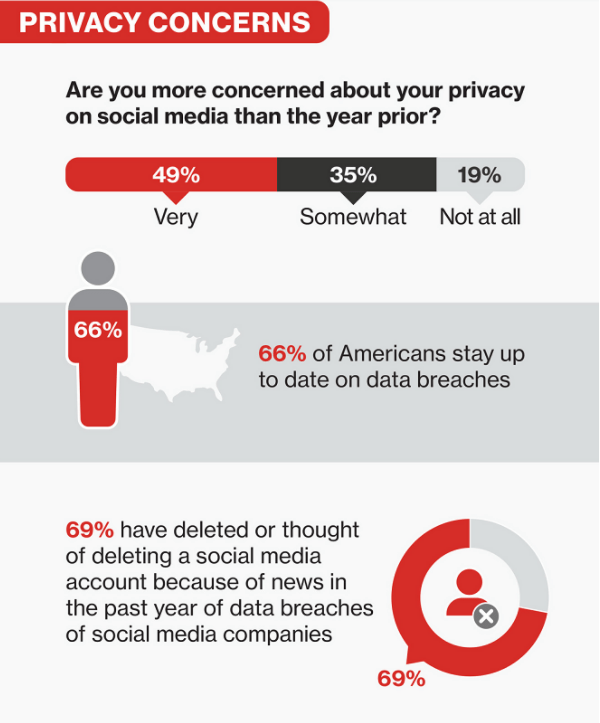 After a year that included a pipeline hacks, customer data breaches and more, these numbers show that audiences care about data privacy, but still aren't taking all the necessary steps to protect their data online.
Check out the full study here.
---
TAKE OUR SURVEY
If you're looking to further your understanding of your industry to navigate what's ahead in 2022, lend us a hand—and help yourself and your peers identify shared benchmarks in areas such as budgets, team structure, ESG and DE&I efforts, and more. Participate in Ragan Communications Leadership Council's 2022 Benchmark Survey, a comprehensive look at how to negotiate budgets with your executives, how to best reach deskless workers and foster culture among a hybrid workforce, and more.
Both internal and external communicators are encouraged to participate.
By taking part, you'll be entered to win one of three $100 gift cards. All who complete the survey will receive a full report on the findings. Responses are anonymous.
Survey takers will receive an executive summary of the findings.
---
CRISIS COMMUNICATIONS
Snap Inc. has responded to a lawsuit which alleges a young user died by suicide after becoming addicted to the app and "struggling with the harmful effects of social media." The lawsuit also names Meta, which did not provide a statement.
"We are devastated to hear of Selena's passing and our hearts go out to her family. While we can't comment on the specifics of active litigation, nothing is more important to us than the wellbeing of our community," a Snap spokesperson said. "In fact, Snapchat helps people communicate with their real friends, without some of the public pressure and social comparison features of traditional social media platforms, and intentionally makes it hard for strangers to contact young people."
Social media platforms are getting a closer look from regulators and watchdogs as research has surfaced about their negative impact on young users on their platforms. Meta, the company formerly known as Facebook, saw widespread criticism after a whistleblower leaked internal research that showed the company knew young users experienced mental health risks on its platforms.
The lawsuits are a new wrinkle for the companies, which are shielded by a 1996 law that absolves internet companies of liability for content posted online.
"Snapchat helps people communicate with their real friends, without some of the public pressure and social comparison features of traditional social media platforms, and intentionally makes it hard for strangers to contact young people," the Snap spokesperson said. "We work closely with many mental health organizations to provide in-app tools and resources for Snapchatters as part of our ongoing work to keep our community safe."
The lawsuit is a reminder to brand managers to beware how their messages are showing up online—and how they might be connected to experiences that are causing real harm in communities around the world. For ad buyers and organic social media managers, tough questions should be asked about whether you are doing enough to protect young users in your digital community.
---
Announcing the PR Daily Leadership Network
PR Daily is launching the PR Daily Leadership Network, a unique membership group from Ragan Communications offering peer-to-peer advisory and team training along with a unique slate of resources and events to help public relations professionals break through the noise, increase their visibility and forge meaningful connections.
The Network provides daily insights and coverage on a range of topics including media relations, social media, measurement, Diversity, Equity & Inclusion, branding, thought leadership and crisis communications.
"The fast pace of change coupled with the demand on public relations professionals to protect and sometimes defend their company's reputation make it imperative for leaders to tap into the wisdom of other communicators and continue to learn and grow," says Diane Schwartz, CEO of Ragan Communications. "The PR Daily Leadership Network provides the answers but also encourages members to question the status quo and push for positive change."
Visit leadership.prdaily.com to learn more.
CVS Health CEO shares thoughts on brands taking political stands
In an interview with The New York Times, CVS Health CEO Karen S. Lynch explained the challenges of coming onboard to lead the company in the middle of a pandemic. Lynch stressed the company's purpose as a strategic north star, acknowledged labor shortages and the company's plan to raise the minimum wage for its employees to $15.
Lynch also shared her thoughts on when CEOs should get involved in politics as a messaging leader for their organization.
You don't want me to wax about politics. I do worry about it. I think there are certain points in time where I think C.E.O.s should step in, when they affect their businesses or their employees. And there are certain times that that's none of our business. It's a delicate balance. We have to make sure that your first interest is in your colleagues, your customers and then your shareholders, and make sure that you're doing what's right for them.
Why it matters:
Arriving nearly one year after Lynch become CEO of CVS Health, this interview offers a chance for her to demonstrate all that she's learned on the job since. It also shows how purpose and values can be an essential guide for your organizations' leaders in building you communications strategy.
It's a good lesson for brand managers who are increasingly encouraged to weigh in on the latest cause du jour. Audiences don't want your brand to pick a political fight so much as they want it to stand up for its values in the marketplace of ideas.
The post Intel announces new Ohio plant, social media users increasingly value privacy, and CVS Health CEO stresses purpose over politics appeared first on PR Daily.