Kids Are Bound to Go Wild Over These 11 Top-Rated Toys - Available at Walmart!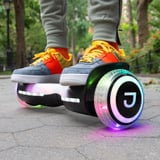 The holiday shopping season is here, people! To prove it, Walmart recently unveiled its highly anticipated list of most-wanted toys of the year. If you're new to the annual report, the retailer spotlights the hottest items for kids of all ages. It doubles as a warning to place your orders stat because it's likely that the most popular items won't stay in stock for long.
This year's lineup of must-haves includes some really great finds that are both educational and fun. Three that the whole family will fall in love with include a giant-sized Sorry game, a hoverboard with built-in speakers and a kid-friendly instant camera. Need we say any more - or have you already ditched us to add them to your virtual shopping cart?
Keep scrolling to shop 11 of this year's hottest toys, including some so epic that adults will want to get in on the fun, too.