Things to Do in Branson Missouri with Kids
If you're looking for a vacation spot that the whole family can enjoy, look no further than Branson, Missouri in the Ozark mountains. There are plenty of things to do in Branson with kids, from amusement parks to nature preserves. Plus, the scenery is simply beautiful! So much to see and do or just relax and take in the fresh air while the kids have a blast playing. Keep reading to learn more about some of the top attractions in Branson for families.
Interactive Exhibits in Branson
Titanic Museum Attraction – Does the Titanic pique your interest? The Titanic Museum is an awesome place to visit if you are looking for a fun and engaging family attraction.  I've been to the Titanic traveling museum several times. It does not disappoint. This museum offers a variety of fun activities for younger kids, from interactive exhibits to hands-on activities. Did you know you can shovel coal and actually touch an iceberg? You can begin to understand how cold the water was on that frightful eve. You can even take your photo on the grand staircase just like in the movie. It's truly a unique experience. Be sure to check out their website for more information on what they have to offer.
World's Largest Toy Museum – Where else can you find a million toys, both old and new? The World's Largest Toy Museum Complex has over 1 million different attractions within 6 museums. There are a number of interactive exhibits, such as the Lincoln Logs and Hot Wheels track. You will be able to see toys from the 19th century up to the present day in this eclectic collection of playthings! If your kids are toy enthusiasts, plan to spend as much time here as some of the museums!
Family Fun Parks in Branson
Track Family Fun Parks – Looking for a fun family activity while in Branson? Check out one of the area's Track Family Fun Parks! Packed with laser tag, miniature golf, go-karts, bumper cars, and more the fun parks are for all ages. The nice thing about these is that they are smaller than the main attractions in the Branson area. You can plan to spend an hour or the whole day on these activities, depending on how many activities your kids want to do. If the weather is a little on the cooler side, and you don't want to be out for long, this place works perfectly! Little kids will enjoy the rides and activities without the overly long wait times. Check operating hours before you go.
Most of these amusement park locations offer food options and arcade games to keep everyone entertained. Be sure to add the Branson Ferris Wheel to your list, located right on the property. It's a great way to see the city from a different perspective, and it's also a lot of fun. So load up the gang and head to one of these great tracks for some unforgettable memories!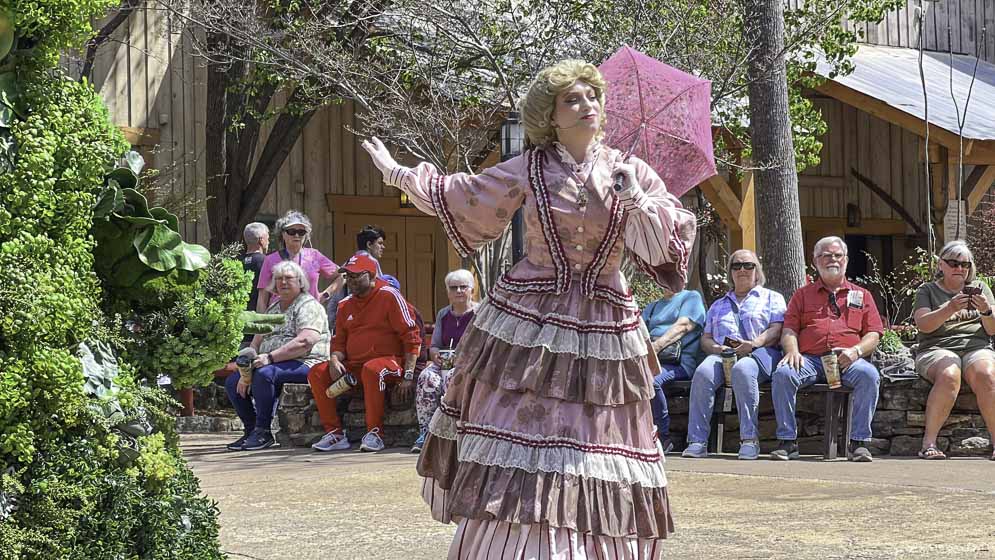 Fritz's Adventure – This indoor adventure park provides opportunities for the entire family. This popular Branson attraction has over 88,000 square feet of explorable space. This includes the only indoor/outdoor TreeTops course in the world. The TreeTops course features 45 obstacles, including 17 high-flying zip lines, 8 suspension bridges, 2 free falls, and a crow's nest with a view for miles. And that's not all. The kiddos will have so much fun in the multi-story ropes course, playing laser tag, and roaming through tunnels. Since Branson is a great place to visit even in the cooler months, we love the idea of an indoor attraction that you can still visit on cooler or rainy days!
Silver Dollar City Theme Park – Silver Dollar City is a theme park in Missouri that is known for its 1880s theme. There are over 40 rides (including wooden roller coasters ) and attractions at Silver Dollar City, as well as live entertainment, craftsmen, and food. They also offer educational opportunities and capture visitors' imaginations with live craft demonstrations. Their new Time Traveler roller coaster was just announced. If you have a larger group or have grandparents or anyone in your party that needs accessibility options, Silver Dollar City is a great option. It has easy access to picnic areas and eating areas inside the park, and the wide paved walking areas provide lots of room for strollers, wagons, and wheelchairs alike. There is also plenty of seating for those members of your group who may not want to ride everything. The Silver Dollar City Campground features campsites, RV sites, and trailer rentals, and hand-crafted rustic log cabins not too far from the theme park.
The park is open from March to December and is definitely worth a visit if you're in the area!
Family Fun for Nature Lovers
Butterfly Palace – Do you love butterflies? If so, the Butterfly Palace in Branson is a must-see attraction. This amazing facility has hundreds of butterflies from all over the world. You can watch them flutter around inside a rainforest environment in the butterfly aviary or see them perched on flowers. There's also a butterfly garden with blooming plants that attract these beautiful creatures. You may even get a chance to release a butterfly while you are there. The Butterfly Palace is definitely one of the most unique and enchanting places in Branson. Don't miss it!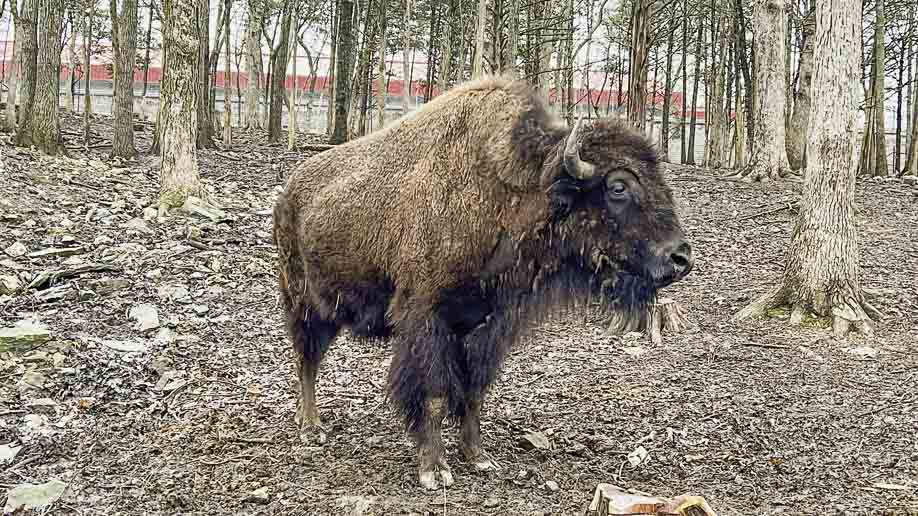 Branson's Promised Land Zoo – If you're looking for a wild and exotic animals experience, Promised Land Zoo in Branson is the perfect place to go. With live animals from all over the world, you can see creatures that you won't find anywhere else. From elephants and lions to monkeys and kangaroos, this zoo has it all! General admission includes a foot safari where you can see animals up-close as well as live animal shows. We would recommend this option if you're in town for a trip to Silver Dollar City or other all-day events.
If you get a chance to do the VIP+ experience, we highly recommend it. This option would be the main destination idea. It's perfect if you're not an amusement park fan, or have smaller kids who wouldn't be able to sit through shows or ride amusement park rides. Think of it as a giant petting zoo. So if you're looking for an animal adventure, be sure to check out Promised Land Zoo.
Branson's Wild World – Branson's Wild World is an aquarium with all sorts of exotic sea creatures; including eels, jellyfish, and piranhas! There are also sharks included, which you can feed! The sharks definitely make this place unique among other attractions in town. Kids of all ages will have a great time here with interactive experiences to feed, touch and hold wild animals. Don't forget to meet Lobo and his pack of wolves in their indoor wild wolf display. They also offer a shuttle service to Silver Dollar City. We love shuttle services for avoiding those busy Branson streets in the afternoon hours, or going from one attraction to another!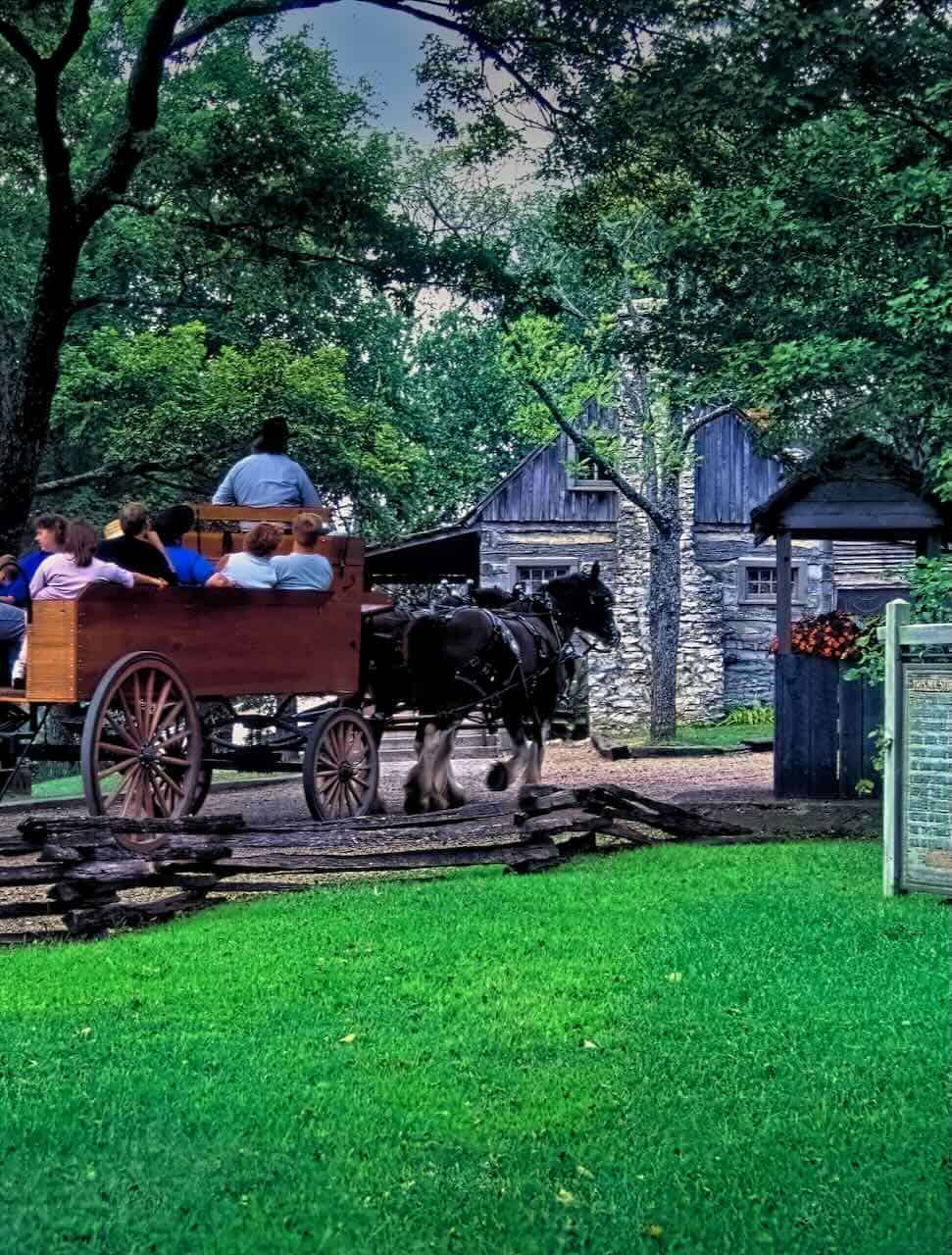 Shepherd of the Hills Fish Hatchery – The Shepherd of the Hills Fish Hatchery is a popular tourist destination in Branson, Missouri. The hatchery offers visitors a chance to see how fish are bred and raised. There is also a small aquarium on site where visitors can view some of the fish that are grown at the hatchery. The staff at the hatchery are happy to answer questions about trout fishing and offer tips on where to go trout fishing in the area.
Hollywood Wax Museum – If you're looking for a fun and interesting attraction to check out while in Branson, Missouri, the Hollywood Wax Museum is a must-visit! With lifelike wax figures of some of your favorite celebrities, movie stars, and musicians, this museum provides an up-close and personal look at the world of Hollywood. You'll feel like you've stepped onto the red carpet yourself! This attraction is a good one to add to your list of fun things for families. If you have teens or tweens, be sure to check into this one.
With so many things to do in Branson, your family vacation will be filled with memories that will last a lifetime. From shows and attractions to outdoor recreation and shopping, there's something for everyone in the Family Fun Capital of the World. So what are you waiting for? Start planning your trip today!




More trip ideas for families! Utah water adventures are really the perfect adventure for families. How about camping at Walt Disney World?
The post Things to Do in Branson Missouri with Kids appeared first on Design Dazzle.