17 Ways You've Never Thought to Reuse Old Shutters
You see them all the time at thrift stores, garage sales, flea markets and antique shops. You may even have a few of them gathering dust in your garage. Shutters are everywhere now, and if you've overlooked them before, you may want to snatch up the next one you see. Why? Well, there are so many shutter project ideas to beautify and organize your home.
There are so many ways to use shutters in home decor and they add so much character to your space.  Every shutter has a story to tell by the way its been weathered and the life its lived.  You can bring that story into your home along and it will add vintage charm to your space like nothing else can.
Take a look at some of our favorite shutter project ideas for inspiration.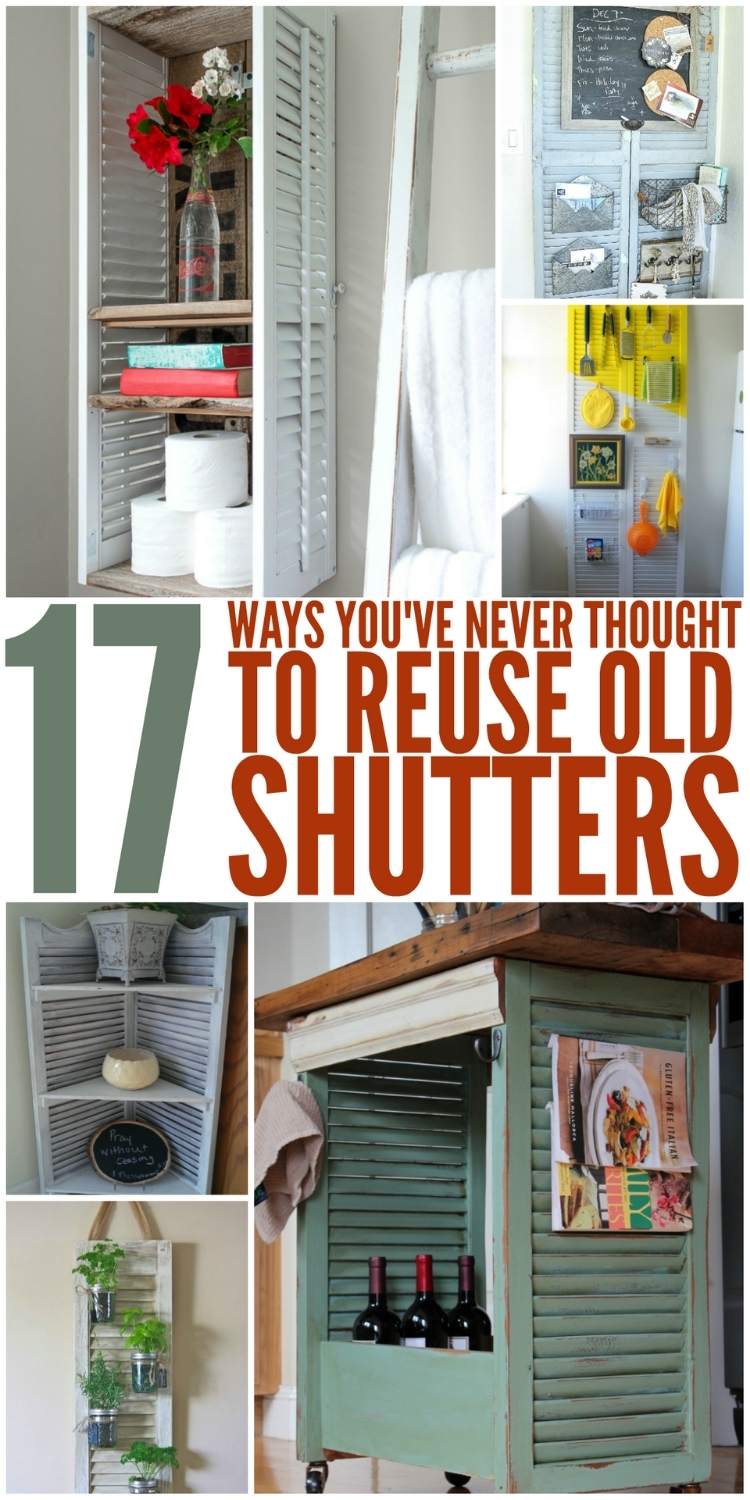 Shutter Project Ideas You'll Love
"I'm always interested in the spooky repurposing of everyday things." – William Gibson
1. Shutter Project Ideas for Organizing Toilet Paper
Add some rustic charm to your bathroom. Turn an old shutter into a stylish toilet paper organizer. Adding the decorative accent to the top gives it a little extra personality.   Who couldn't use a place to keep 4 extra roles of toilet paper.  We have more toilet paper storage ideas, too!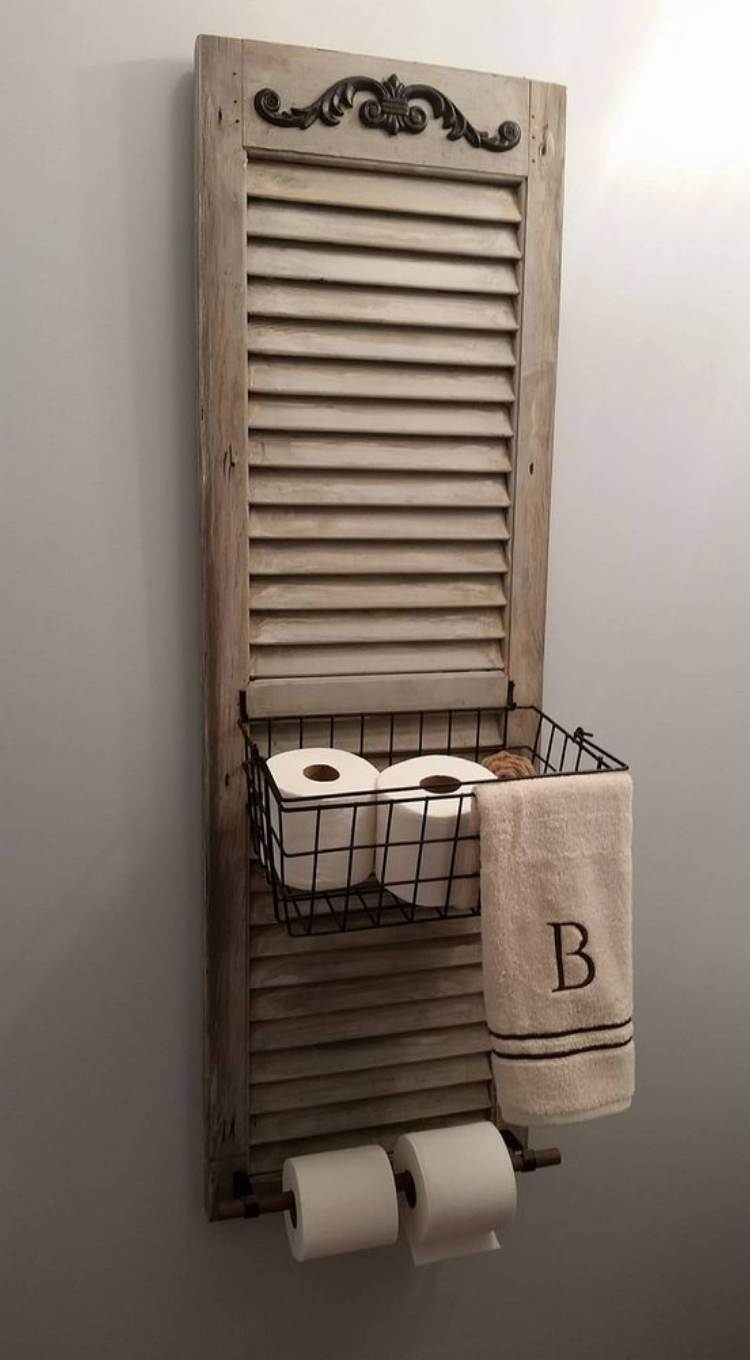 2. Shutter Project Ideas for Organizing Paperwork
Who else never knows what to do with the stack of paper that just keeps piling up?  Please tell me its not just me!  Install a few shutters in your command center for mail, coupons, and artwork.  Never have your paperwork pile up again and now your children's artwork can be stylishly displayed instead of disappearing into a paperwork pile.  They will be so excited to have it on display and you will feel good knowing the important stuff doesn't get lost.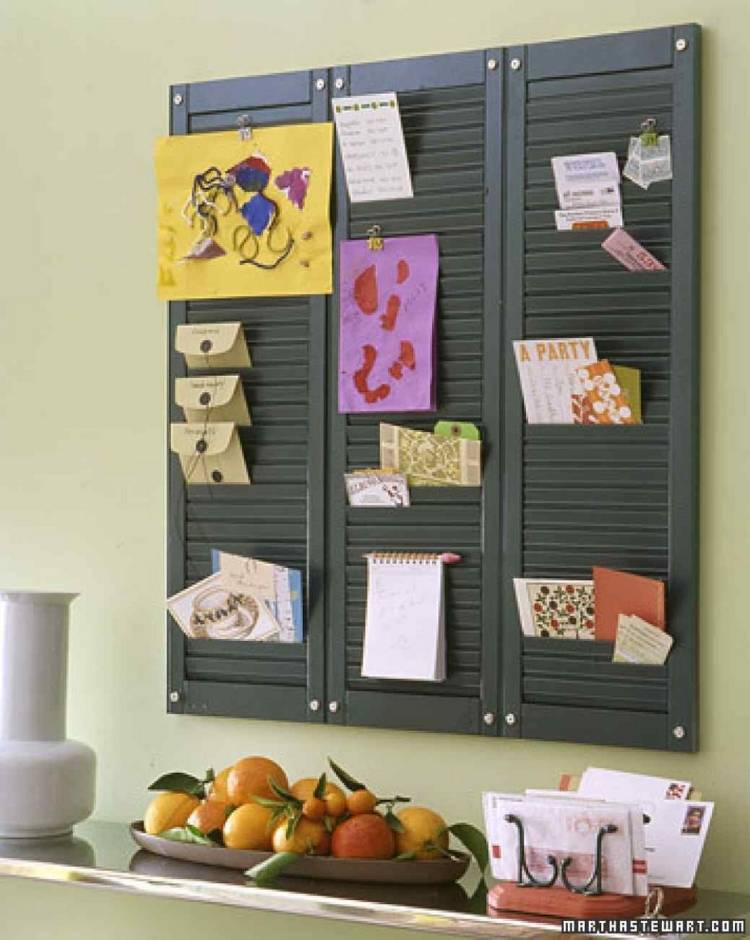 3. Shutter Project Ideas for a Mug Rack
There are so many fun mugs on the market these days with such clever sayings.  This is a great option for displaying them now that they are all the rage.  Not only that but the rustic shutter gives it a decorated feel. Not only that but the rustic shutter gives it a decorated feel.  This is a win. Your cabinet space is freed up with this handy shutter mug rack to house all your coffee mugs.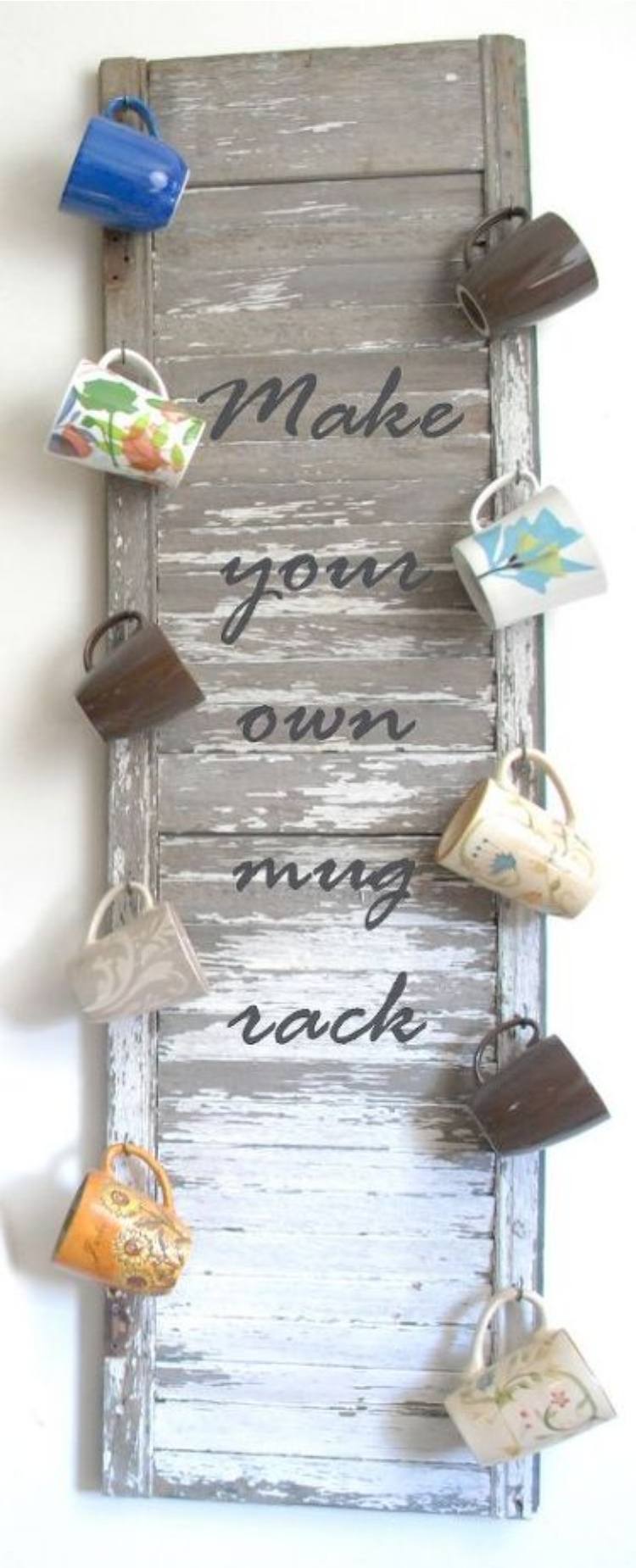 4. Build a Rustic Shutter Bench
So many ways to use shutters in the kitchen. Who would have thought you could add a rustic shutter bench to your table? It adds a beautiful farmhouse and shabby chic feel.   A bench at a table is practical. It makes it easy to seat extra people when you need to without trying to cram more chairs under the table. As far as I'm concerned, the more the merrier!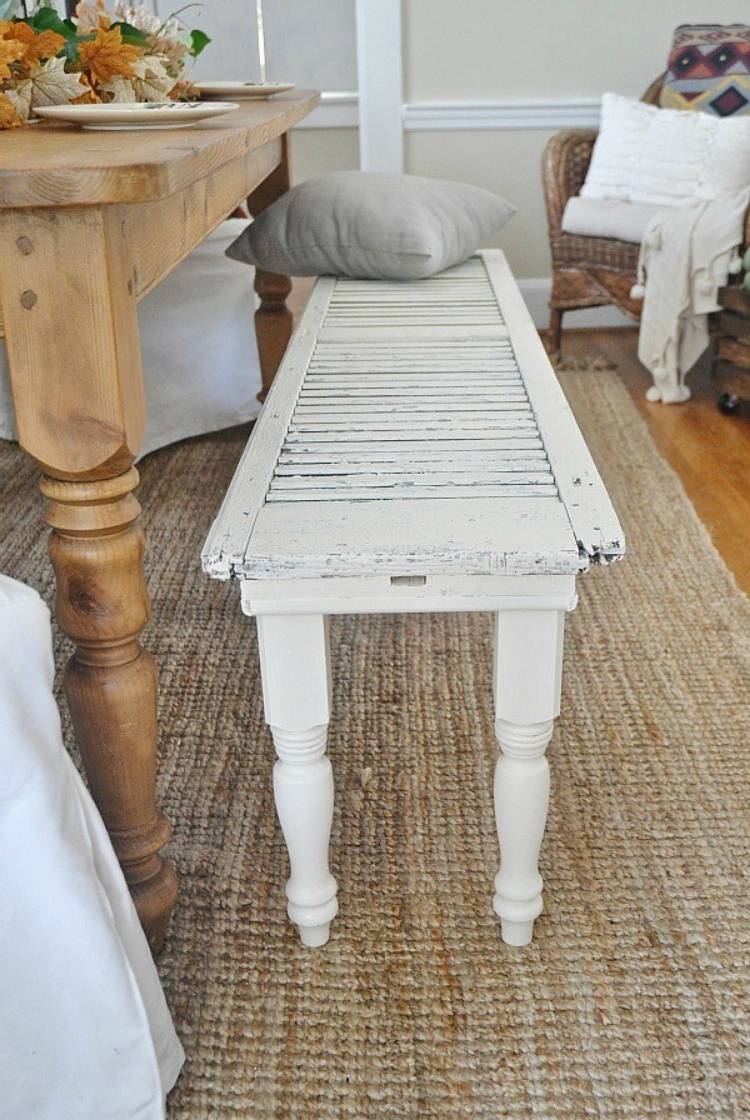 5. Make A Command Station
Turn a pair of old shutters into a command station that will help your entire family stay organized. Add a chalk board for notes, mail slots for things that need to go in and out and hooks for hanging bags. We love the rustic look of this project because so often these areas in the house tend to look junky, but not this one!  Its stylish and practical.  Does it get any better than that?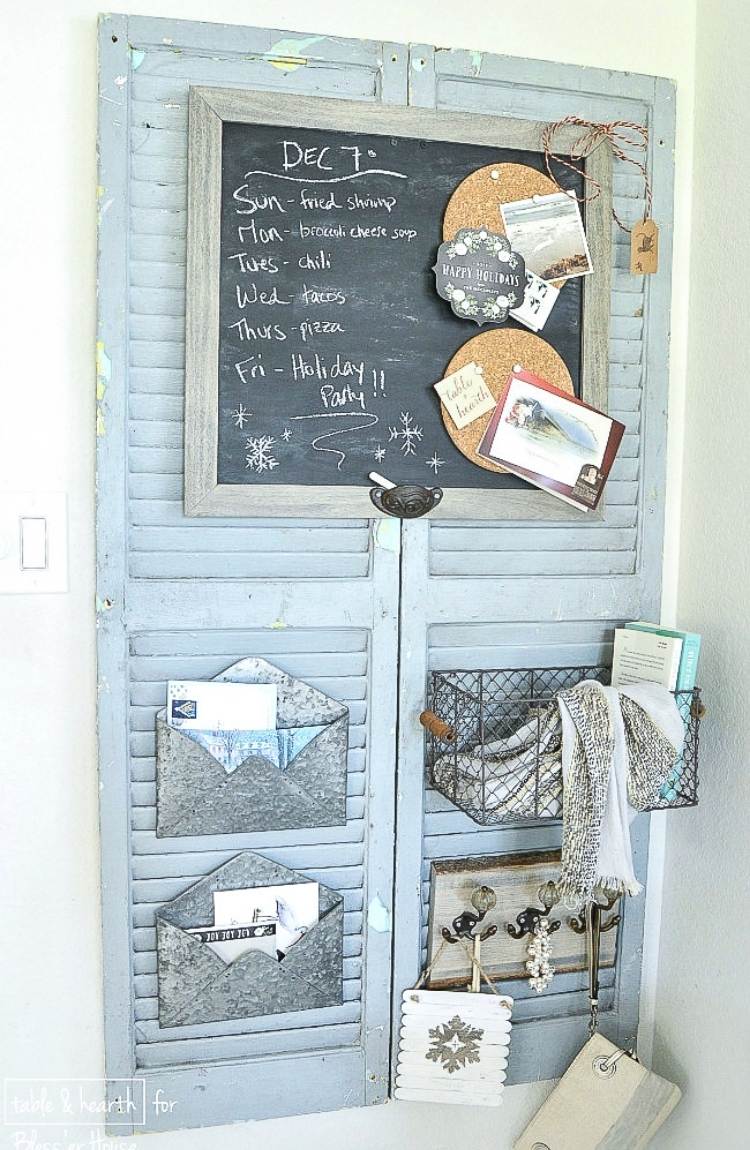 6. Shutter Project Ideas to Organize Keys
Here's a command center that's situated over the shoe box in this entrance. It has hooks for keys and the slots are used for cards, pictures and mail.  It would be well suited on an empty wall by your door that you don't know what else to hang. Painting shutters in fun colors to match your decor is a great way to add color. Don't you love how this one is green on a yellow wall?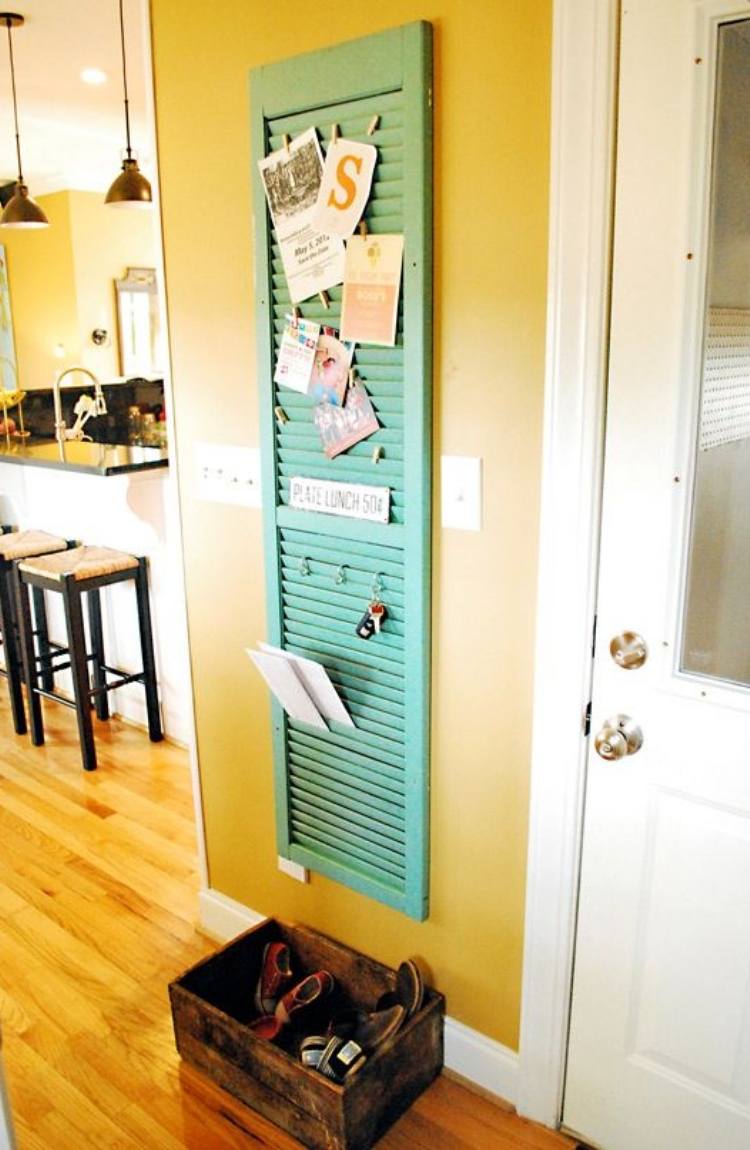 7. Shutter Project Ideas for a Coat Rack
Let's get creative and hang a shutter horizontally and add knobs or hooks. Then you will have a shabby chic coat rack for your mudroom.  This one is vintage and creates that well worn, happily lived in feel.  If you have the space in your mudroom or your door this is a must have.  It is so handy to have a place to hang things rather than just dump on the first available spot and it looks great too!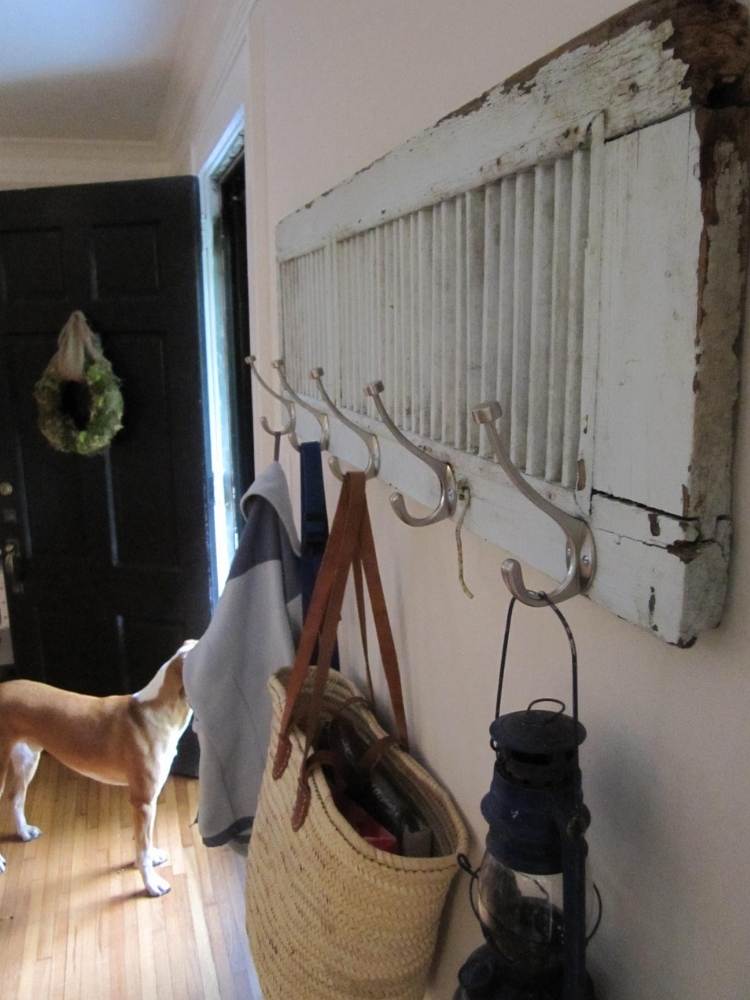 8. Make A Handy Herb Planter
Fresh herbs in the kitchen are any cooks dream.  You can make a herb herb planter out of an old shutter and you have just stole my heart.  The green herbs add a pop of color on an otherwise neutral piece.  You can make one for indoors or for the patio using an old shutter, mason jars, and your favorite herbs.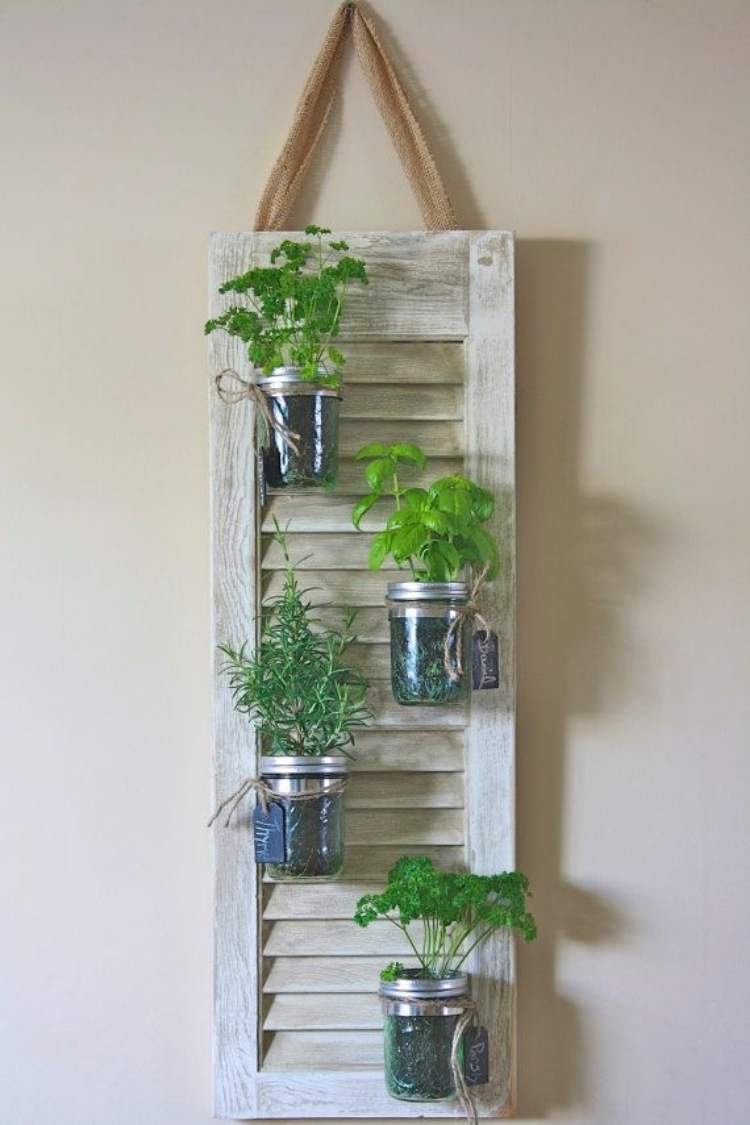 9. Organize Your Kitchen With Shutters
Create a kitchen organizer for utensils, potholders, measuring spoons and more. The yellow is so bright and cheerful and you can keep all your most used kitchen tools close and easy to spot. Never wonder where your favorite grater or knife is again!  This is not your ordinary organization system! It adds heaps of character with this one creation!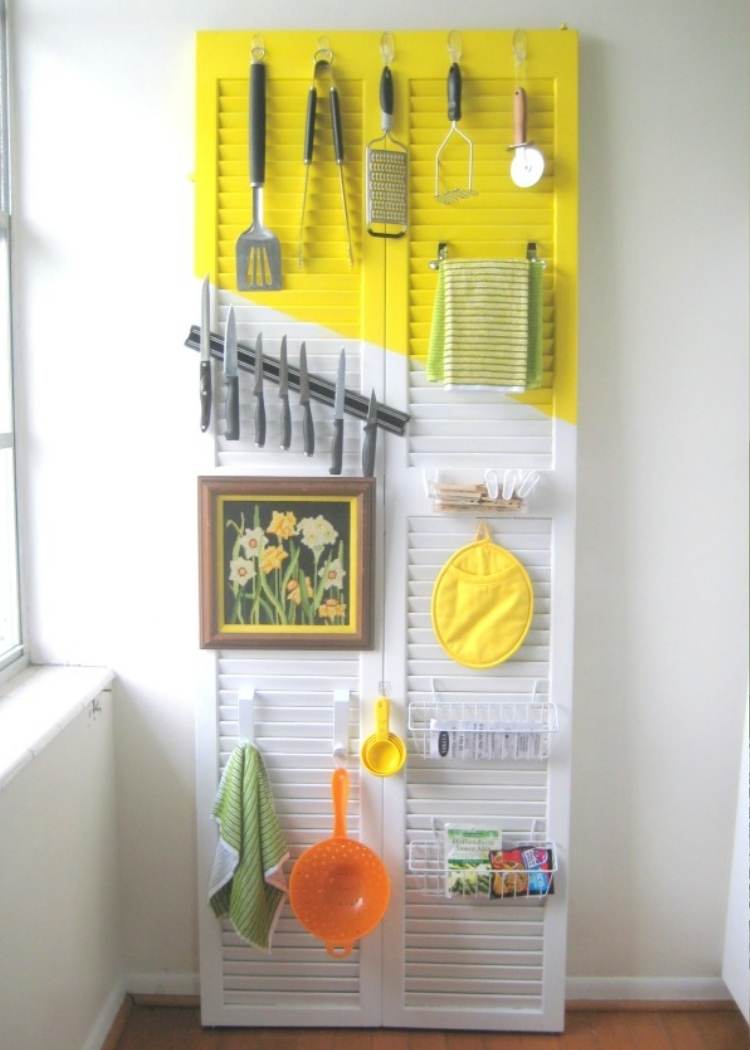 10. Build An Island from Shutters
It's time for a shutter island! No, not that Shutter Island, the movie. This one… this super cute kitchen island made of shutters, an old drawer and a reclaimed wood top.  But seriously, how handy would this be?   This island holds all the essentials (especially the wine). You can add more counter space anywhere you need it in the kitchen.  Chopping veggies by the stove? No problem.  Need to chop then wash?  Just wheel it over to the sink!  Cute and versatile.  Does it get any better?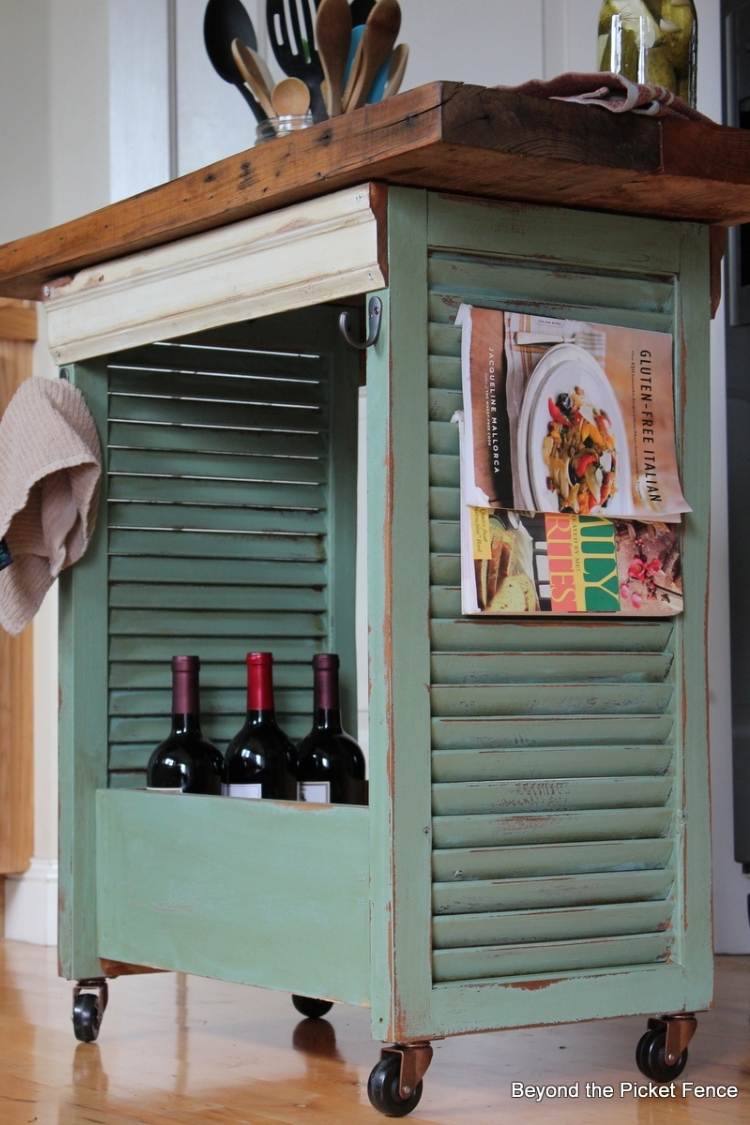 11. Shutter Project Ideas for Bathroom Caddies
Build a bathroom shelf using two shutters and some wood scraps from your project pile. Personally, we think the older the wood and shutters look the better. They just add so much warmth and character you can't achieve otherwise.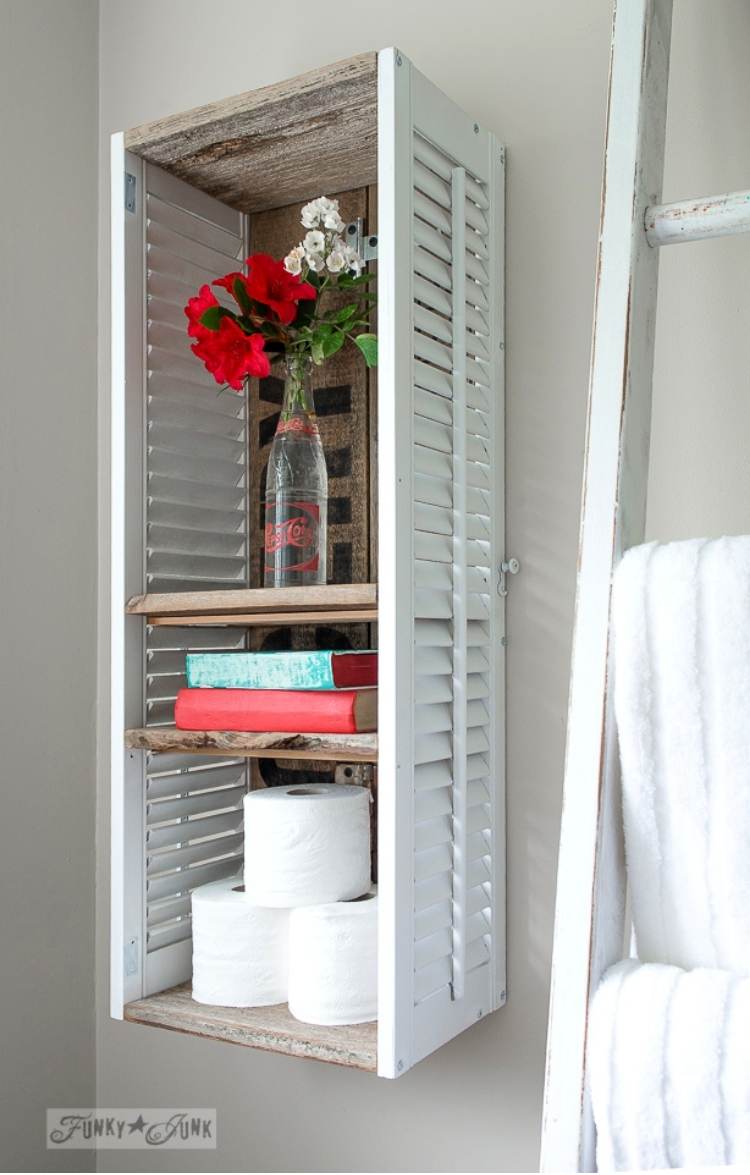 12. Build a Headboard from Shutters
Paint shutters in a bright color and hang 3-4 behind your bed you can create a super easy shutter headboard. It is a great way to spruce up your bedroom. The green color on these shutters adds so much character to the bedroom.  The pillows and lamp match the shutters creating continuity throughout the room.  This is a super cute idea for a spare bedroom or teen room.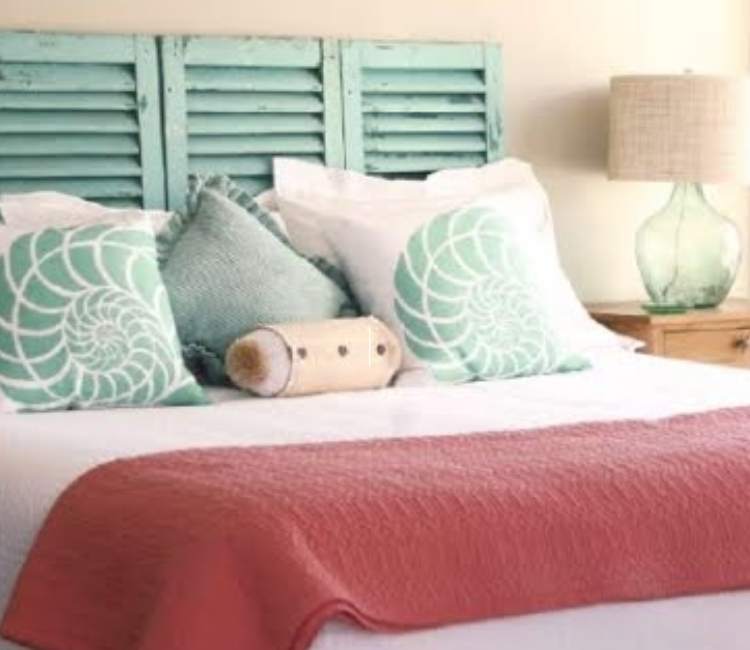 13. Organize Your Jewelry with Shutters
Organize and display your favorite jewelry!  With a fresh coat (or two) of paint, some hooks and knobs, you're all set. You now have a pretty and practical organizer for your bling.  Keeping all your jewelry on display. This makes it easy to find that particular pair of earrings to go with that outfit. Or to search quickly through your inventory when you don't know which piece to wear.  This one would be quick and easy to make and it will be a huge time saver in your life!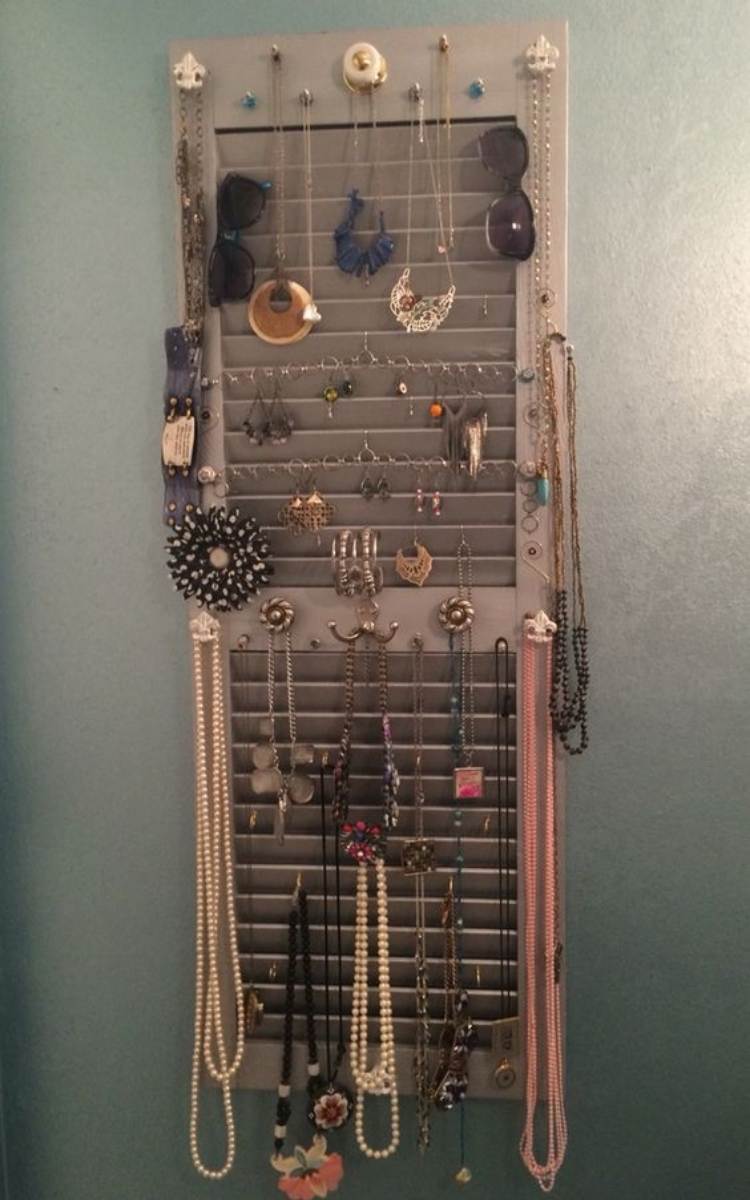 14. Shutter Project Ideas for a Corner Shelf
Build a corner shelf out of two shutters and use some plywood in between for the shelves.  This is a piece you could paint a bright color and brighten up a dark corner, or keep it neutral like this one.  A corner cabinet gives you so much room for storage space.  You can keep your fancy dishes, cookbooks, decorative mugs or any other relevant décor here.  We also love putting a plant on top of the cabinet for extra color in the room.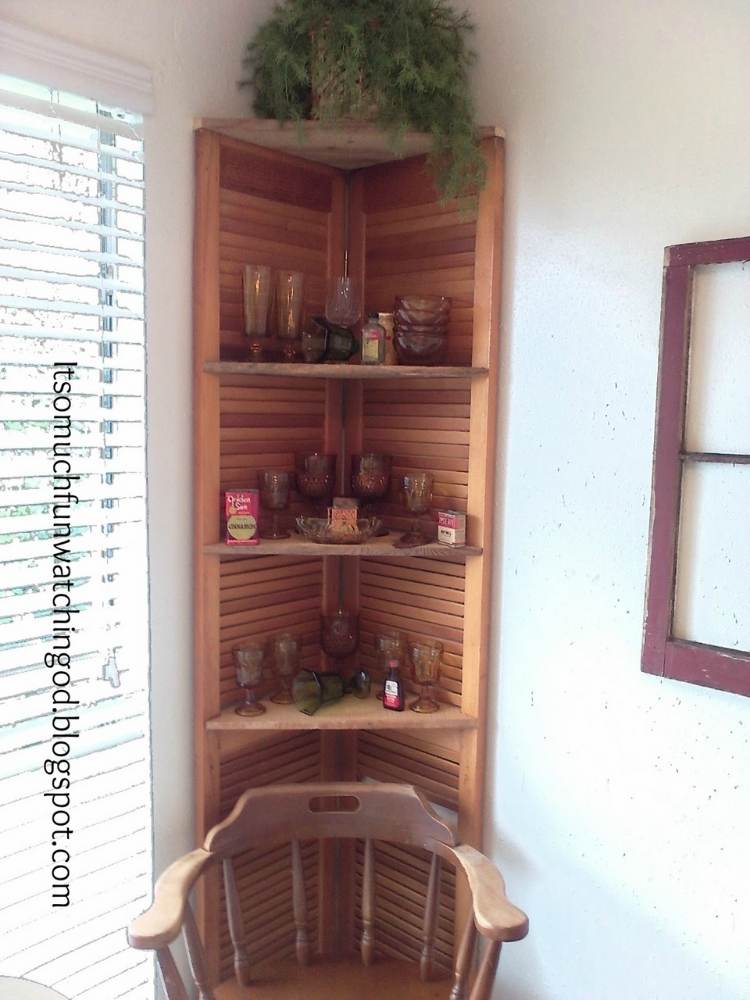 15. Shutter Project Ideas for Magazine Racks
A magazine rack is a natural idea for an old shutter.  Add a decorative accent to the top and you've got a stylish way to hold your favorite magazines.  This is so much better than a pile of magazines laying around.  It turns that pile of magazines into decorations.  Anytime you can kill two birds with one stone its a win!!
16. Front Step Decorations from Shutters
Celebrate 4th of July all year long!  Paint a shutter in red, white and blue to create a memorable patriotic display for your porch. A wicker chair with a cushion beside the display makes for a great place  to spend summer evenings. If you have a larger porch you can add several chairs and invite guests.  This makes for a great space to entertaining!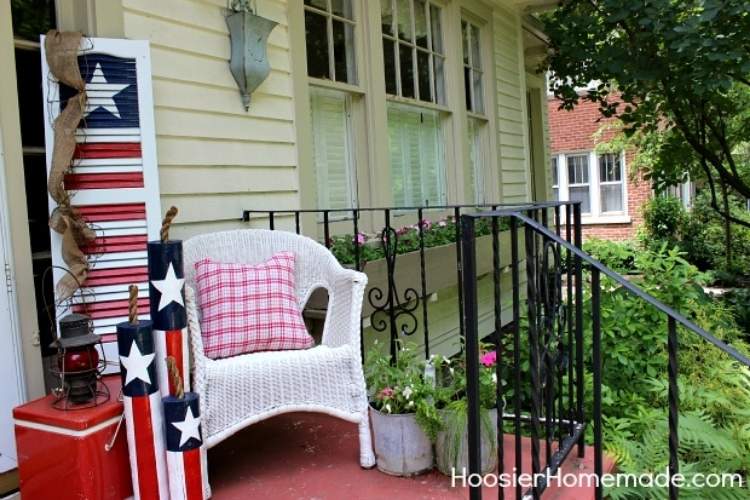 17. Shutter Project Ideas for Mirrors
Add shutters to a mirror for an extra touch of flair. You could just add them on either side, but you'll get bonus points for installing them on hinges to open and close them whenever you'd like. You can't help but love looking into a mirror that is so beautifully designed.  Lovely!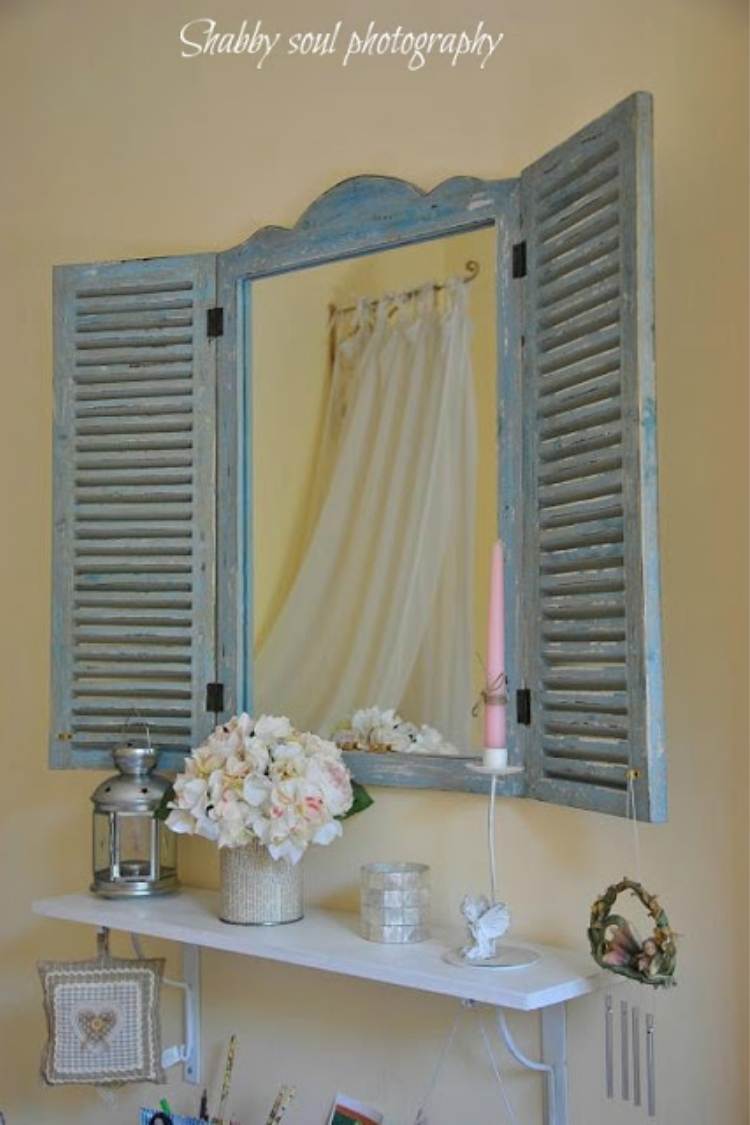 Create Unique Treasures for Your Home Using Shutters
Are you Wondering Where The Best Places Are to Find Old Shutters?
Buy and Sell Sites
Salvage Sites
Antique Stores
Old Storage Yards
Garage Sales
Thrift Stores
Flea Markets
Estate Sales
I hope these ideas for decorating your home with Shutter Project Ideas! Do you have any additional ideas you'd like to share? Send them to us or let us know on our Facebook page!
Check out these other posts on Repurposing Items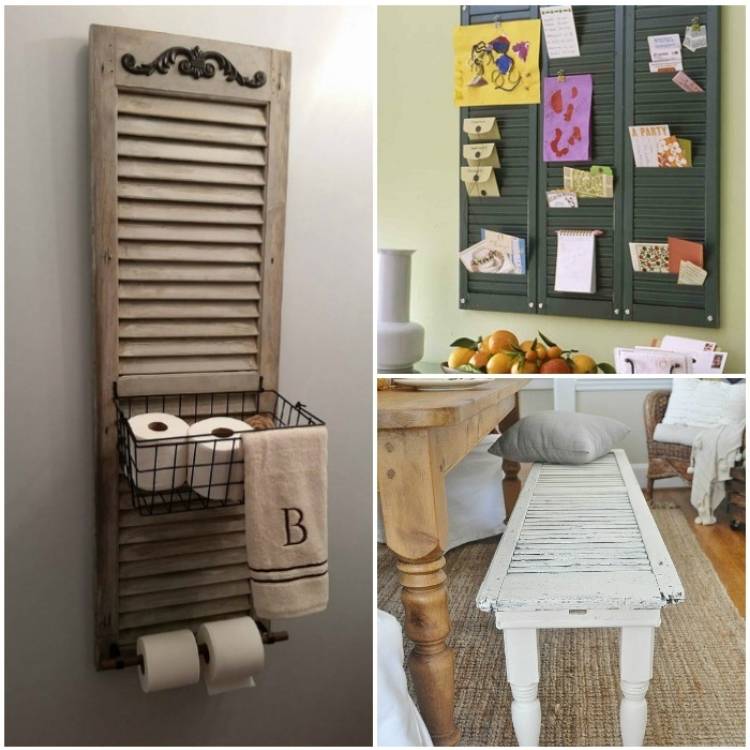 The post 17 Ways You've Never Thought to Reuse Old Shutters appeared first on DIY House Hacks - One Crazy House.