21 Insanely Good Garage Organization Ideas You'll Need to Try Out
Perfect garage organization ideas you'll be OBSESSED with!
Did you know that 20% of homeowners are unable to park their cars in their garage?
It seems that nowadays, our garages have become an oversized junk drawer!
But there's no reason why you can't maximize this space and create a storage solution to keep your garage functional and clutter-free.
When we moved into our new home, I was determined to maintain organizational systems all over the place.
Of course, the garage can be the hardest place to keep organized without the right storage ideas.
I set to find garage organization ideas as a way to store all of my husbands tools, snow plow, garden rakes and more!
But before we get into the amazing garage organization ideas I'm seriously OBSESSED with, let's look at how you can give your garage a good clean out and plan the perfect storage system.
Are You Ready to Start Cleaning Out Your Garage?
Before starting these insanely good garage organization ideas, you have to clean out your garage!
Unless, of course, you are moving into a brand new home and have the luxury of starting from scratch.
Otherwise, you're going to want to set aside an entire day or weekend to get this done.
I know! This isn't my favorite part, but get the entire family involved and have a treat at the end (for us it was ice cream!).
So, make this a family affair or invite a few friends over to pitch in.
When you're going through your garage items, sort everything into three piles: keep, donate/sell, and toss.
Throw out broken items and expired products and donate or sell anything in good shape that you don't use or haven't used in the past couple of years.
Once you have figured out what you are keeping, it's time to start planning your garage organization!
How to Organize Your Garage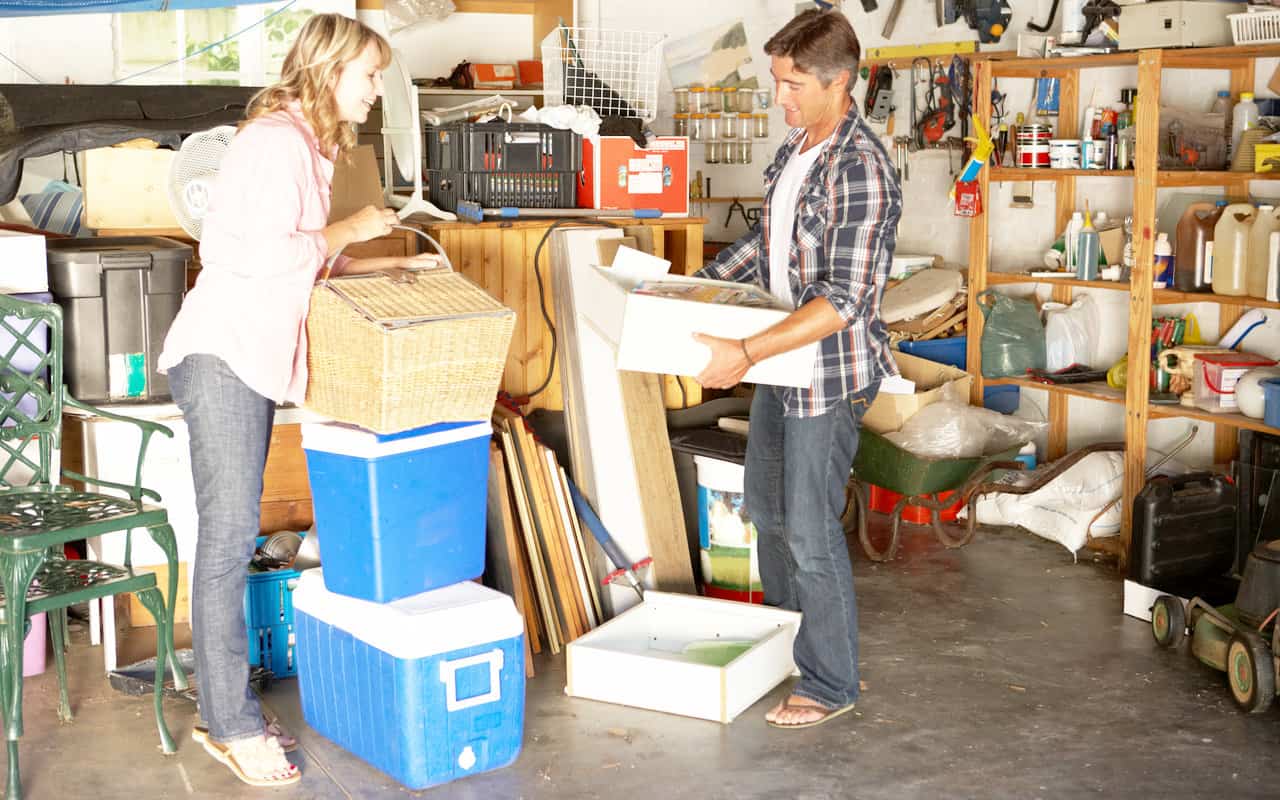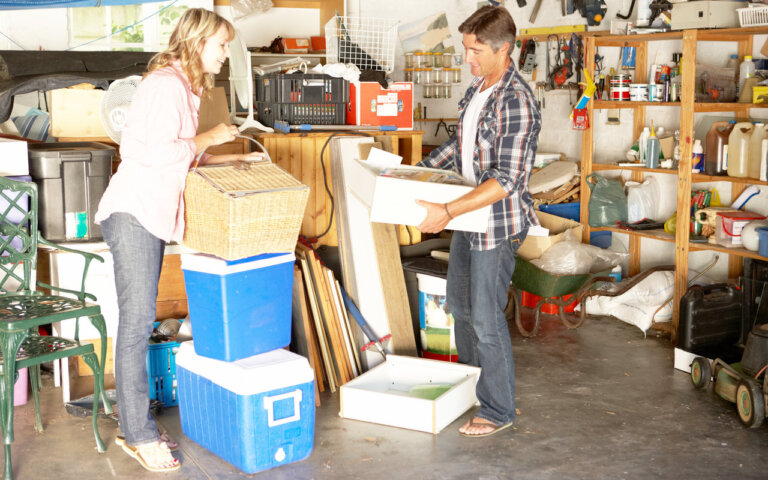 After your garage is cleared out, grab a piece of paper and make a plan.
Draw out your garage space and dimensions including the location of windows, doors, and switches.
If you plan on parking your car in your garage, leave space for it on your plan.
When you're figuring out what storage you want to use, start by looking at your wall space.
There are many garage organization ideas on this list that can be mounted to the wall to maximize space!
Also, consider using open shelves in your garage instead of closed cabinets to avoid an "out of sight, out of mind" clutter issue.
If you can see your items, you are more likely to use them.
Now that you're all ready to get your garage organized, let's look at some amazing garage organization ideas.
21 Garage Organization Ideas for Your Home
I've included ideas for your sports equipment, tools, heavy-duty garage organizers and more!
Take a look at this list and find the perfect garage organizer for your home!
1. Heavy-Duty Plastic Storage Shelving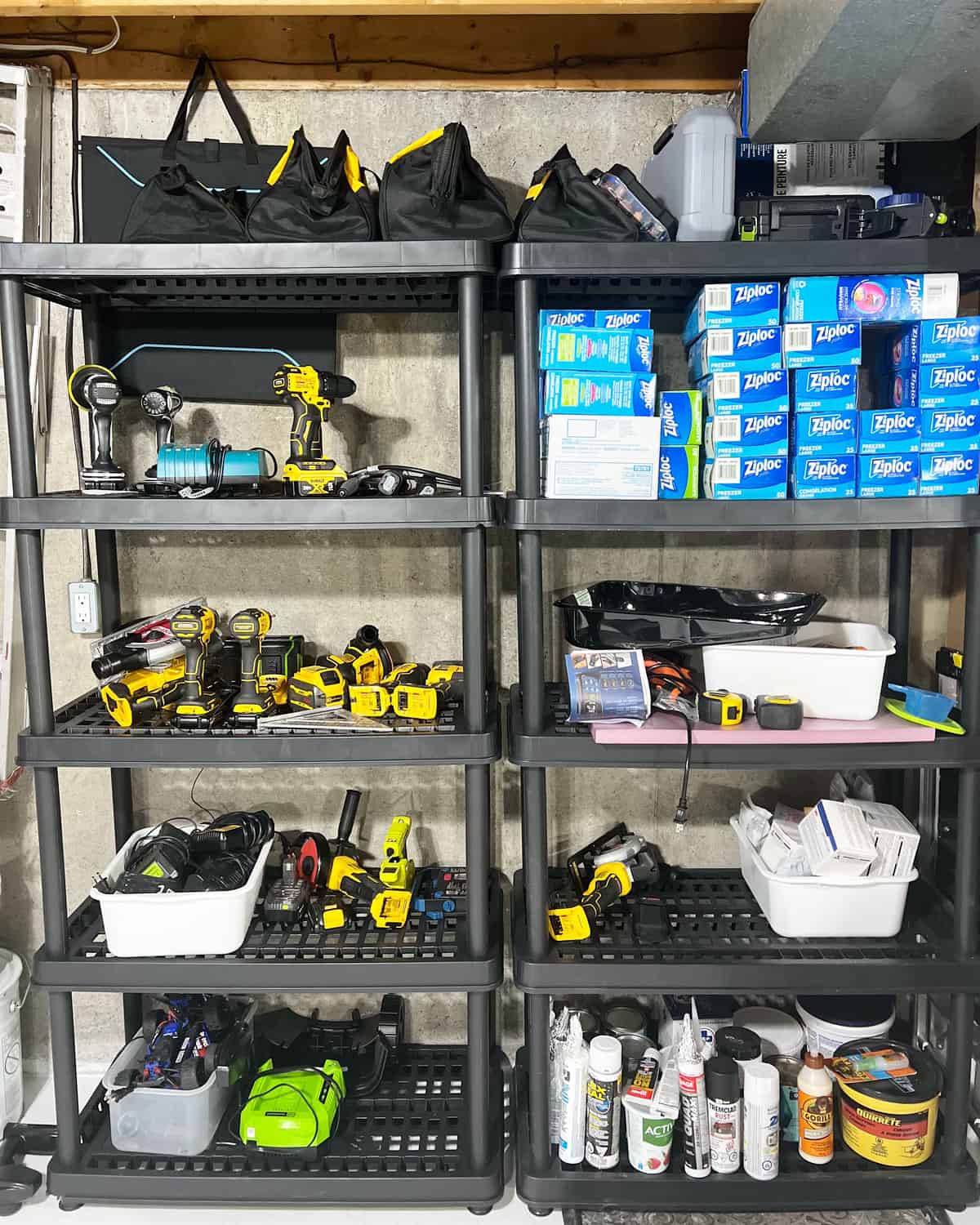 No garage storage system is complete without a heavy-duty storage shelf!
But, did you know a plastic shelving unit is the way to go!
Seriously! I'm loving how light these are but how heavy duty these are at the same time.
If your garage is large enough, this is a great way to store items such as totes, tents, tools, and more.
I have four more of these for our garage and basement!
This shelf features durable construction with shelves that can hold up to750 pounds (when evenly distributed). 
2. Sports Equipment Storage Organizer
If your family is into sports and playing outdoors, you're probably looking for garage organization ideas for all of that sports equipment!
This large sports equipment storage organizer features hooks for hangings, various sized bins for sporting items, bat racks, hockey racks, and even a spot to store a golf bag.
3. Tool Tower Garage Storage
I'm sure somewhere in your garage lies a pile of tools that are supposed to keep your yard looking beautiful – but how can you use them when you can't get to them?
Check out this Rubbermaid tool tower with a garden tool rack that stores over 40 tools!
It also features front clips for easy access to rakes and shovels, wheels for easy mobility, and a grid pattern base that keeps your tools from sliding off.
4. Wall-Mounted Tool Holder
If you're short on space in your garage, you can always take advantage of wall space!
This wall-mounted tool holder can hold up to 30 pounds and has spring-loaded clips to keep your stuff stable and secure.
You can hang anything from rakes to hammers and from brooms to brushes.
5. Heavy-Duty Storage Straps
I like these heavy-duty storage straps because of their versatility.
You can use them to hang hoses, cords, and ropes.
They are made with heavy-duty weatherproof polypropylene and industrial-strength hooks and loops.
Plus, it comes in a six-pack so you can use them all around your garage!
6. Steel Cabinet for Parts
If you need some garage organization ideas for all of your tools and parts, check out this galvanized steel cabinet!
Almost all of the drawers can be used for larger tools and materials, and each one features an I.D. card so you can clearly label each drawer.
7. Garage Storage Utility Double Hooks
To better customize the organization of your garage, consider getting some utility double hooks.
You can place them wherever you want to store your shovels, brooms, bicycles, and ladders (or any other bulky item).
This pack comes with five sizes and shapes in order to create an efficient garage storage system.
8. Overhead Garage Storage System
If you've already maxed out the wall space in your garage, why not store items above your head?
These overhead garage storage shelves can hold up to 250 pounds and are height-adjustable. Use them to store totes of Christmas decorations or other items you don't need regular access to.
9. Bike Wall Mount

For those with bicycles that take up way too much space in the garage, check out this bike wall mount.
In my family, we have a ton of bikes and scooters and I'm always looking out for a great garage organization system!
It's made of strengthened steel and can hold mountain bikes, folding bikes, road bikes, and kids' bikes.
Plus, it folds up when you're not using it! Awesome!
10. Wall Bin Storage
This multifunctional storage system has eight drawers to help you better organize your garage.
You can use them for tools, parts, fishing tackle, etc.
These storage bins can be mounted to the wall and are durable enough to hold up to 22 pounds each.
11. Garage Pegboard Storage
Pegboard storage is such a neat garage organization idea! I'm seriously OBSESSED with this system!
Simply hang a large piece of pegboard on the wall then this assortment of hooks to design your own storage solution.
This pack includes 14 different hooks such as straight hooks, curved hooks, multi-tool racks, and organizers like plastic bins and plastic cups.
12. Garage Organization Ideas: Pegboard Wall 
Don't forget to get a sturdy and well-constructed pegboard wall for your garage (or basement!). 
This one is seriously the best out there! My husband doesn't know this, but I'm getting him this for Father's day!
13. Wooden Shelf Tool Holder
Garage organization ideas aren't always stylish, but I like this one because it's made of pinewood and looks fantastic!
This wooden shelf tool holder is perfect for smaller tools such as screwdrivers, pliers, wrenches, and woodworking tools. You can hang them conveniently on the wall and grab them when you need them.
14. Wooden Power Tool Organizer
Why not get a matching wooden shelf for your power tools too?
This larger design can accommodate drills, chargers, drill bits, and other tools.
You can even mount a power strip so you can store and charge your power tools all in one place!
15. Wall-Mounted Tire Storage
If you live in a climate like I do, then it's necessary to switch from all-season to winter tires throughout the year.
While you can easily pile your tires in a corner, why take up so much space in your garage?
Instead, you can use these heavy-duty wall mounts to keep your tires organized and maximize your garage space.
16. Cargo Box Storage Hoist
I thought this was a really cool and unique garage organization idea!
For larger items such as cargo boxes and kayaks, you can easily store them above your head using a system that makes it easy to access them.
So instead of doing a balancing act on a ladder and hauling down large and heavy items, you can simply use the connecting straps to lift your gear and keep it in place.
17. Wall Shelving
Eliminate things off the ground and put them on these wall shelves!
They are made of heavy gauge steal and these can hold heavy items and they are durable to last for years to come.
18. Sleek and Modern Storage Cabinet with Doors
These next garage organization ideas are chic and sleek!
I am OBSESSED with an all white garage? Are you with me?
Get a few of these and create a wall of white!
19.
Kate and Laurel Cates Decorative Wood Wall Storage Cabinet
Do you have farmhouse decor? Well, these decorative wood wall storage cabinet are TO DIE FOR!
Aren't these cute and lovely? I'm loving these also!
20.
Wicker Storage Cabinet
This versatile garage organization unit can be used for a garden shed, pool cabinet, basement storage or for your garage's totes and things like that!
The shelving is sturdy, holding up to 55 lbs of items.
21.
Lockable Storage Cabinet
Have important items you need locked up?
This lockable storage cabinet is super easy to assemble and can be used for grilling equipment, expensive tools, and makes a great unit overall.
FAQs on Garage Organization
Still not sure which type of garage organization is best for you? Here are the top questions people are asking about garage organization ideas!
1. What is the cheapest way to organize a garage?
The cheapest way to organize a garage is by using shelving and storage bins. You can also use pegboard to hang tools.
These can quickly turn a messy garage into a clean and organized garage.
2. What is the best way to organize a garage?
Organizing a garage can be a daunting task, especially if you have a lot of stuff. But there are some simple tips that can help you get the job done quickly and efficiently.
Make sure to store similar items together so you can easily find what you need when you need it.
For instance, keep all your gardening supplies in one area and all your holiday decorations in another.
Finally, make sure to label everything so you know exactly where it goes. A little effort up front will pay off in the long run.
3. How do you store boxes in a garage?
If you're like me, your garage is a filled with sports equipment to holiday decorations to your children's toys.
And while it's great to have a place to store all of your stuff, it can be challenging to keep the garage organized once you have some storage shelves.
One of the biggest problems is keeping boxes dry and free of bugs.
Here are a few tips for storing boxes in your garage so they stay clean and dry:
1. Store boxes off the ground. If possible, put them on shelves or in cabinets. This will help to keep them out of the reach of water and pests.
2. Use plastic bins. If you can't store your boxes off the ground, put them in plastic bins with tight-fitting lids. This will help with keeping bugs out of the boxes.
3. Consider using dowels on the ground and placing your cardboard boxes on top of those. This is what we did before we had our plastic storage units.
4. Will books get ruined in a garage?
It's not a good idea to store books in the garage. That's right, they can get ruined if they're stored in a garage.
The humidity and temperature swings can wreak havoc on books, causing them to warp, mildew, and even fall apart.
So what can you do to protect your precious books?
Store them in plastic containers with tight-fitting lids. This will help keep out moisture and dust.
If you live in a really humid area, consider using desiccants in the containers to absorb moisture.
Ready to Get Organized?
Your garage doesn't have to be a huge junk drawer and, with the right garage storage solutions, you can create a beautifully functional space – and park your car inside!
Out of all the garage organization ideas in this post, which one do you want to try?
Which one do you already have in your garage?
Let me know in the comments below!
Don't forget to pin me!