4 Tips for Buying the Best Kitchen Cabinets in Kelowna
The essential items in a kitchen are stored in cabinets. That might include pans and pots, utensils and dishware, or dry and canned goods. With the amount of space we devote to cabinets in the kitchen, they play a big part in the look of the space. There are several Kelowna-owned custom cabinet companies, but you need to know how to choose the right one. So, hopefully, after reading this article, you will know more about buying kitchen cabinets in Kelowna!
There are several things to consider when choosing cabinets. For example, you must select the method of construction, material, size, and price. For more information, we invite you to continue reading to learn more about buying kitchen cabinets in Kelowna.
Important Information for Buying Kitchen Cabinets in Kelowna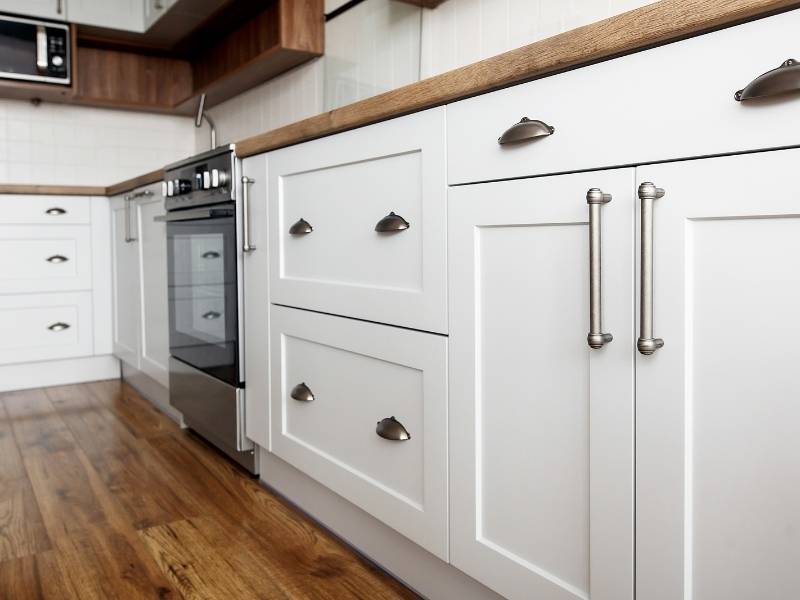 1. Know Your Options
Many kitchen cabinets in Kelowna are constructed as custom, semi-custom, or stock. Let's look at the definition of each term.
⎆ Custom Cabinet
This type is constructed with your style and size specifications. You will choose the finish, material, and color that you prefer. Sometimes, it includes a special feature like a garage for an appliance or coffee station. It can also have some furniture-style accessories like a lead-glass door and bun feet.
Additionally, the company can build it to fit from ceiling to floor with a crown mold at the apex. Because the craftsmen pay attention to details when building it, they spend a lot of time and charge more for the construction.
⎆ Semi-Custom Cabinet
This type comes with special details that allow you to personalize storage capabilities and style. It is slightly different from the stock cabinet. You can adjust the drawer dimensions or use another type of finish for the doors. 
⎆ Stock Cabinet
This is a mass-produced type of cabinet that you can find in various home improvement stores. They come pre-assembled, but some still require assembly. This category is the cheapest option, but it offers limited styles, colors, and material options.
2. Select the Cabinet Size
Before jumping into choosing styles, you must consider the size of the cabinet. Of course, what you're putting in the cabinets determines the size of the cabinets. So, take careful inventory of your space needs. Then, look at your current fixtures and determine how you might improve them. Also, determine where you need less or more storage room.
After that, you can consider the available stock cabinet sizes. The standard sizes you can find include the following:
The width of a stock cabinet ranges from 12 – 36 inches.
The height of a wall cabinet range from 12 – 42 inches.
The depth of a standard wall cabinet is around 24 inches.
The height of a tall cabinet is about 84 – 96 inches.
The height of a base cabinet, including its countertop, is between 32 – 38 inches.
The width of a base cabinet varies from 9 – 46 inches.
Some Kelowna manufacturers may offer other width and height options. Also, bear in mind that custom cabinetry accommodates any available space. If you are hiring a designer or architect to handle your kitchen renovation project, they will assist you in getting the right size that fits your needs.
However, if you are doing a DIY remodel, you must not do it alone. Most home improvement stores offer design services that will help you to determine the appropriate configuration for the available space as well as your budget. 
Additionally, a computerized design service can also plot your kitchen using its dimensions to give you various configurations. It will then generate printable drawings with a list of supplies to make your shopping easier. You can click on https://www.thespruce.com/best-kitchen-design-software-5120776 to know more about kitchen design software.
3. Choose a Style – Frameless or Framed?
When you want to buy cabinets, you will come across the terms "frameless" and "framed".
⎆ Frameless
This style features a thicker cabinet box for attaching the drawers and doors. The sturdiest options have a minimum thickness of half-inch or are made from sturdier materials like plywood in place of particleboard. 
Additionally, the frameless cabinet does not have a face frame extending beyond the storage space. Therefore, accessing the entire interior is easier with this style. A typical European-styled frameless cabinet looks more contemporary in a modern kitchen.
⎆ Framed
This type has a storage box and a face frame, a structure that manufacturers attach to the front side of the storage box. The frame offers reinforcement for drawers and doors to attach. This style allows the storage box to become thinner and fit into tight spaces.
4. Closely Assess the Cabinet for Signs of Quality
When you want to buy cabinets, you need to assess the shelves, doors, drawers, and boxes for quality. Even when you are buying online, you must find a way to do this. The following questions will help you ascertain the quality:
⎆ Drawers
Is the wood solid?
Will it slide smoothly on a ball-bearing extension?
Is there any dovetail joint to hold the drawer firmly?
Does the drawer have a sturdy wood bottom that is slid into a groove, instead of being glued or stapled?
⎆ Doors and Boxes
Are the panels made of solid wood? (Plywood panels may not hold up well with time, especially when placed under a heavy kitchen countertop material like marble.)
If it is frameless, is the thickness of the box a minimum of half-inch?
Can you open the door with ease?
Can you open the door wide enough without being caught at the door's edge when you want to reach in?
Can you adjust the hinges? 
⎆ Shelves
Does the plywood measure a minimum of ¾ inch? (If it is less or made with particleboard, it will sag when you place kitchen items or dishes.)
If you answered yes to all the questions or most of them, then the construction is a high-quality one. Also, the price may reflect this to an extent, but the smart thing to do is run the checklist on options that are budget-friendly. This will not only save you cost but also help you find something that won't disappoint you in the near future. You can check this website to find out how to determine the quality of cabinets.
Purchasing the Best Kitchen Cabinets in Kelowna.
Choosing the right cabinet is essential because it serves as storage for your kitchen items and adds to the appeal of the room. Before you buy cabinets for your home in Kelowna, explore the available options, select your preferred size and style, and check for signs of quality based on your budget.
If you have any questions or suggestions, we always love to hear from you in the comments below. Also below are links that will take you to more fantastic articles about ALL things DESIGN for your home or business.
Images Courtesy of Canva.
Other Posts You Might Enjoy:
How to Baby Proof Cabinets: A Homeowner's Guide
10 Signs that Your Kitchen is Ready for a Remodel
Why Scandinavian Kitchen Cabinets Have Become The Next Big Trend
4 Benefits of Hiring a Kitchen Renovation Company
The post 4 Tips for Buying the Best Kitchen Cabinets in Kelowna appeared first on Dig This Design.