A walking tour of Boston's North End: What to see, do and eat in Little Italy
I headed to the North End (pronounced "Nah-th End") in search of the apartment building where my paternal grandmother — whom I never met — was born in 1902. Even though I was on the hunt for my own family history, it's impossible to avoid learning about the Italian American immigrant experience when in this Boston neighborhood.
My grandmother died long before I was born, and I'm now the age she was when she passed away. I never knew her, but we always had a connection.
Growing up, I lived with my parents and siblings in a three-family home with my grandfather and uncles. We shared an incredible basement with a root cellar and an extra kitchen (where we made gallons of red sauce from homegrown tomatoes). One afternoon when I was about 7, I noticed an old pedal-powered sewing machine in a dark corner of the basement. Struck with inspiration, I spent the next few evenings after school in that basement sewing myself a pretty sundress with fabric I found in the sewing machine cabinet.
When my dress was finished, I skipped upstairs to my grandfather's kitchen to show him my handiwork. Instead of the effusive praise I expected, he was strangely quiet. He asked how I knew how to use the sewing machine and who showed me the pattern. I told him I saw the pattern in my head and somehow just knew how to wind the bobbin and thread the machine.
That's when he smiled and told me that his wife, the nana I never met, was a talented seamstress. I'd used her sewing machine. Somehow across time and space, she passed the talent to me.
Since then, I've felt a connection to her even without knowing very much about her life. After doing some genealogical research, I found her baptismal record that listed the address where she was born, along with a 1920 U.S. census that listed her address right before she married my papa. So, I decided to go to the North End in search of the place where her parents settled in 1896 after emigrating from Italy's Sant'Elia Fiumerapido.
I took a leisurely walking tour that you can recreate the next time you're in Beantown. Here's everything you need to know for a successful tour that includes Paul Revere's house, Sicilian pizza and cannolis.
Want more travel news and advice from TPG? Make sure to sign up for our daily newsletter.
Things to know before you go
Before you head to the North End, it's a good idea to know the lay of the land.
The North End is the oval-shaped piece of land jutting out from Boston proper bound by Route 93 and the Rose Kennedy Greenway. Christopher Columbus Waterfront Park — near the Boston Marriott Long Wharf — anchors this part of town to the south while Boston's Inner Harbor is the natural boundary in the north and west.
East Boston and Logan International Airport (BOS) are across the water from the North End, and that is where you'll find all the wharves. (The other side of my family settled in East Boston when they arrived here from Calabria.) You can easily travel between East Boston and the North End via the Sumner and Callahan tunnels.
Start your tour at Haymarket or North Station
The North End is very walkable, but it's a nightmare to park a car there. Your best bet is to park elsewhere and take the MBTA Green Line subway to the Haymarket stop. One-way rides are $2.40 and ticket machines are at each station.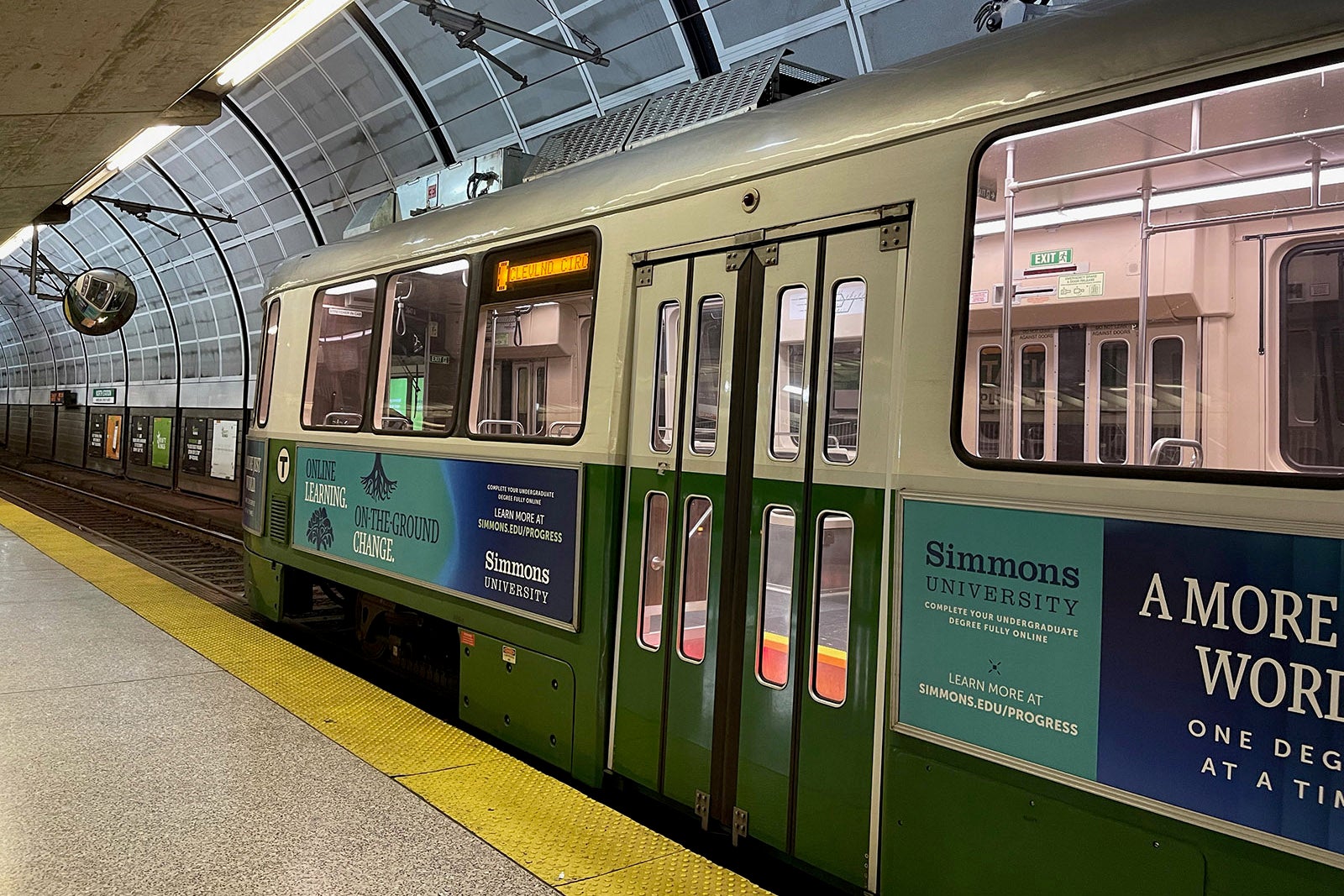 If you're driving, park at Haymarket Garage (also known as Parcel 7) at 136 Blackstone Street (use the Waze app to locate the garage because it's not so easy to find). Some North End establishments, such as Mike's Pastry, Regina Pizzeria and some of the stall vendors at Boston Public Market, validate parking tickets for this garage, and you'll only pay $3 for three hours. Just don't go over your time or you'll end up paying full price.
Start your tour of the North End at Haymarket and walk counterclockwise around the neighborhood.
Note: If you prefer to arrive via the train or subway at North Station (or if you park at the North End Garage at 600 Commerical Street), you can do this tour in reverse. Start at North Station, walk east on Causeway Street until it turns into Commercial Street and begin sightseeing at Copps Hill Burying Ground and visit the points of interest in a clockwise fashion.
But, I started my tour from the Haymarket subway stop.
Hanover Street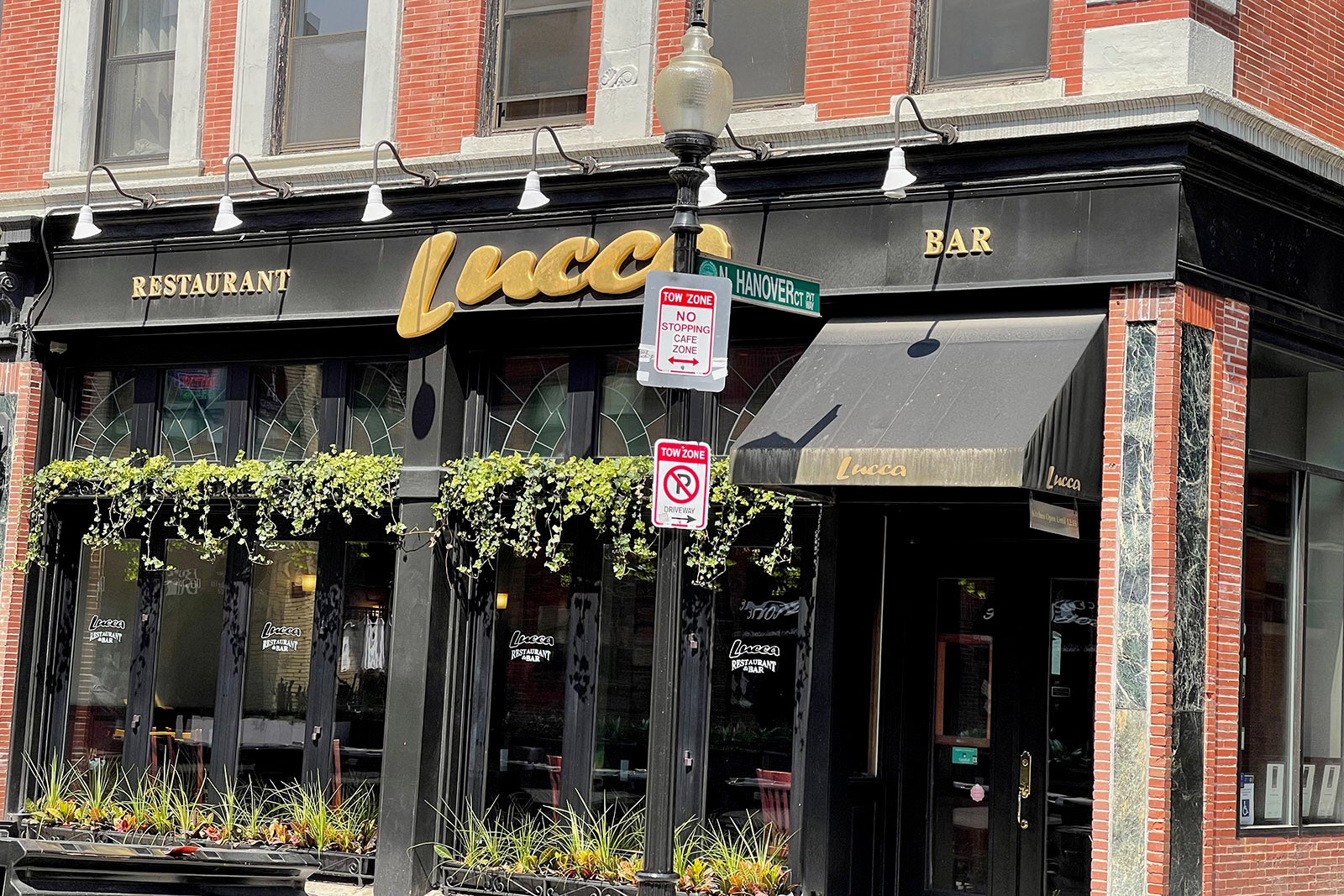 Hanover Street is the North End's "main drag." It's where you'll find a lot of the neighborhood's oldest or most popular sites, shops and restaurants. As you leave the Haymarket Garage, exit on Sudbury Street, take a right on John F. Fitzgerald Surface Road and then a left onto Hanover Street. You'll pass through the Rose Kennedy Greenway, and as you exit that park, you're officially entering the North End: Boston's Little Italy.
My visit to the North End was part of a heritage tour to discover more about my ancestors. You may be tracing your Italian heritage when you're in the area, too. But there's so much more to the North End. Several important Freedom Trail sites are located within the bounds of the North End, so I'll point those out too.
If possible, set aside enough time to discover the entire 2.5-mile Freedom Trail, which is dotted with 16 historical sites that are significant to the history of the United States.
Bring cash
Now, let's talk money. The trend toward contactless payments has not reached many of the old-timey shops in the North End. Some bakeries and pizza places, in particular, only take cash. Be sure to visit an ATM before heading to the neighborhood. There's a cash machine at 218 Hanover Street and another across the street from Modern Pastry (at the start of your tour) in the Bank of America Financial Center at 260 Hanover Street.
Stop 1: New England Holocaust Memorial and the Tony DeMarco statue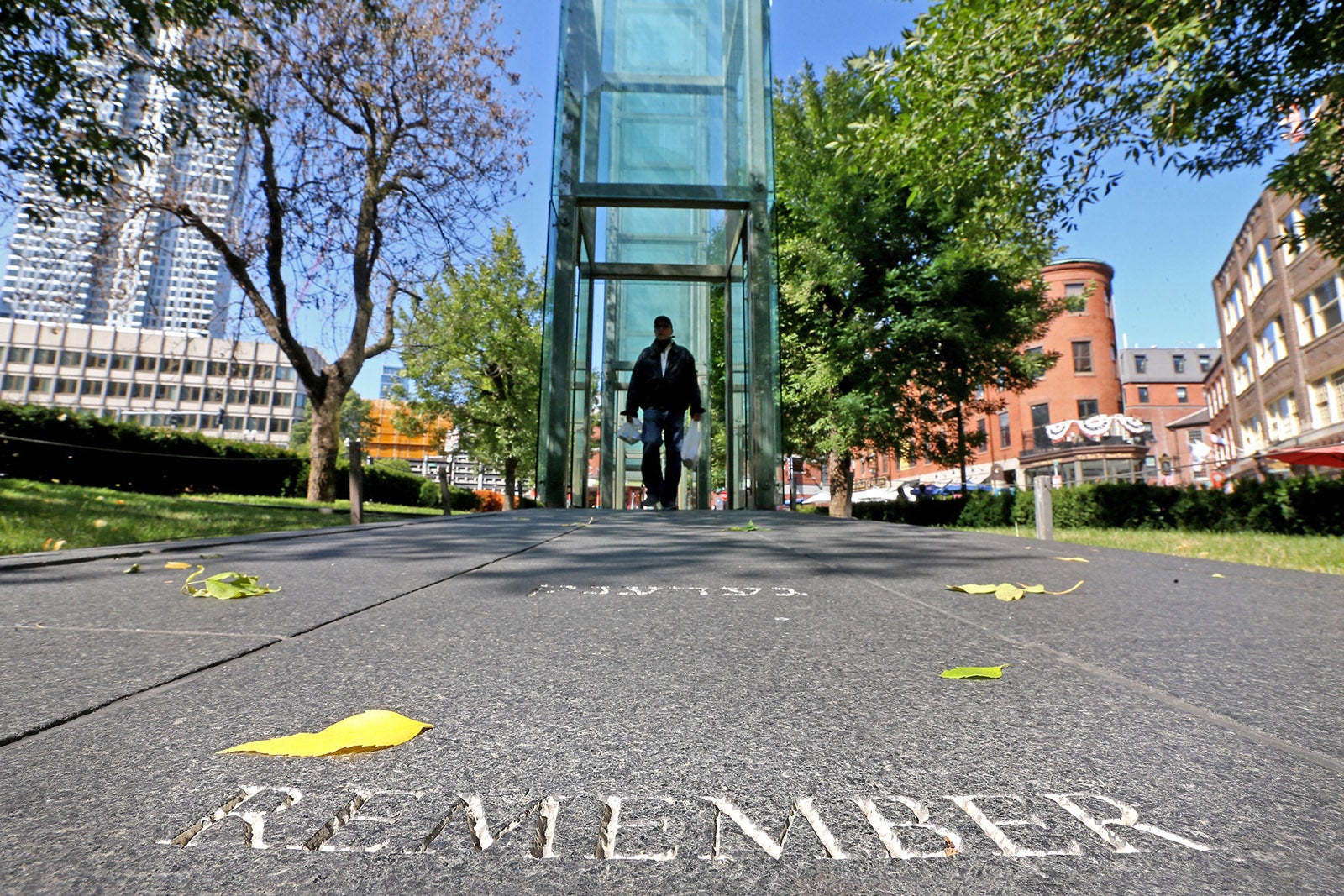 As you exit the Haymarket subway stop, take an immediate right on Sudbury Street and then a right on Congress. You'll walk against traffic for one block. At the corner of Congress and Hanover Street, you'll find the New England Holocaust Memorial. It's not right at the gateway of the North End, but it would be a shame not to stop here before your tour and reflect.
Turn left onto Hanover Street and walk a block over the John F. Fitzgerald Expressway and the bronze Tony DeMarco statue is straight ahead at 191 Hanover Street (where it meets Cross Street). Born as Leonardo Liotta in 1932 to Sicilian immigrants, Tony grew up in the North End and became a celebrated boxer and World Welterweight Champion.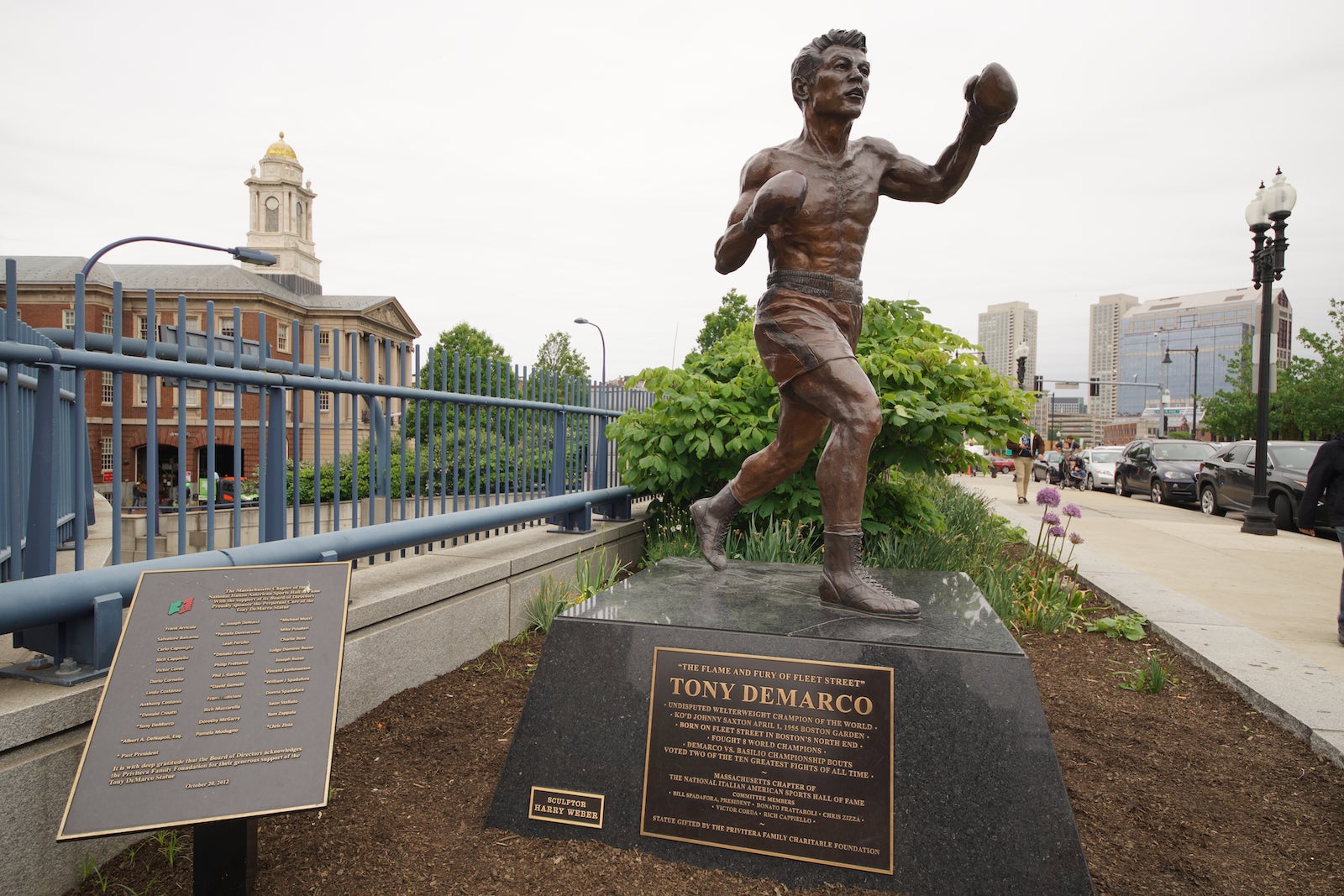 Fun fact: My grandfather on my mother's side came from Calabria. He was an amateur boxer whose fights were often featured in the Boston newspapers of the day, so seeing the Tony DeMarco statue held personal significance.
Stop 2: Grab a bite on Hanover Street
If you're beginning your tour at breakfast or lunchtime, grab a quick bite before launching into your tour.
Bricco Panetteria and Salumeria & Pasta Shop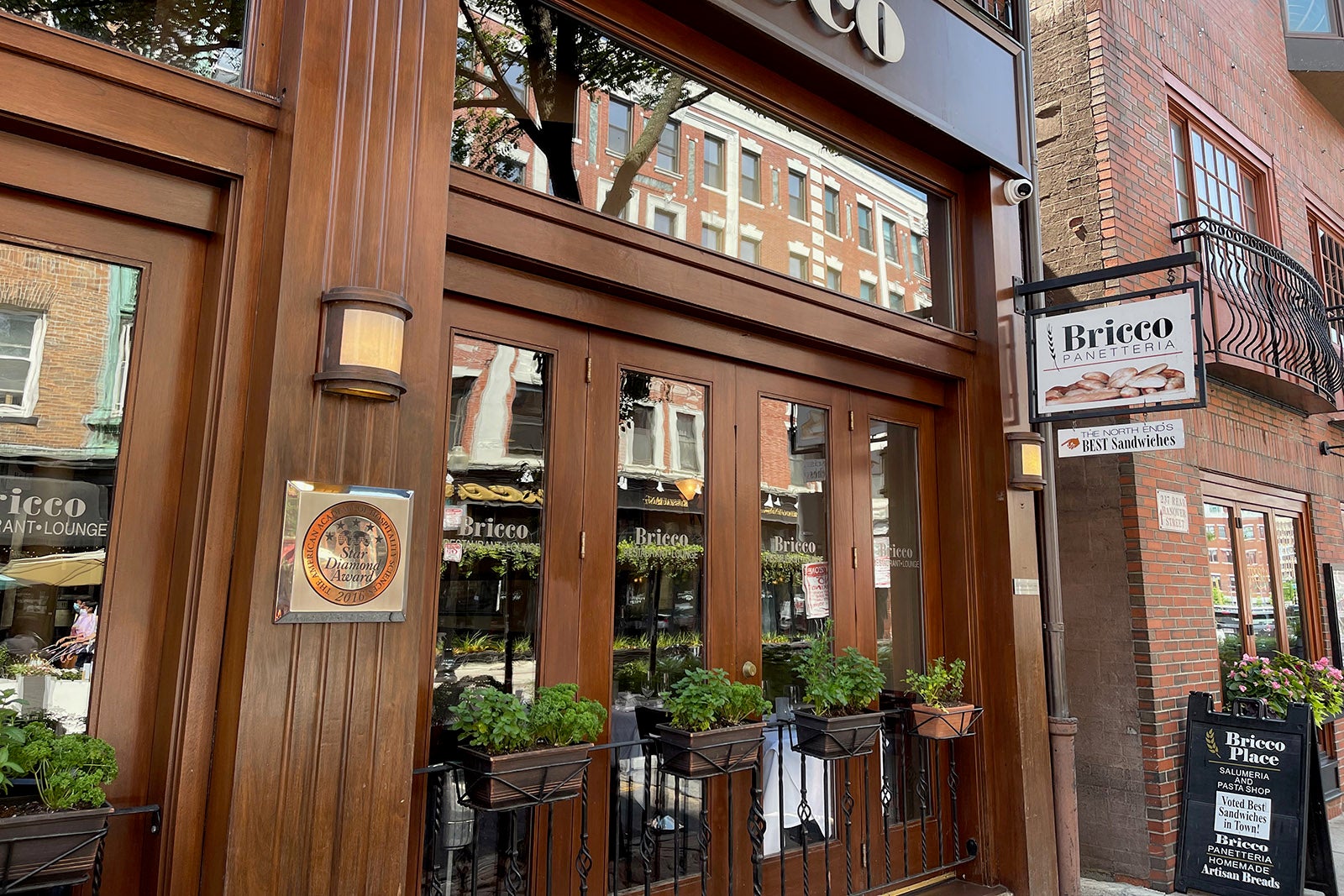 It's easy to miss these two gems. Both are down a narrow alley next to the affiliated Bricco restaurant at 241 Hanover Street. For the panetteria, a walk down a steep flight of stairs is rewarded with the aroma of freshly baked Italian bread and pastries.
At street level, you'll find Bricco Salumeria & Pasta Shop at 11 Board Alley. You can order sandwiches that are out of this world (I like the porchetta/roast pork sandwich or the eggplant Parmigiano) or pick up provisions (cheese, olives, cured meats, pasta) for later.
These two spots are where North Enders pick up their bread, pastries and sandwiches. Don't miss it!
Modern Pastry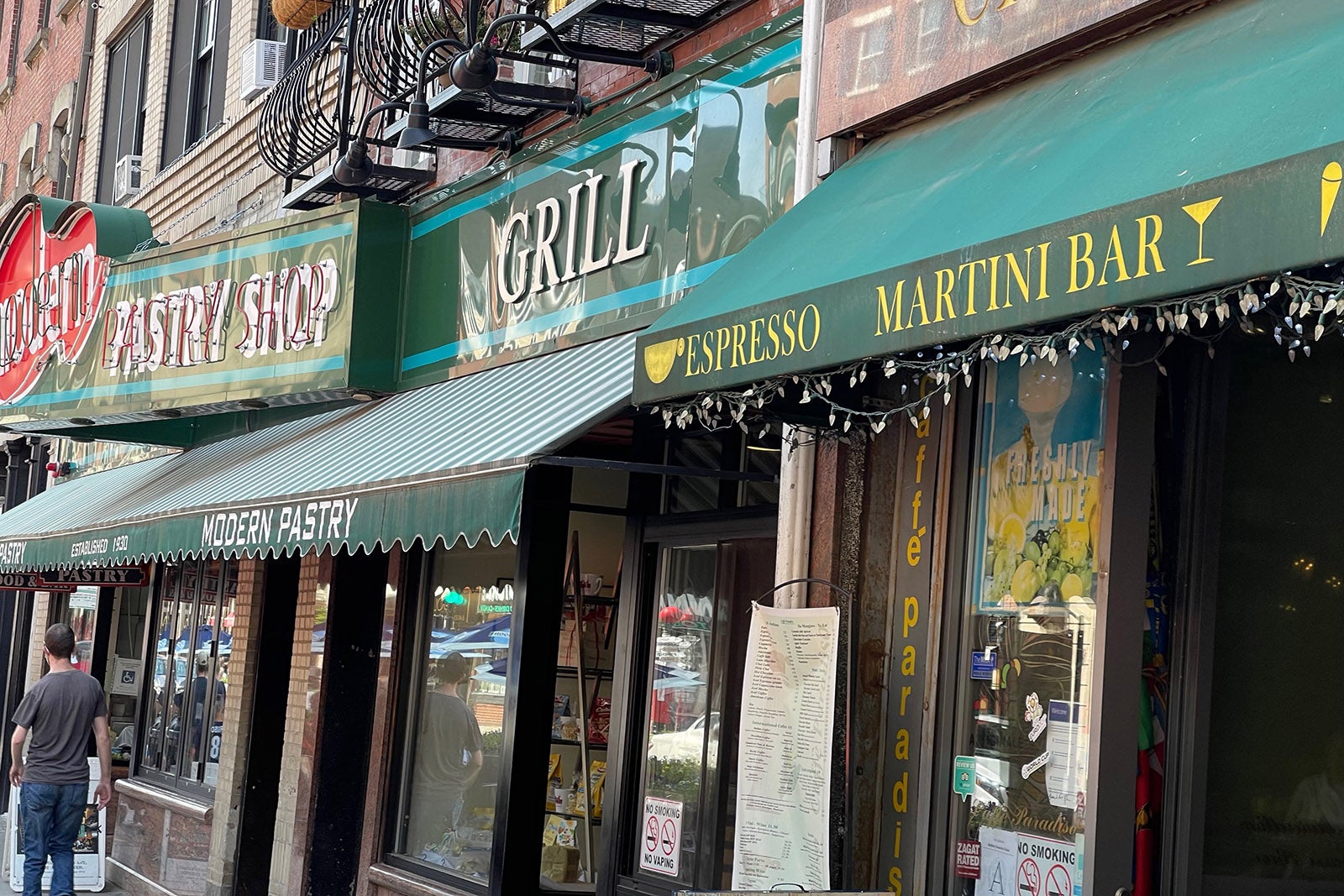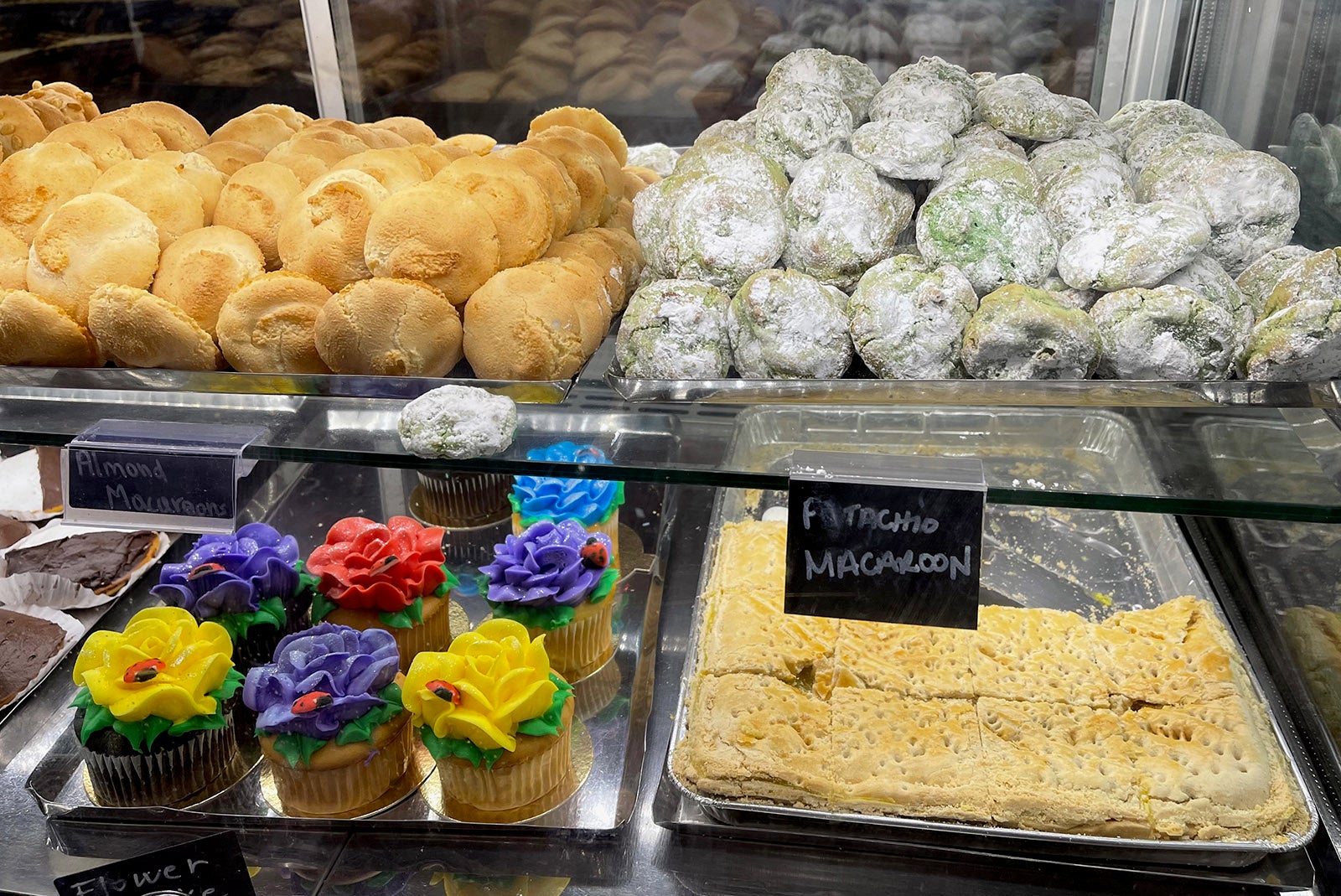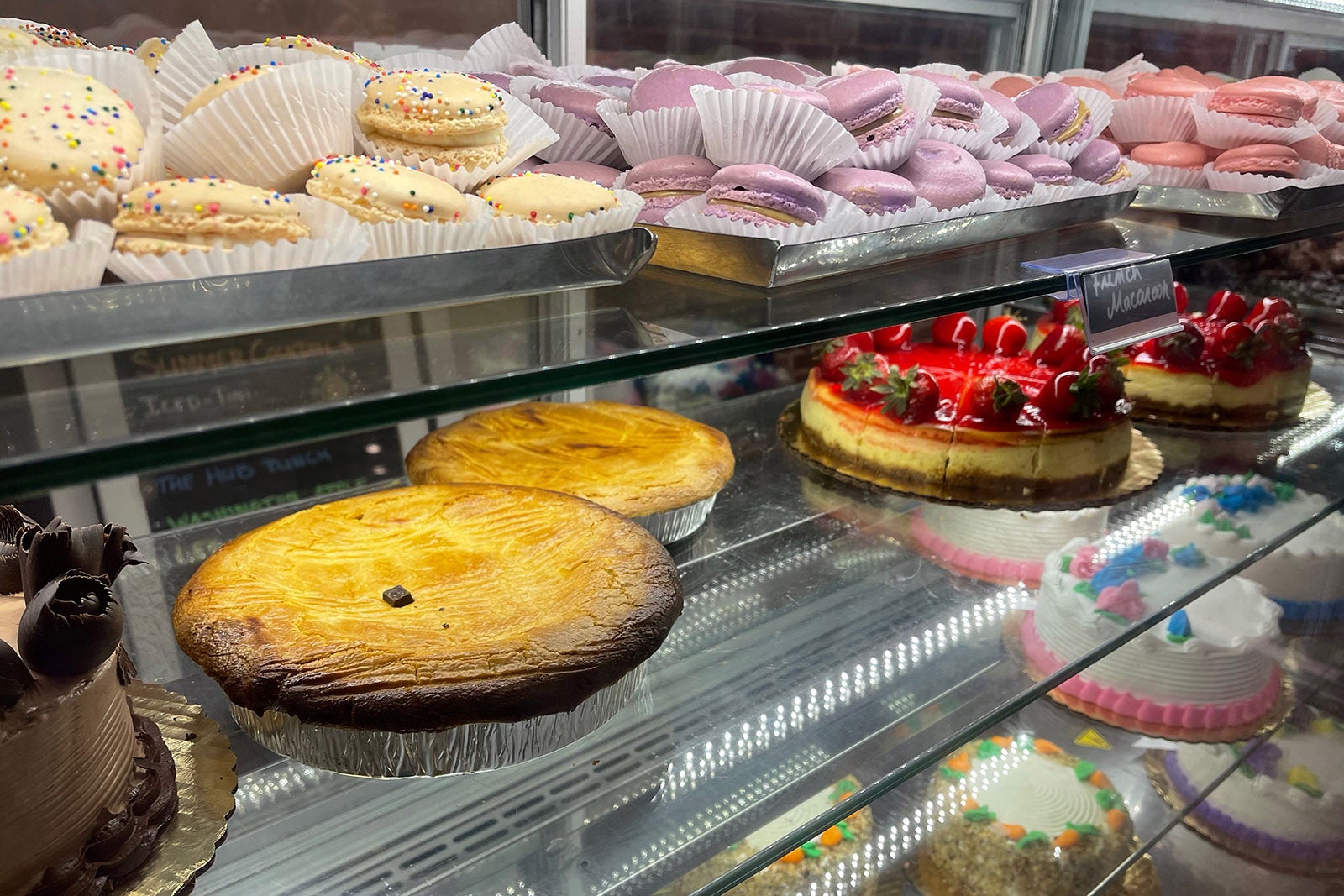 If it's breakfast time when you pass Modern Pastry (263 Hanover Street), drop into this family-owned and -operated shop. It's been here since 1931, which is an impressive run, but there are bakeries that have been in the neighborhood even longer. We'll mention those later.
The "must-buys" at Modern Pastry include sfogliatelle (a flaky pastry filled with ricotta ), ricotta pie, cannoli and pizzelles (cookies that look like very thin waffles). This shop is also known for its French-style macarons, but I'm especially fond of their Italian-style pistachio macaroons and pignoli (pine nut) cookies. The line can go out the door, but it moves quickly.
Galleria Umberto Rosticceria
If you're passing by closer to lunch or have a craving for something more savory, try the Sicilian pizza, panzarotti (similar to a calzone but fried) and arancini (rice balls) at Galleria Umberto Rosticceria at 289 Hanover Street. This casual eatery was established in 1974, and it only takes cash. I walked by at 10:40 a.m., and there was already a healthy line forming.
Mike's Pastry
Mike's Pastry is about a block beyond Modern Pastry and on the other side of the street at 300 Hanover Street. You may be familiar with Mike's because the outlet sells delectables via the mail-order site Goldbelly. But, you can stock up on Italian treats for your hotel room when you stop by in person. My favorite thing to order here is the cucidati (fig) cookies.
Neptune Oyster
Since you're in Boston, there's a good chance you're hoping to enjoy a lobster roll while you're in town — and you can do that right in the North End. In fact, one of the best lobster rolls in the city can be found right here at Neptune Oyster (63 Salem Street). While they serve a cold version with mayonnaise, you should order it hot with butter. Both are served on toasted brioche buns. You can't make a reservation here, so it's best to arrive before or after mealtimes to avoid the rush.
Pro tip: If you're looking for a lobster roll outside the North End, I'm partial to the hot one served by Saltie Girl (281 Dartmouth Street, around the corner from Newbury Street). The cold version is also good. Both are served with Saltie Girl Sea Salt & Vinegar Potato Chips.
Stop 3: North Square
As you brush those pastry or pizza crumbs from your shirt, take a slight detour off Hanover Street by hanging a right on Prince Street and then another right onto North Street, where you'll enter the North Square plaza. Bostonians will tell you that North Square is America's oldest public square, and it's been a meeting place since 1649.
Sacred Heart Catholic Church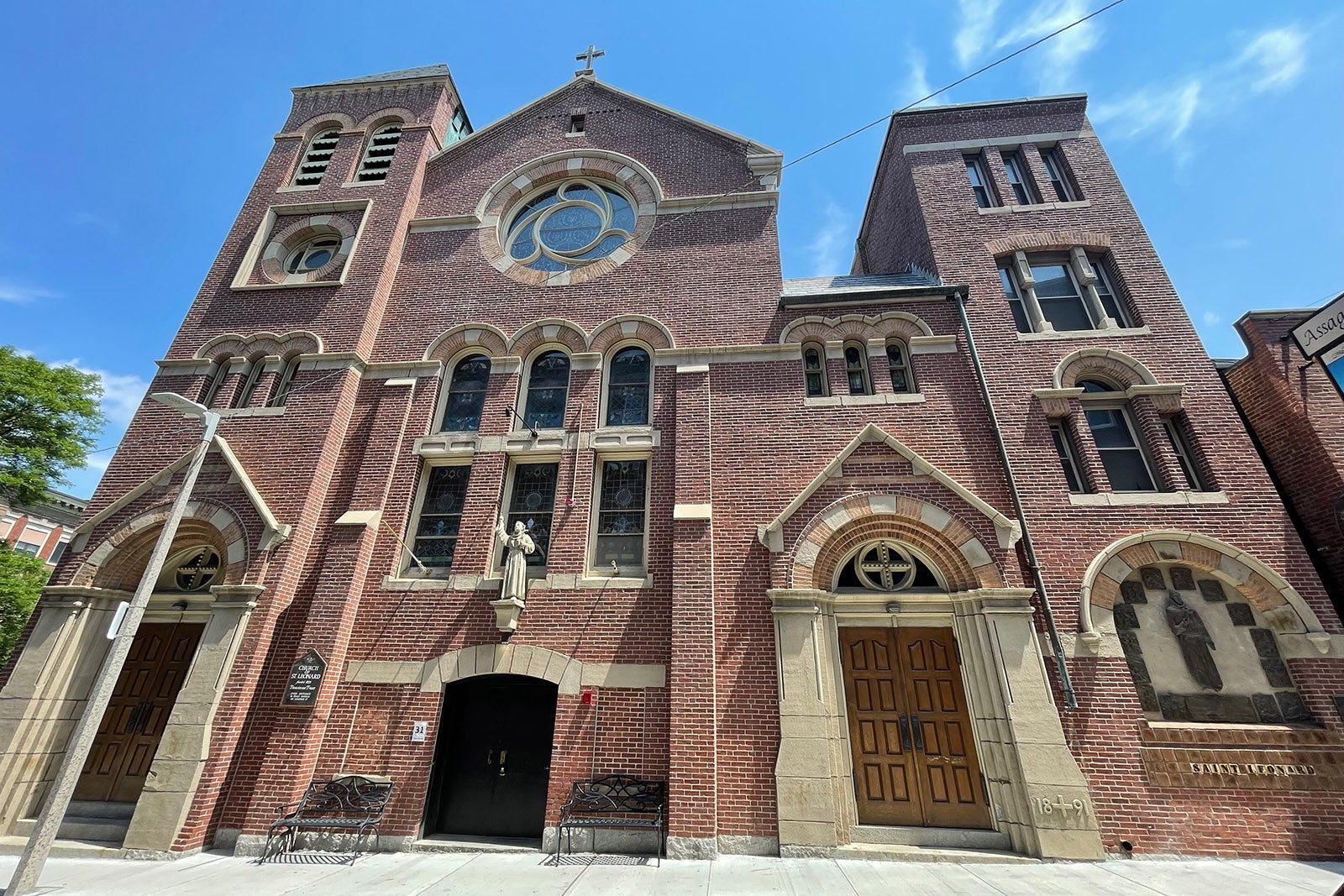 This is one of the places I had been most anxious to visit in the North End. Sacred Heart at 12 North Square was the first Catholic Church in Boston, and it's where my grandmother was baptized in 1902 and where she married my papa in 1924. The building is closed right now due to COVID-19, but I reached out to the Archdiocese of Boston before my trip, and the archival team helped me find my grandmother's baptismal record.
What I find so interesting about this church is that its history goes beyond its Catholic roots. It was built in 1833 as a place where sailors could worship. (Remember, the Inner Harbor is just a few blocks away.) Lore has it that the sailor-preacher of the church, Father Taylor, was Herman Melville's inspiration for Father Mapple in "Moby Dick."
In 1884, the building was purchased by a community of Italian immigrants, and by 1888, the church was named Sacred Heart. When my great-grandfather Antonio arrived in Boston in 1896, he made this parish his family's religious home.
While the building is closed right now, the upper nave has a beautiful frescoed ceiling supported by marble columns. The downstairs chapel includes shrines to St. Anthony, St. Lucy, St. Therese, St. Jude and others. The church is now part of Saint Leonard of Port Maurice parish.
See where Paul Revere lived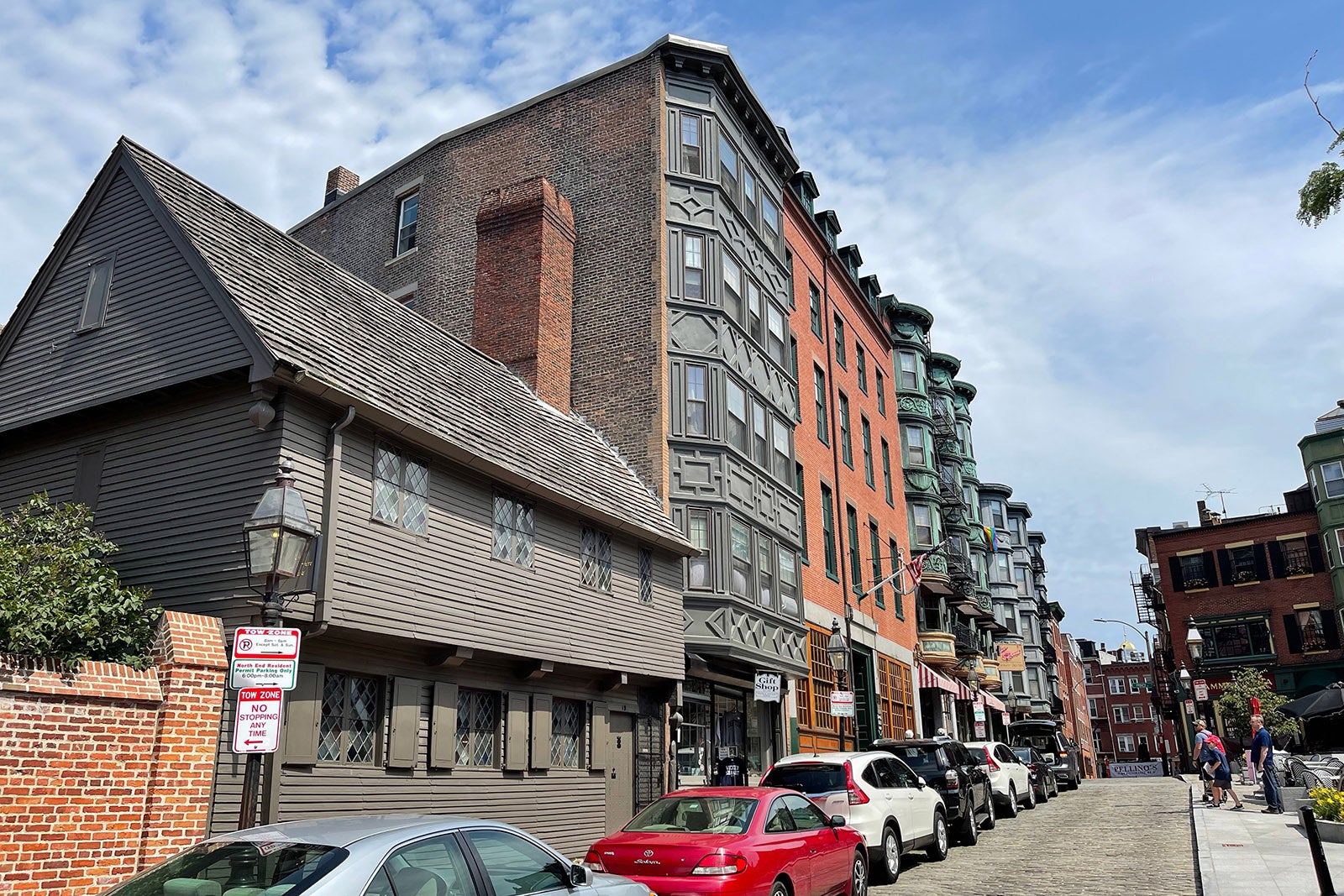 Walk through the square and head to the corner, 19 North Square, to visit the Paul Revere House. It's one of the most famous sites on Boston's Freedom Trail.
Right now, this historic home is only open Wednesday-Sunday from 10 a.m. to 4:30 p.m. For some, walking past the home may be enough. However, if you want to go inside, it costs $6 for adults, $5.50 for seniors and college students and $1 for kids 5-17.
The Pierce/Hichborn House at 29 North Square is managed by the same organization, but it is currently closed until further notice.
Dine at Mamma Maria right on the square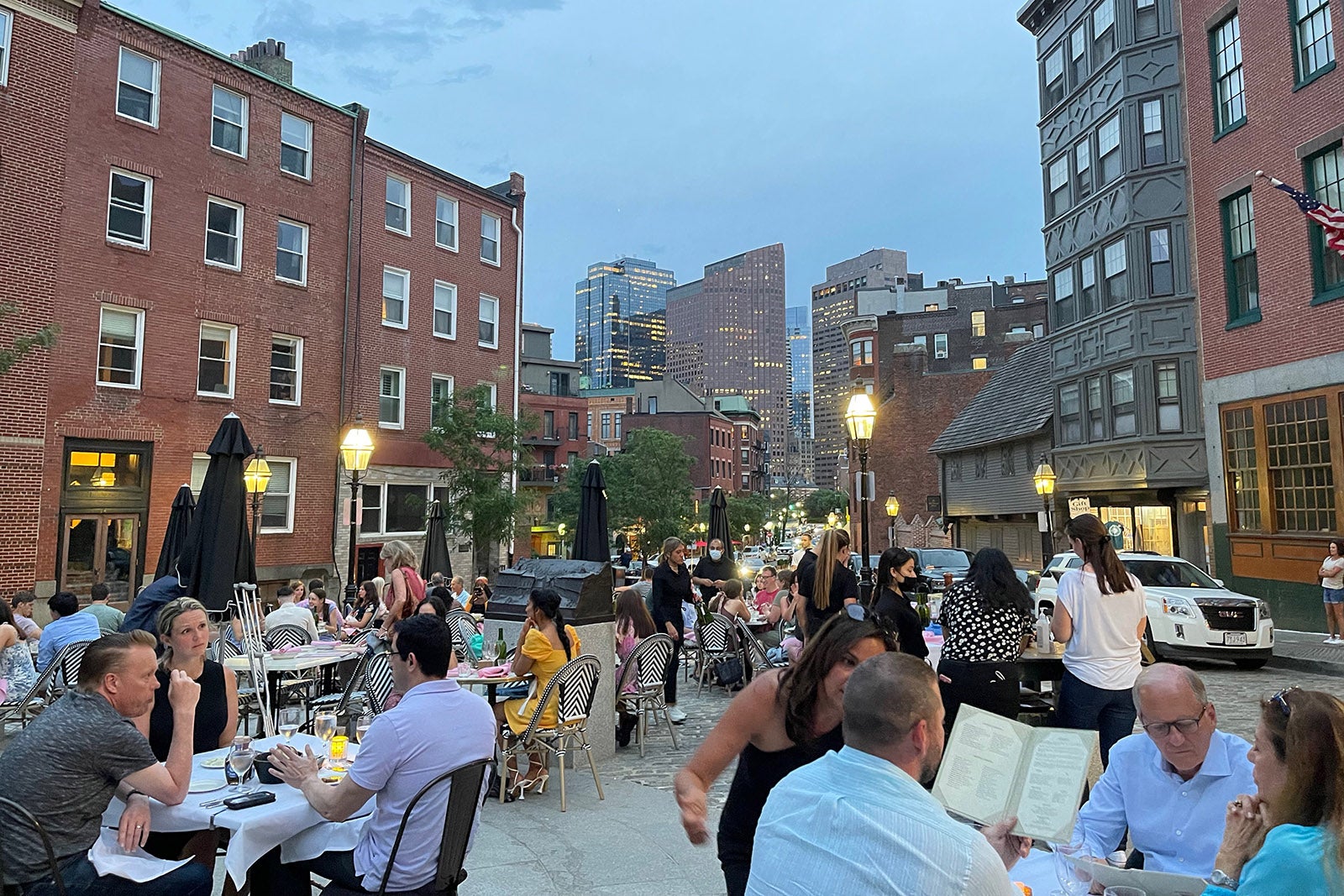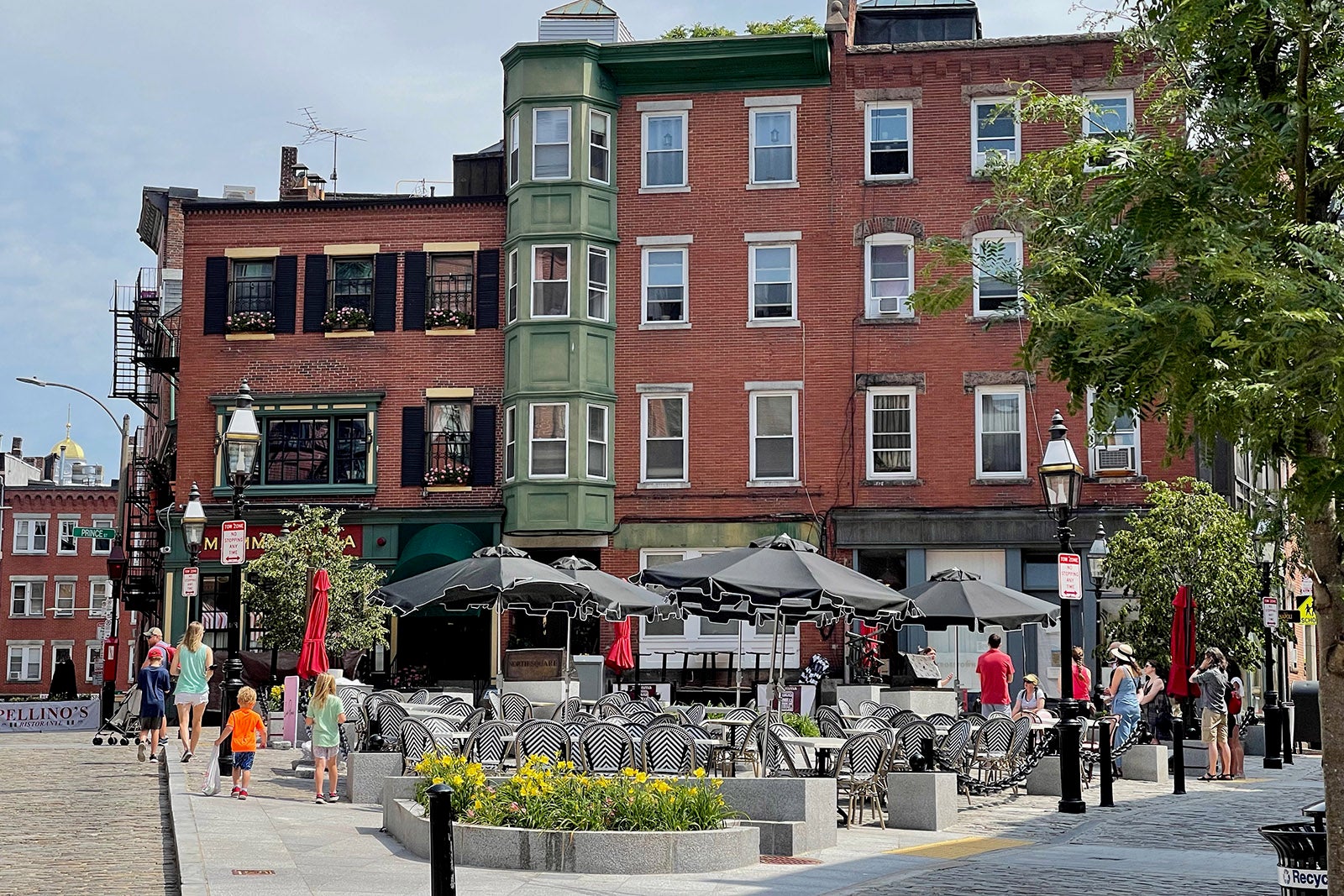 There are many incredible authentic Italian restaurants in the North End, plus plenty of spots that are aimed toward tourists. Mamma Maria (3 North Square) is an institution. You can sit in one of the various rooms in the townhouse or right out on the square, and the atmosphere here is magical. Think fairy lights accenting the night sky.
Reservations are a must — especially if you want to dine outside. Be sure to note your preference when making your reservation on OpenTable. We dined here on our first night in Boston. Our table had a perfect view of Sacred Heart, and it was so special spending time in a place that was special to my grandparents.
Stop 4: St. Stephen's Catholic Church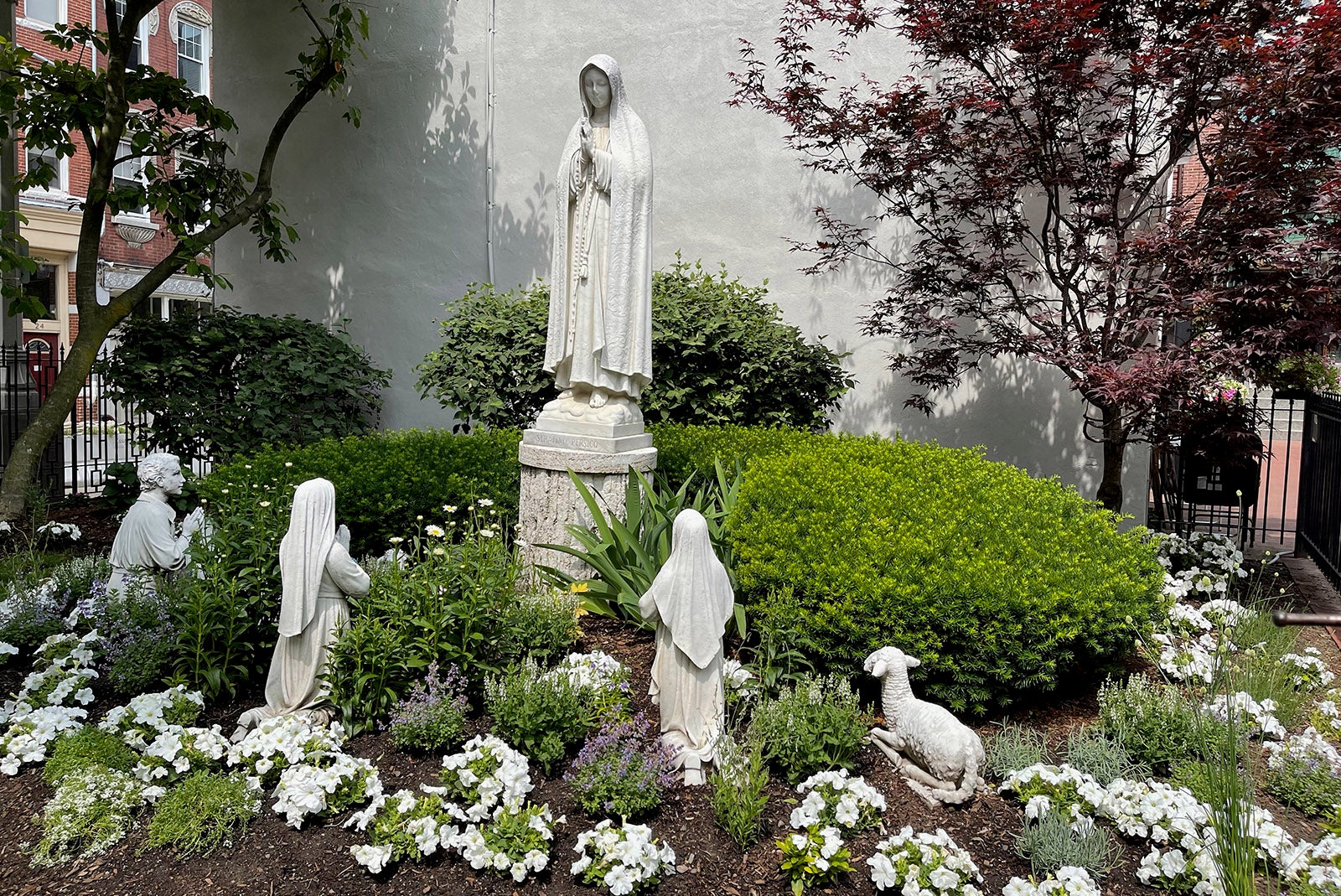 Once you've investigated North Square, retrace your steps along Prince Street and take a right back onto Hanover Street, where you'll find St. Stephen's Catholic Church (401 Hanover Street). Even if you don't go inside, check out the exterior gardens and statues. It's a very peaceful spot.
Stop 5: Paul Revere Mall and statue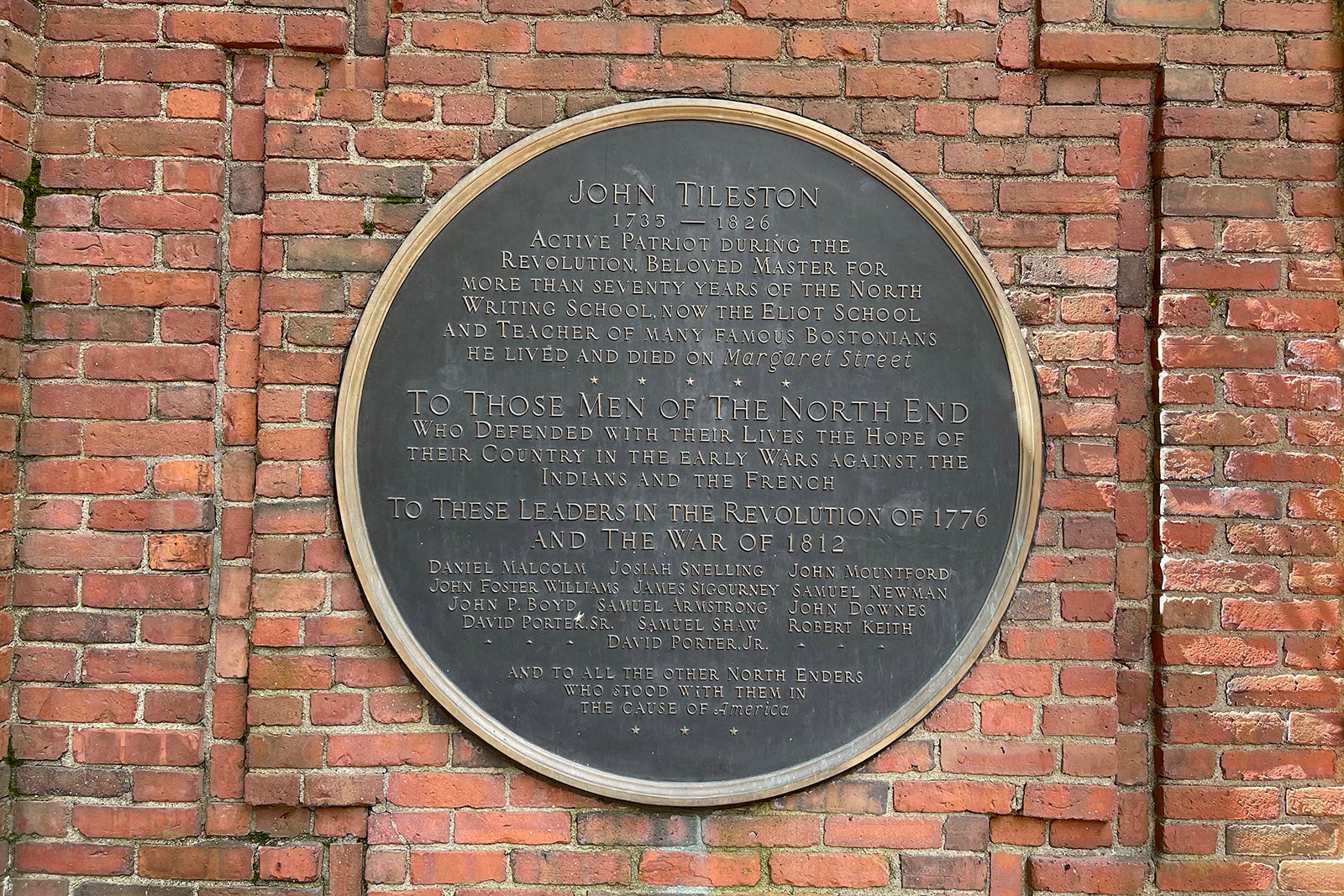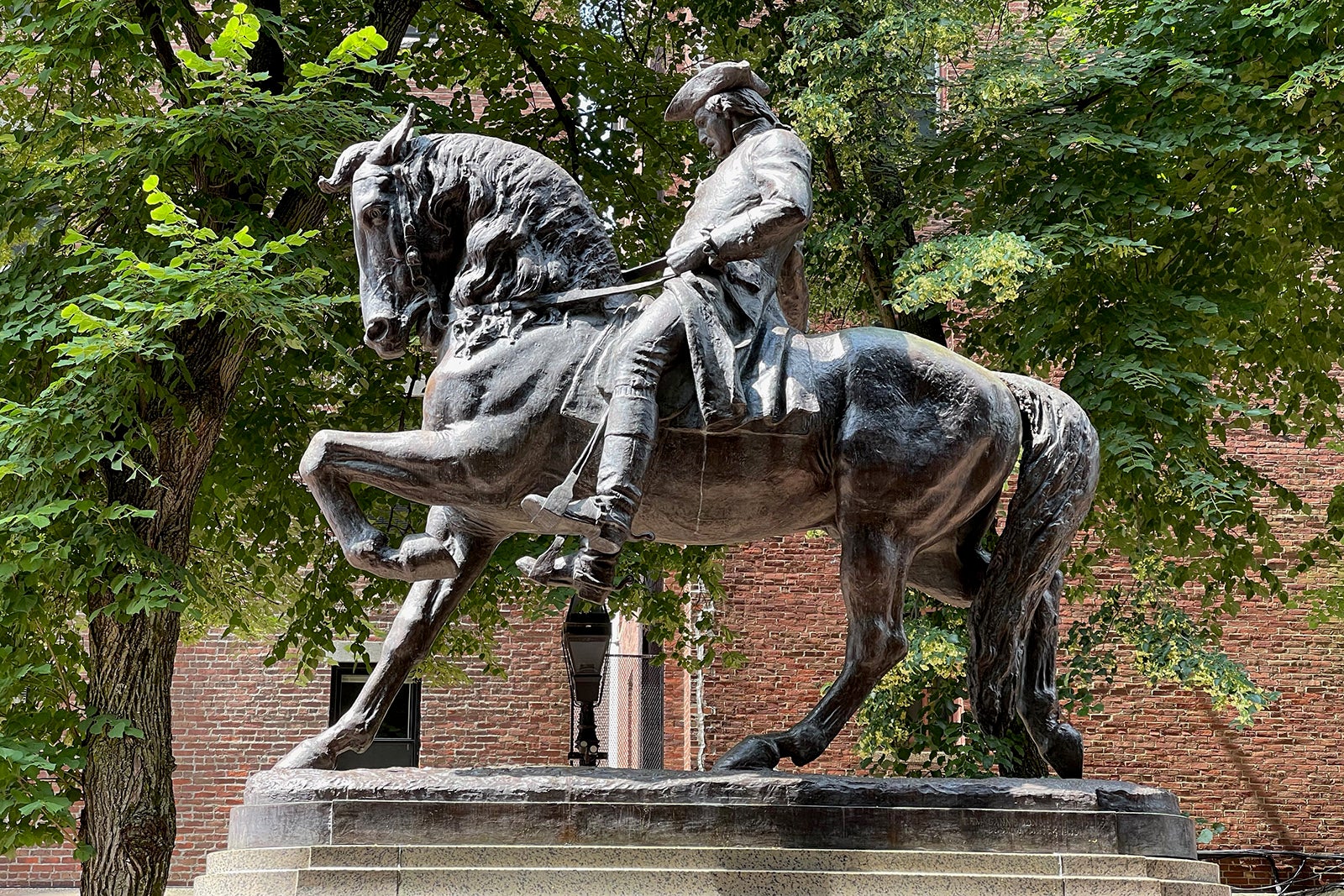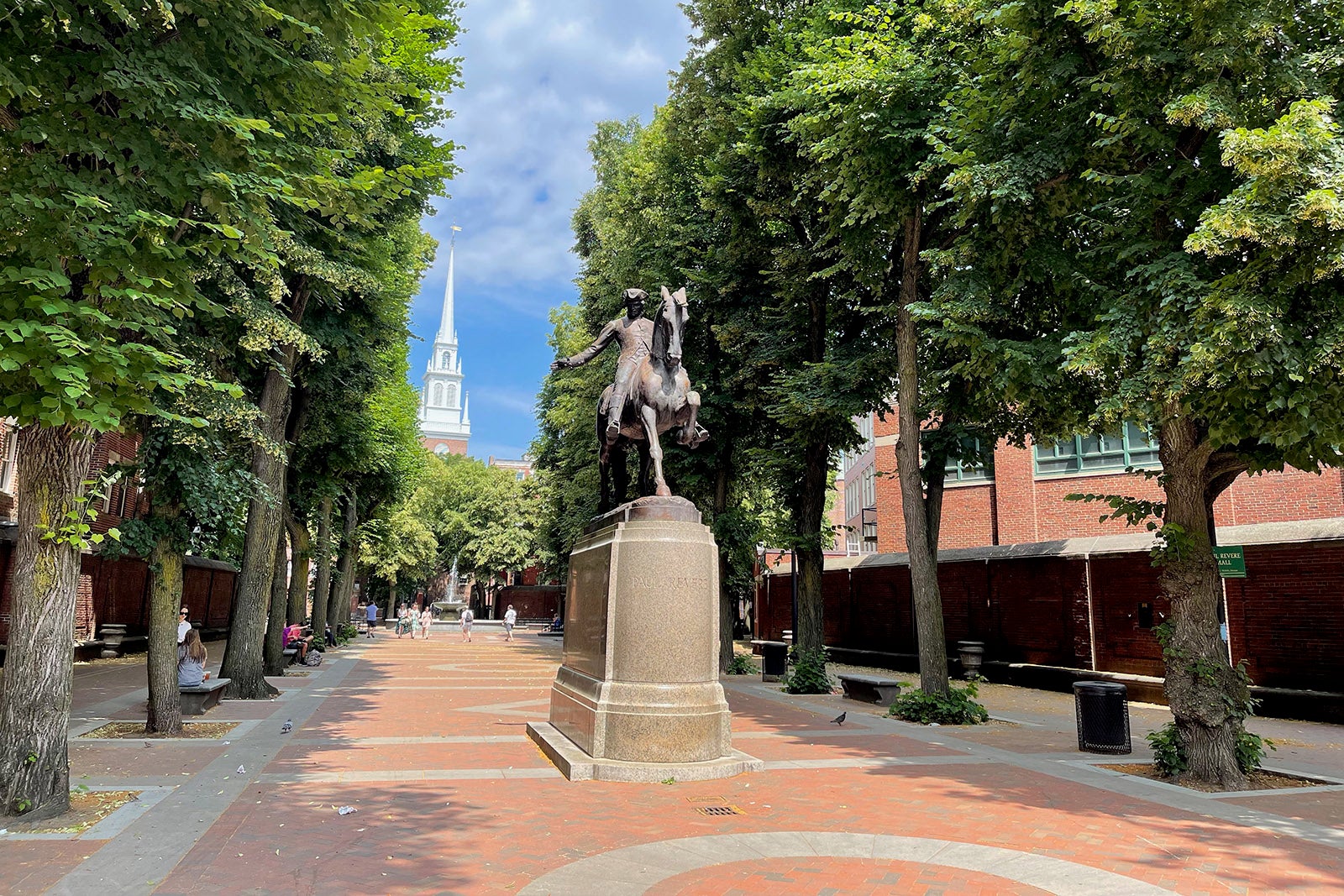 You'll find the Paul Revere Mall and statue off Hanover Street between Tilestone and Charter streets. This is a good spot for photo-taking and resting a bit in the shade. There are plaques on the walls that hem in the mall. Each discusses important former North End residents and their achievements. The mall eventually leads to the Old North Church.
Stop 6: Old North Church
Every American schoolchild learns that Paul Revere launched his famous ride in 1775 from Old North Church (193 Salem Street). You can view the Christ Church, which was established in 1723, for free from the outside. If you want a tour inside, it will cost $5 per person (kids under 6 are free).
As you walk from Old North Church to your next stop, you'll need to put a bit of oomph in your step to make it up the hill. It's not too intense of a climb, but it's something to keep in mind if you're touring with someone that has a mobility issue. Just take it slow and steady — especially if it's a hot summer day or a snowy winter day when the sidewalk might be slick.
Stop 7: Skinny House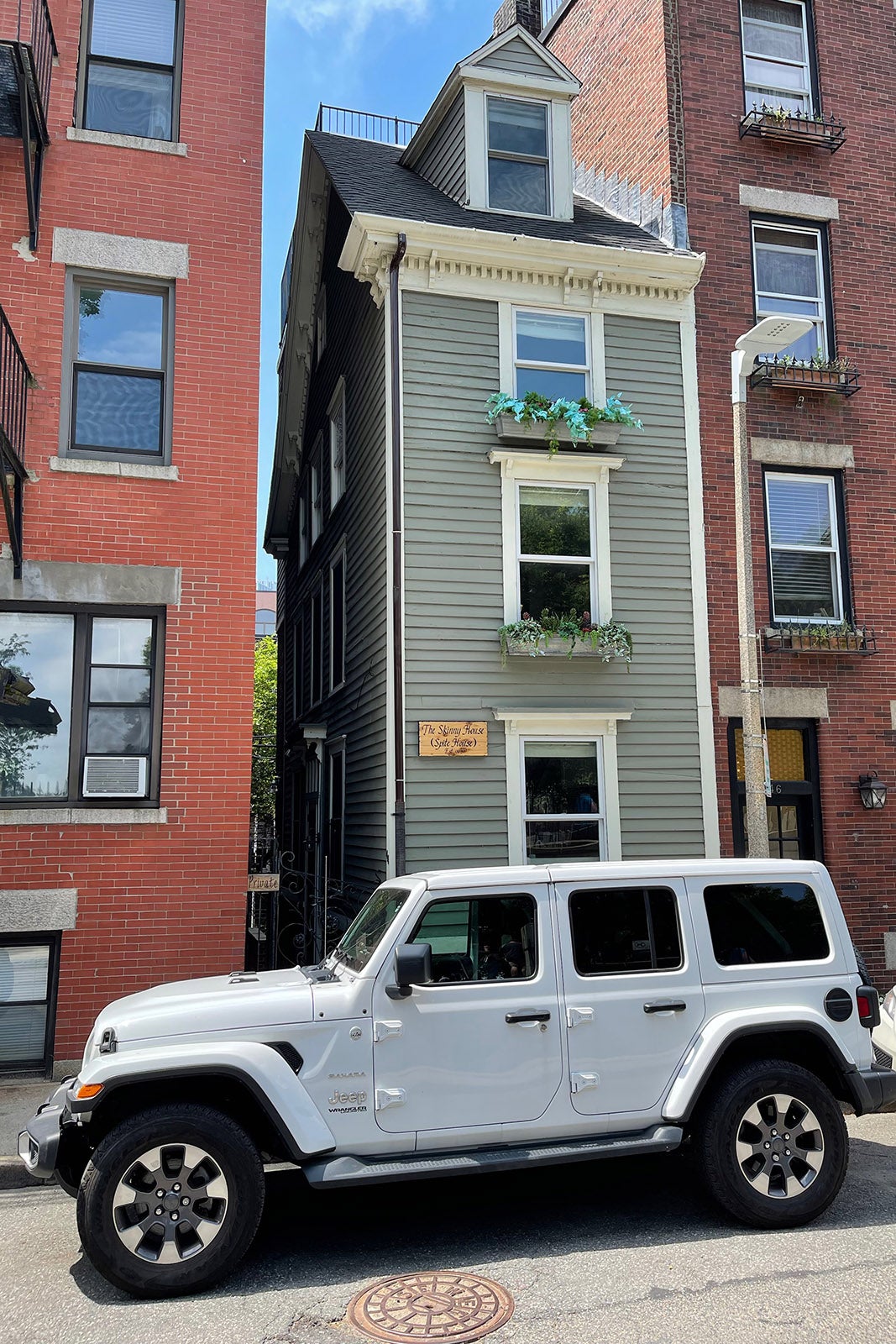 Your next stop is Copps Hill Burying Ground, and you'll find the entrance across from what's known as the Skinny House (44 Hull Street). The aptly named four-story home is supposedly the narrowest building in Boston — 10.4 feet at its widest point.
It was originally built by a Civil War veteran as a "spite house" after his brother spent all of their inheritance and left this sliver of land on which he could build.
Stop 8: Copps Hill Burying Ground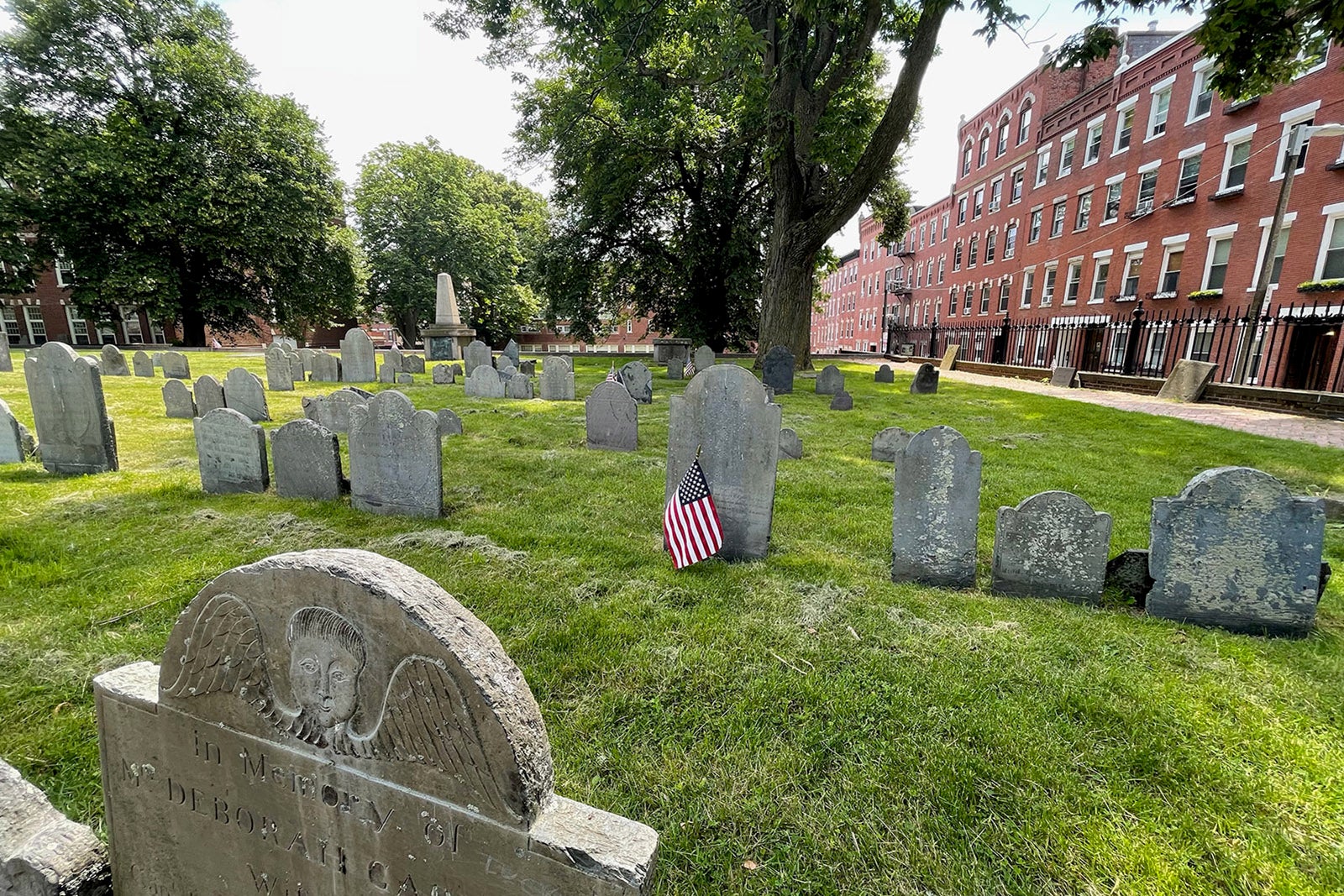 Since the pandemic started, I've spent a fair amount of time working on my family's genealogy. And while it may seem strange to walk around a cemetery, there is something so meaningful about taking time to read the tombstones and think about what each person's life must have been like.
Copps Hill Burying Ground is Boston's second cemetery and goes back to 1659, long before my family immigrated from Italy. As you read the markers, you'll see that this is the final resting place for craftspeople and merchants who lived their lives in the North End.
From the cemetery, you can see the USS Constitution, another stop on the Freedom Trail, at the Navy Yard at Charlestown. In the distance, you'll also see the North Washington Street Bridge at Lovejoy Wharf.
Stop 9: More pizza, bread and pastries
Your tour of the North End is winding down now. Continue along Hull Street and then take a left onto Snow Hill Street. Follow that to Thacher Street to finish off your tour with amazing food.
Regina Pizzeria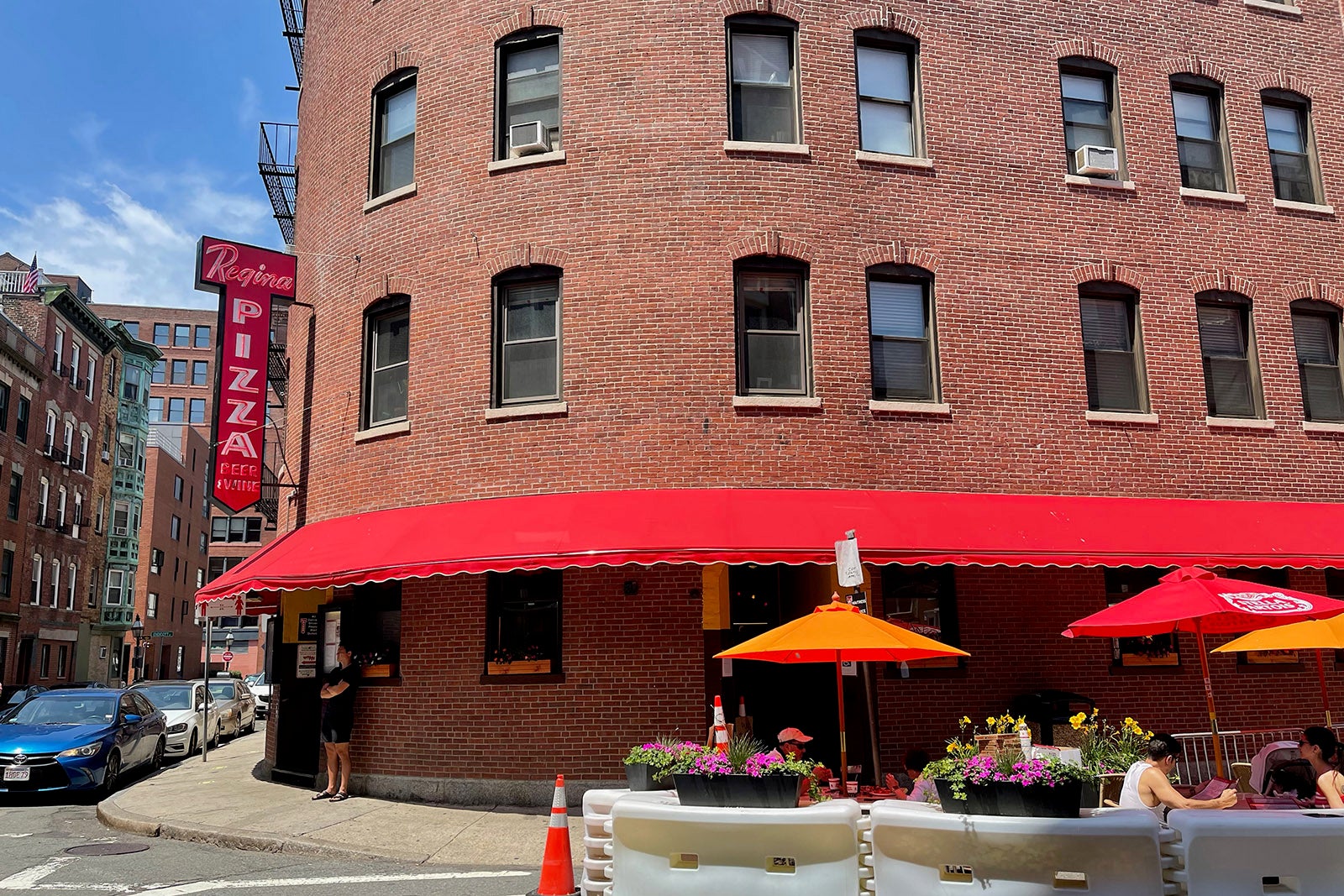 This is the famous Regina Pizzeria (11 1/2 Thacher Street) that's been serving up thin-crust, brick oven pizza since 1926. If you prefer thick squares of Sicilian-style pizza, skip Regina and wait until you hit Parziale's Bakery.
Parziale's Bakery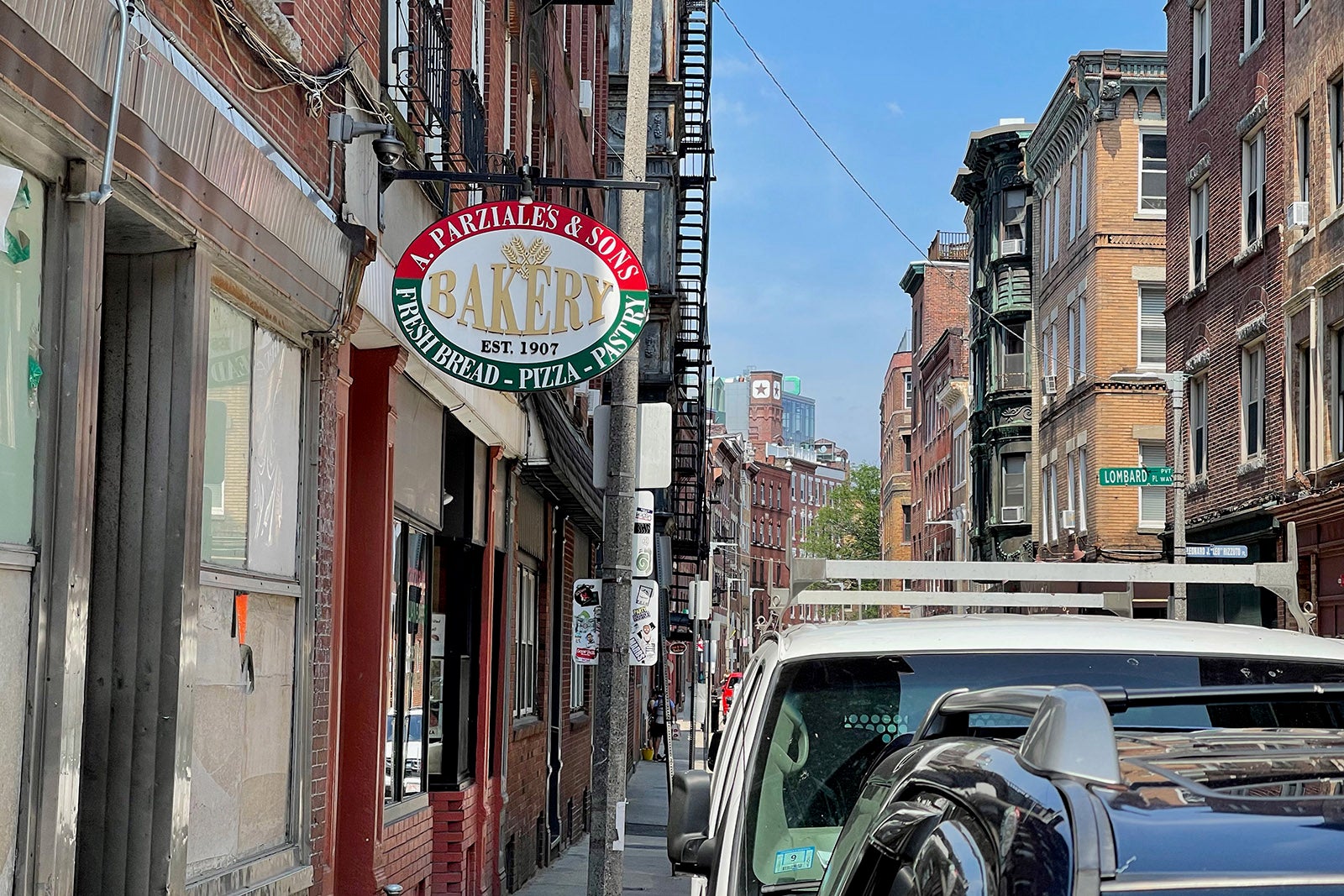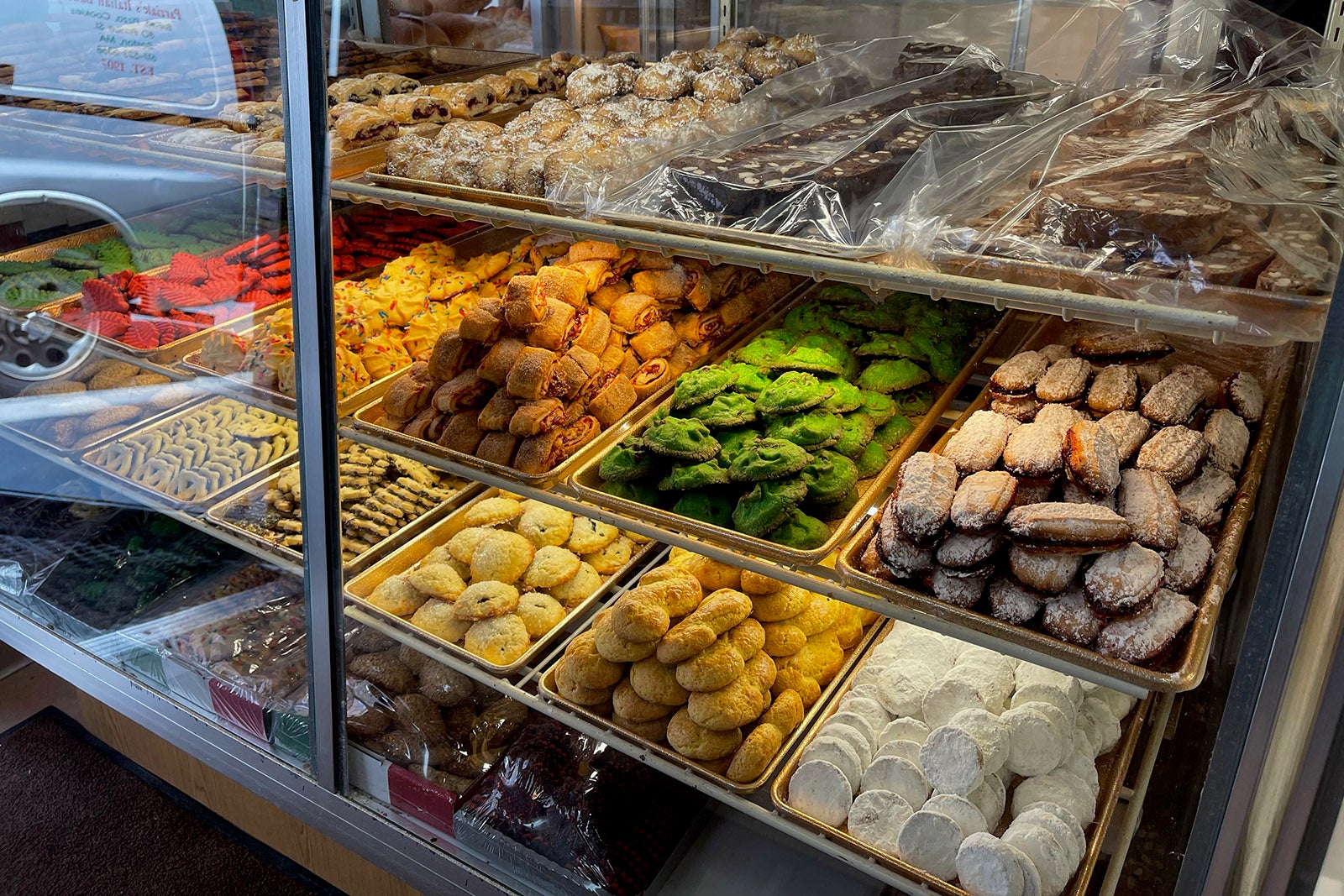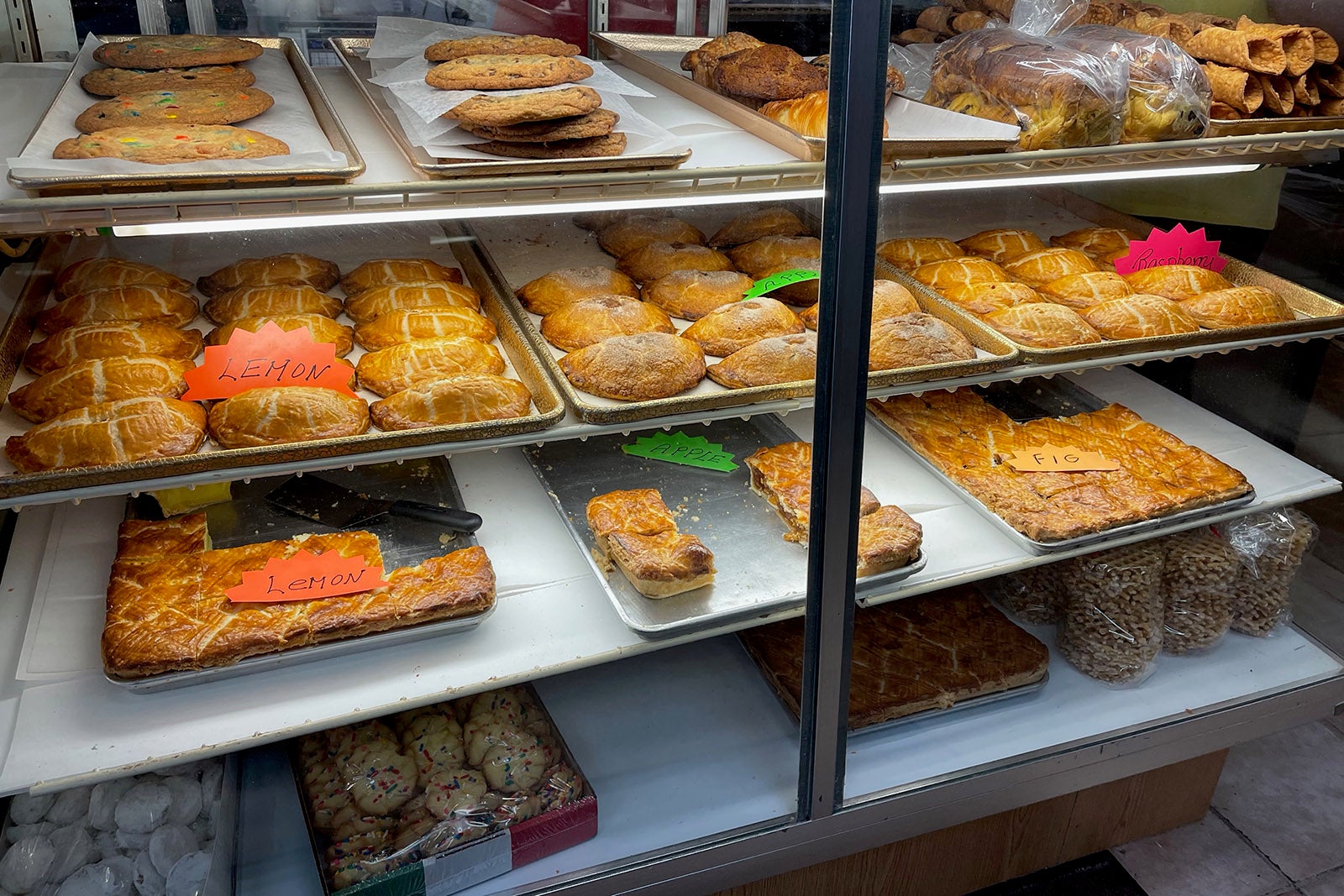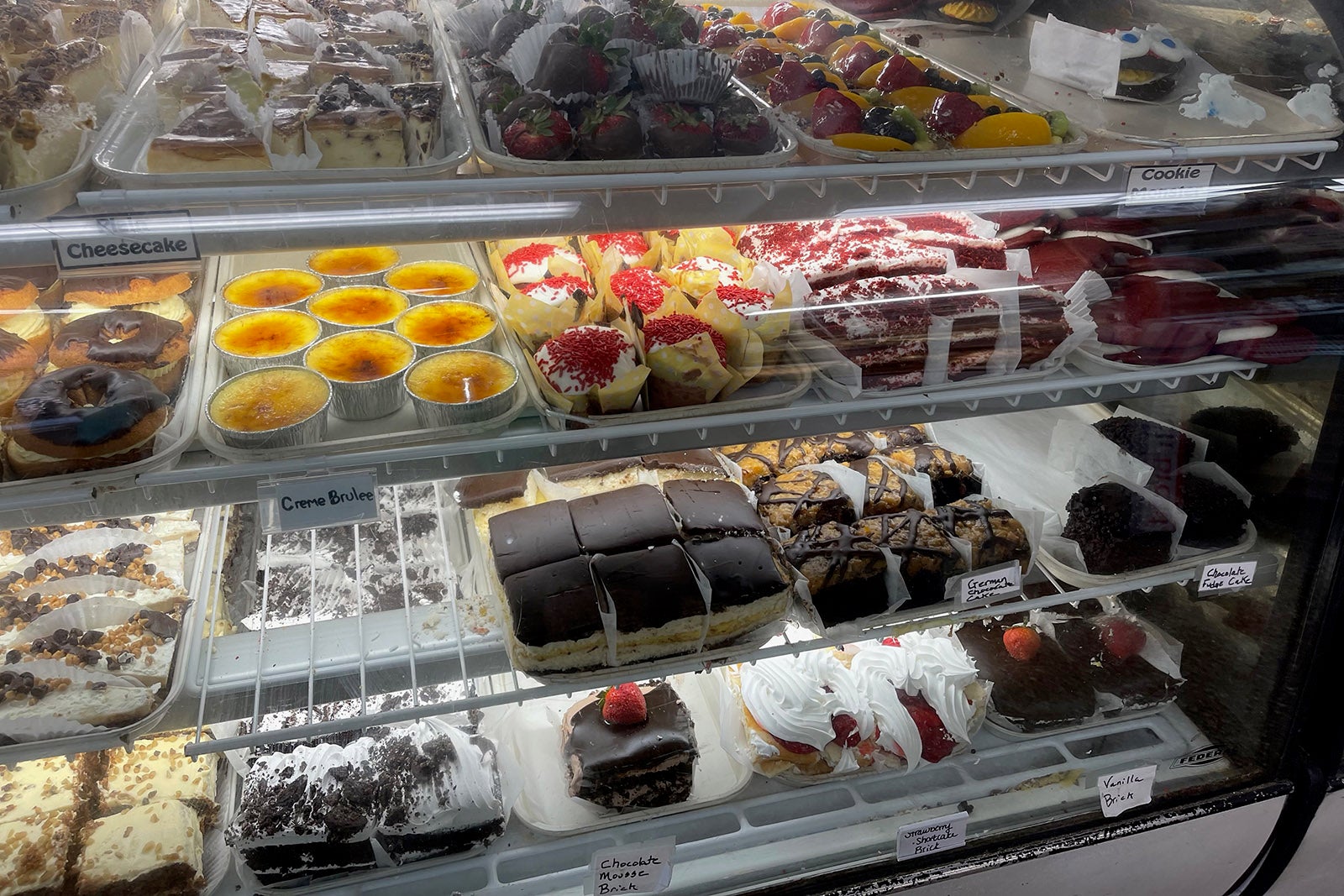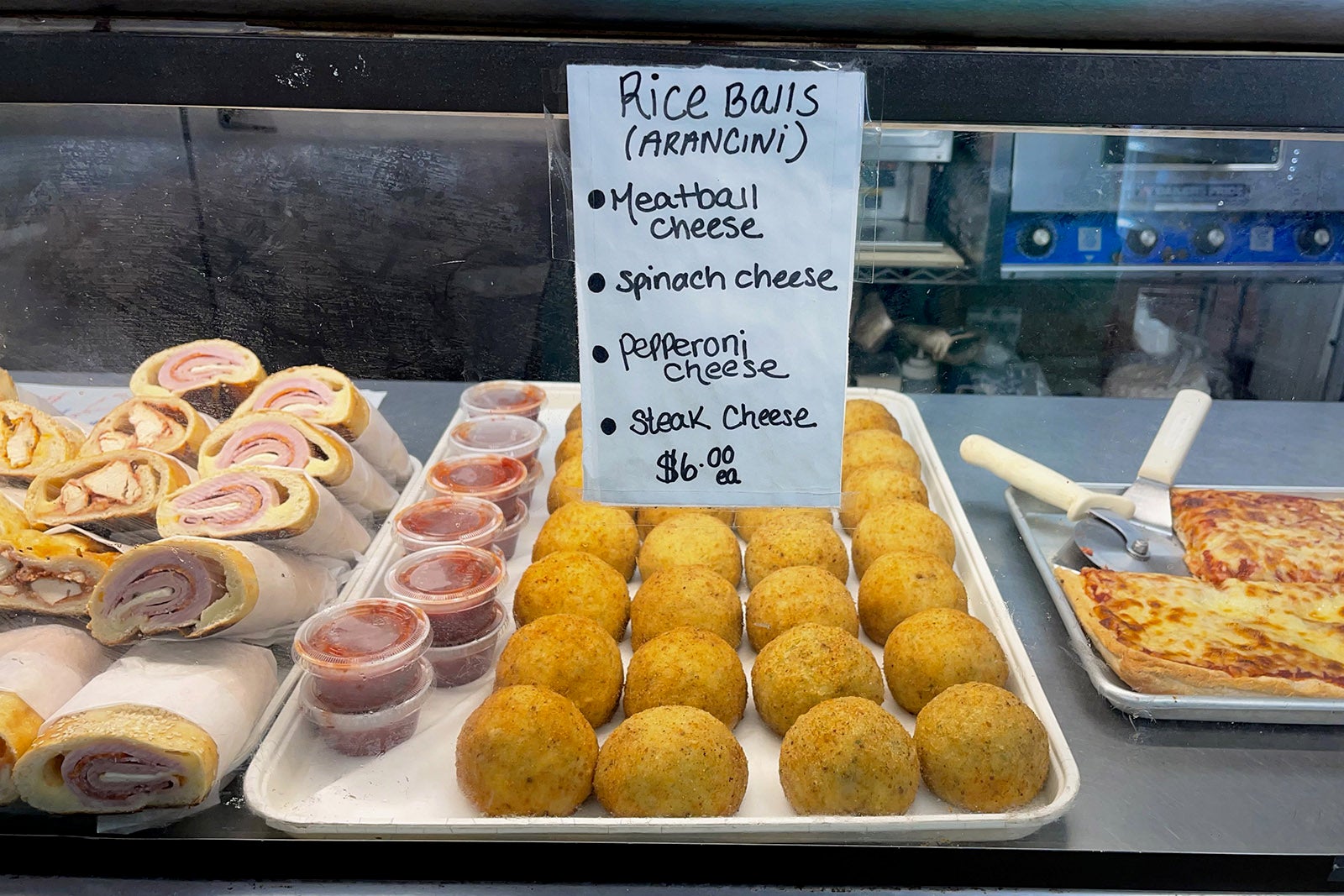 Head back the way you came on Thacher Street and take a right back onto Prince. Then walk 1.5 blocks and look for Parziale's Bakery on the right side of the street (80 Prince Street).
This may have been the bakery that my nana would have visited. She was born in 1902, and the Parziale family opened a bakery at 7 Charter Street in 1907 after arriving from the Naples area of Italy.
Today, the bakery — now on Prince Street — serves dozens of types of bread, Sicilian pizza squares by the slice or tray (half or full) and, of course, cookies and cannoli shells. This is my favorite place to buy cannolis since the bakery only fills the shells to order. That keeps the pastry crisp (because nothing is worse than a soggy cannoli).
Bova's Bakery
Right around the corner is Bova's Bakery (134 Salem Street), and you have to stop here, too. The bakery serves up many different types of bread. In the springtime, the Easter bread is absolutely delicious. I'm also partial to the lobster tails, and my husband swears by the tiramisu.
Bottom line
I love the North End. It's compact enough that nearly anyone can effectively tour all the sites in a manageable amount of time. And, if you like to browse shops, stop at bakeries or enjoy a leisurely meal, you will love this Boston neighborhood, too.
Featured photo by Andrea M. Rotondo/The Points Guy.