Create your own Custom Design with Euro Kitchen Cabinets
If you have the means, building one-of-a-kind Euro kitchen cabinets are the way to go! This will ensure you're having all your needs met, and create a unique space in your home that will make you happy for years to come. Using timeless pieces like Euro kitchen cabinets means your custom kitchen will look chic and fresh for years!
Why Use European Kitchen Cabinets?
European-style kitchen cabinets are a popular choice in many kitchens. They have a sleek, clean design that makes them timeless yet modern. The frameless cabinets also provide additional storage space, which is always important in a kitchen! With a simple look and strong functionality, these kitchen cabinets are the perfect way to start your custom kitchen.
How to Plan Your Custom Kitchen
When creating a custom kitchen, you have the power to start from scratch! While it can be freeing, it could also make the choices seem overwhelming. Start by taking stock of your current kitchen to see what works and what doesn't. For example, you may love your kitchen island with bar stools for eating and entertaining, but find your dishwasher is too far away for clean-up. Make a list of your must-haves, your want-to-haves, and your nice-to-haves.
Next, you'll want to create a floor plan, either by yourself or with a designer or contractor. You'll need to create a scale drawing out kitchen with the doors and windows, and then you can start to add in your cabinets and appliances. You can move things around until you find the right flow, and get a layout that works best in your kitchen.
What's Your Home's Style?
While you're thinking about what you want in your kitchen, you can also start to plan how you want it to look. If the rest of your house is clean and modern, you might want to opt for a modern or contemporary kitchen to match. You can also start thinking about what style works best for the space you have planned. For example, a big kitchen with lots of natural light can easily be farmhouse or Scandinavian style. If you have unique features planned in your kitchen, you can create a style around it. For example, if you're planning an exposed brick wall, an industrial kitchen will fit perfectly with that design. 
Find the Right Euro Kitchen Cabinets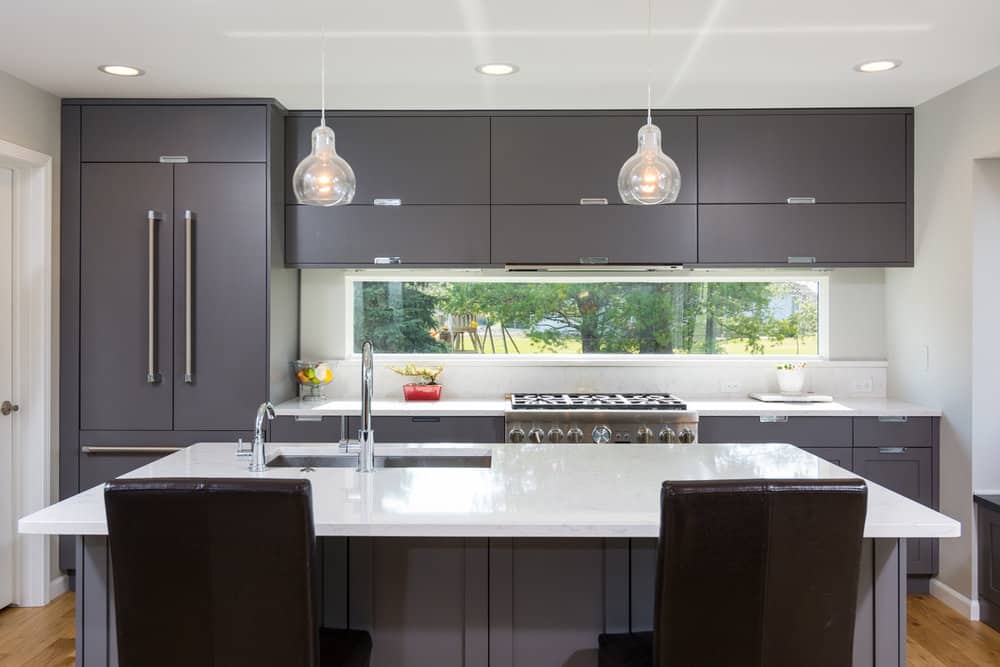 You don't have to just customize the kitchen around your cabinets — you can customize the cabinets yourself. You can add extra storage and functionality to make sure this kitchen suits your needs perfectly. 
There are lots of extra add-ons you can use to give your Euro kitchen cabinets more storage space. For example, you can add rollout drawers to your vertical lower cabinets, or outfit them with pull outs or door mounts. These options can help you store extra cookware, garbage bins, cleaning supplies or even food storage. Similarly, you can add racks to higher cabinets to house your spices, measuring cups or utensils. 
You might also want to consider adding extra lighting to your cabinets. Under cabinet lights are a great resource as they can add task lighting for any food prep. You may want to add dimmable lights so you have the perfect amount of lighting when grabbing a midnight snack!
It's especially important to add storage options if you're going to have a more modern or contemporary kitchen design. These styles thrive off of clean lines, so a cluttered countertop won't do. You can add small appliances in an appliance garage, or build larger pieces like microwaves or dishwashers behind a door. This will keep your kitchen looking minimalist and classic.
Don't Forget The Fun Stuff!
At this stage, you can go back to your list of wants and needs to see if there are any more custom ideas that you need in your kitchen. For example, a large family might want to make sure they have a sizable pantry and lots of storage for non-perishables and snacks, while someone who entertains a lot might want to make sure there's a bar cart or wine bottle organizer installed into their home. This is your dream kitchen after all! If you can include a few of the unique pieces that will make this space perfect for you, now's the time to go for it.
Selecting Your Cabinet Materials and Finishes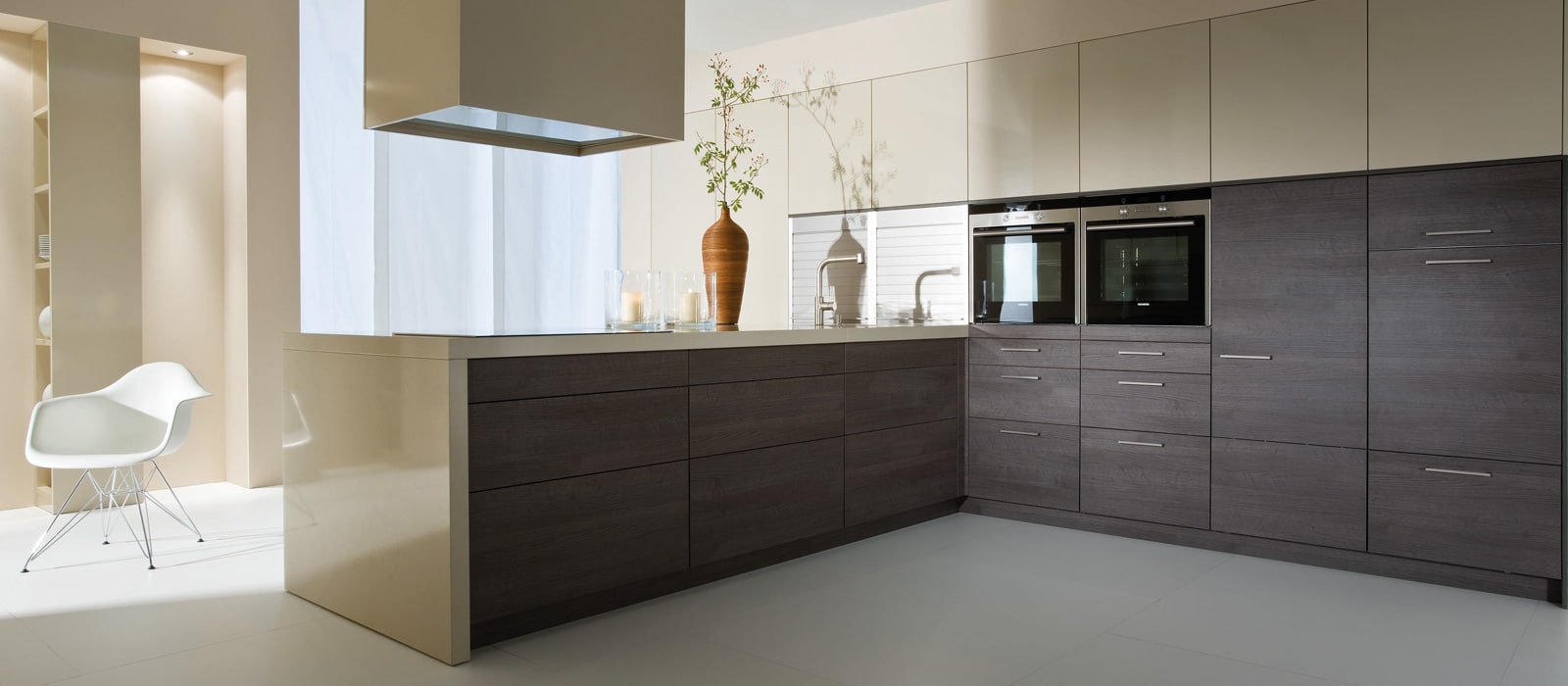 Once the general look and layout of your kitchen is starting to take shape, you can start to drill down into the details. For your European kitchen cabinets, you can start to select the material and finish. A strong hardwood is typically your best bet as it's the most durable and can be either stained or painted. 
Keeping them in a natural hardwood looks best in Scandinavian style kitchens, as well as farmhouse or French country styles. For more modern, industrial or contemporary kitchens, you might want to opt for painted cabinets instead. White and grey are classic and versatile choices, but depending on the style of your kitchen you may want to try a bolder hue like red, navy blue or black.
Finishing with Counters and Floors
Your budget and your needs will continue to be the driving force in choosing the materials and finishes for the rest of your Euro kitchen cabinets. For example, wood requires more care and upkeep to keep it looking good over the years, so it may not be the best choice for a big family with lots of kids and pets. Instead, you might want to opt for an easier-to-maintain material like laminate for your countertops and floors.
If you want to go for something splashy and spectacular, you can get a stone countertop in quartz or marble. These are high-end materials that will have a price tag to match, but they are incredibly durable and will stand up over time.
Once you have your layout set, and your big items like cabinets, countertops and floors all ready to go, you can start assembling your custom kitchen!
The post Create your own Custom Design with Euro Kitchen Cabinets appeared first on Best Online Cabinets.