Designer Picks: Hottest IKEA Design Trends
IKD designers share some of the hottest IKEA design trends
It's summertime, and the only thing hotter than the weather are this year's IKEA design trends. In fact, we at IKD think it's the perfect time to pick one to upgrade your kitchen!
That's why our design team would like to share some of the hottest design trends we see happening in IKEA kitchens. These trends include open storage (including wine storage and shelving); organization options, such as an appliance garage; and incorporating islands with convenient space for all of your cookbooks. All ideal for the avid cook!
Even if you've spent considerable time researching examples of kitchens on design Web sites like HOUZZ and Pinterest, we anticipate that there will be ideas here you may not have considered. And, even better, these ideas will improve the value of your kitchen without busting your budget. (IKD has recently been referenced by Martha Stewart Living as experts on how to reduce kitchen renovation costs.)
That said, we invite you to check out how some of the hottest (and coolest!) trends to improve the style — and function – of your IKEA kitchen.
Let's take a look!
Open Storage
Proper use of space is always an important design consideration, so it's no surprise to see IKEA customers asking for ways to maximize their space. Therefore, open storage is a really hot trend in IKEA kitchens right now.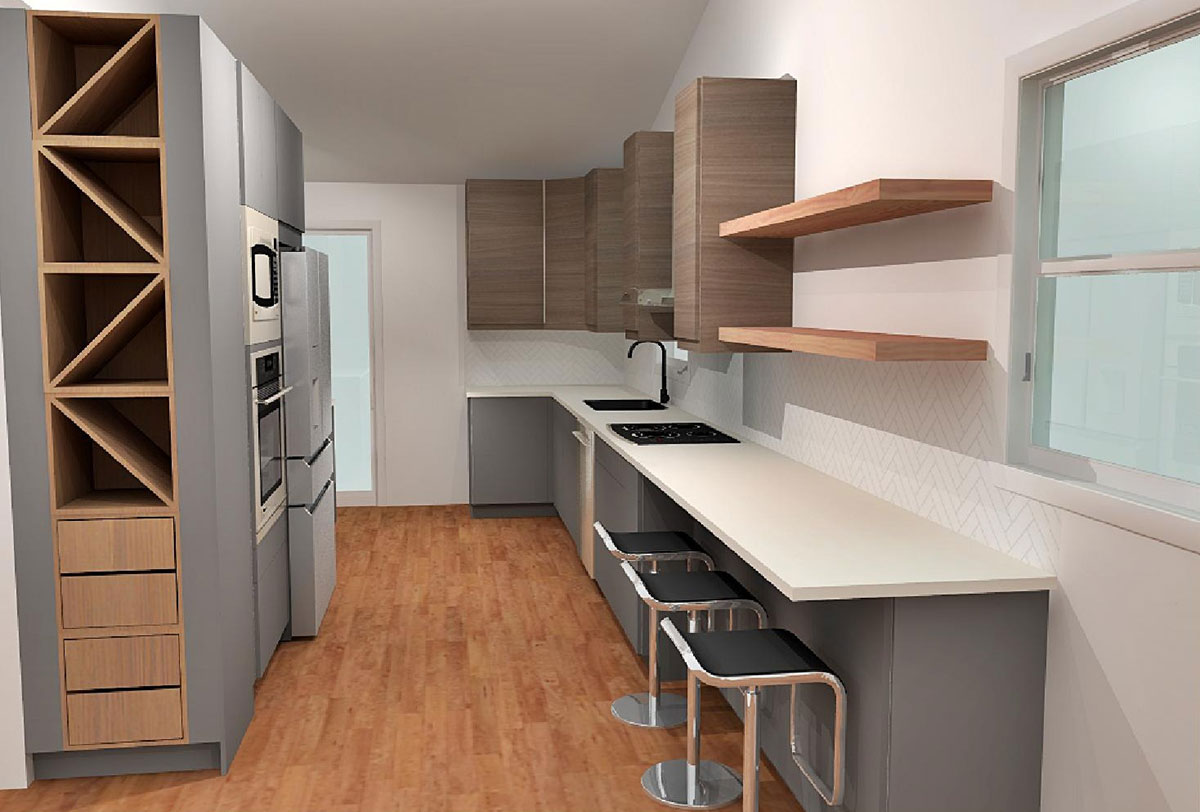 So if you're looking for cabinet choices to go with IKEA's SEKTION cabinetry framework, then look no further than IKEA's VADHOLMA wine storage. Available in either 9"(W) x 30"(H); 9"(W) x 40"(H), or 15"(W) x 15"(H), VALDHOLMA is often combined with IKEA's LERHYTTAN or KUNGSBACKA doors or Supermatte Night Sky Shaker doors from Semihandmade. Suitable for traditional and modern applications, VALDHOLMA adds a unique element to the layout and provides storage solutions for wine bottles or can even be used as a shelving (as it can be stacked up vertically to meet your specific needs). This makes it a very desirable option, one that is applicable for the kitchen as well as other rooms, such as a dedicated IKEA wine room.
Custom IKEA Design Trend Styles
Needless to say, custom design options for the kitchen are always in style, and this year is no different. (By the way, our success with custom designs is one reason why we've been recommended by The New York Times as a design resource for customers considering custom doors for their cabinets.) So, if your taste is more of a mix-and-match style, you're very much on trend!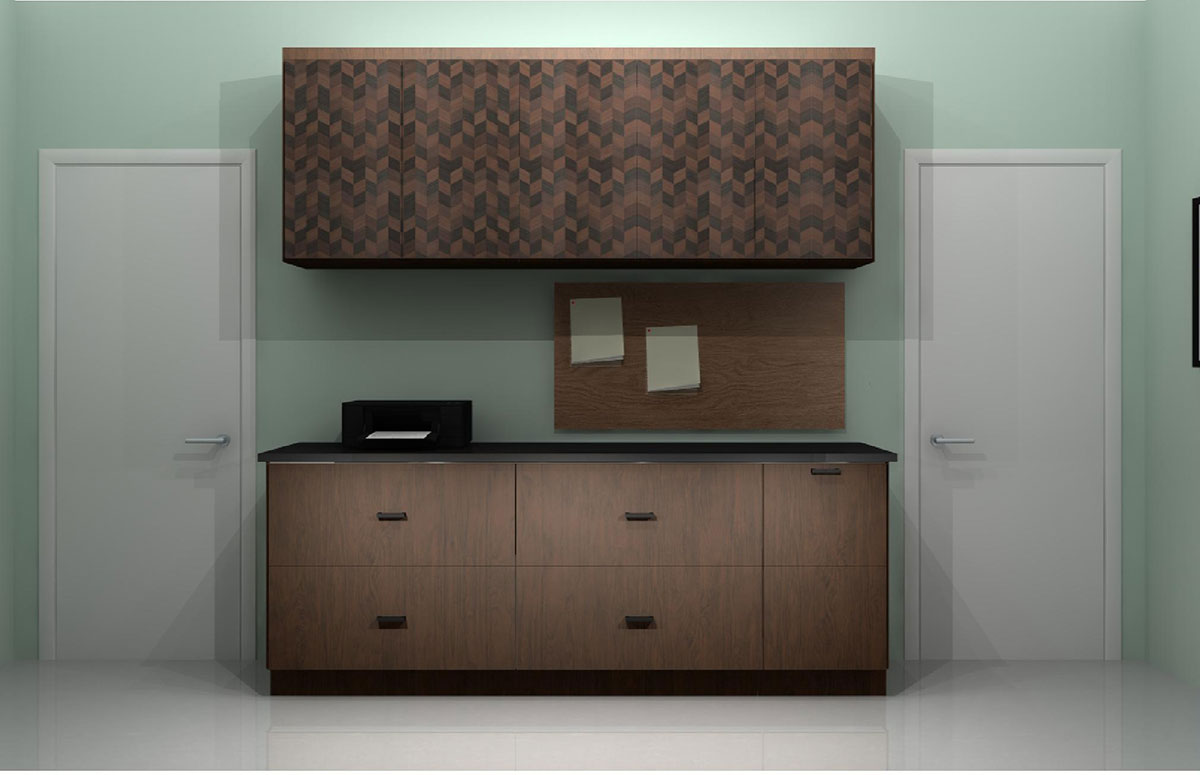 That said, the IKEA HASSLARP door style can be combined with IKEA's SINARP Brown door style for a custom look. One of the reasons the HASSLARP door is popular among IKEA customers is as an accent door it offers a checkerboard-style pattern that personalizes a space and creates a unique transitional theme. The IKEA SINARP Brown door style provides a faux-style wood look which adds a sense of warmth along with ample storage options for pots and pans, among others.
Appliance Garage
Along the same line, an appliance garage provides unique storage opportunities. Simply put, an appliance garage is a "house" for small appliances, usually located in convenient locations within the kitchen.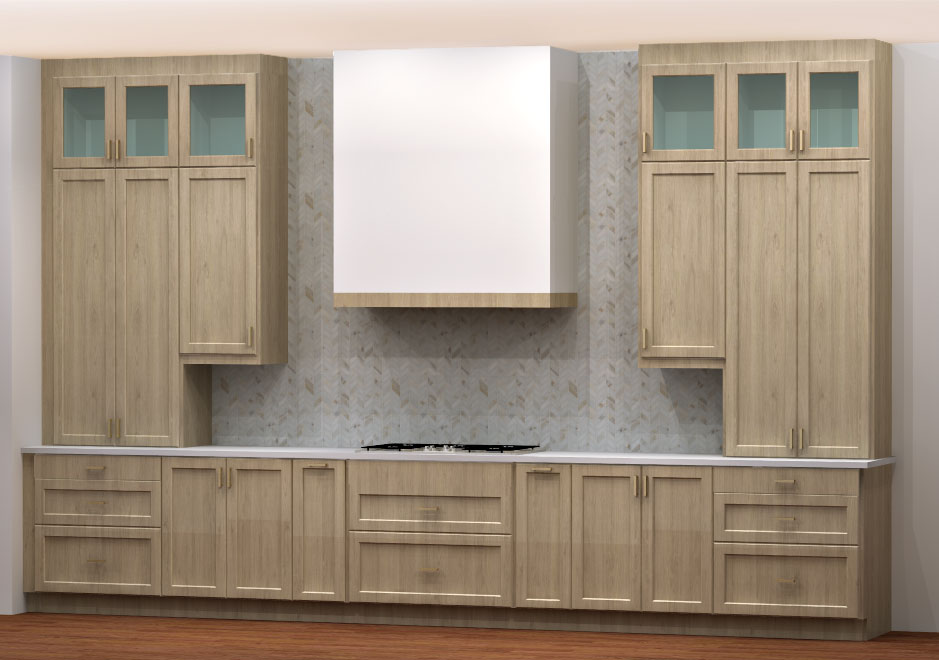 IKD designer Florence explains: "A lot of people ask for an appliance garage because they are trying to keep clutter off the countertop. It allows appliances to stay within reach, but out of the way."
Specifically, an appliance garage falls under what we like to call IKEA "hacks", which provide custom modifications to IKEA cabinets to solve even the toughest design dilemmas. Put another way, it's a special cabinet built to house kitchen appliances, like toasters, blenders, food processors and stand mixers.
One of the reasons hacks are necessary for appliance garages is that IKEA's SEKTION line does not include an out-of-the-box appliance garage. However, with our design team at the helm a tall pantry cabinet with standard IKEA doors, for instance, can be turned into a more-than-serviceable appliance garage. (And yes, you can use custom doors from Semihandmade or another third-party provider as well).
Island With Open Storage
Lastly, one of the biggest IKEA design trends we're seeing is incorporating kitchen islands with open shelving. So in a way, this trend is a combination of the other kitchen trends we've discussed.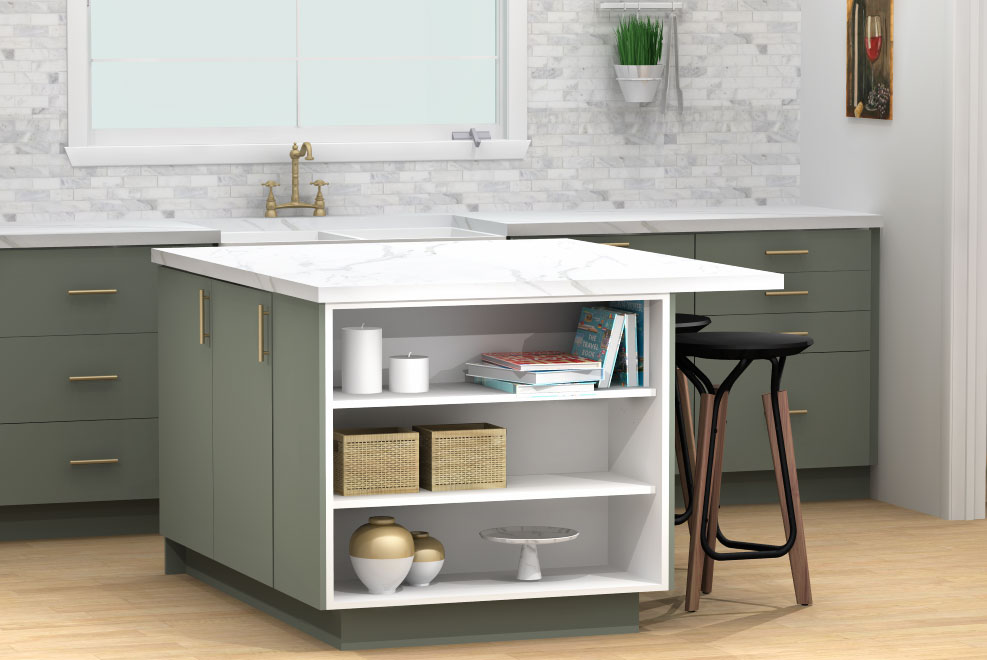 In one recent IKEA kitchen we designed for IKD customers Joe and Samantha from Burlington, VT, our team took a standard IKEA wall cabinet frame (with no doors) and used it as a bookshelf. "Our family spends a lot of quality time cooking together, so when we realized we could include a center island with open shelving for our cookbooks (and cutlery), it was a no-brainer. We're so glad we took IKD's suggestion because it's made our kitchen so much more efficient and stylish!" Samantha says.
As you can see, today's IKEA design trends really speak to good space management utilizing ample open storage; custom style and plenty of functional options for all of your family's needs. By incorporating these elements, you'll be able to enjoy an IKEA kitchen remodel that works for you — and our team is here to help make that happen!
Learn more about how we can design your IKEA kitchen, bath, laundry room and other rooms at inspiredkitchendesign.com.