How To Hang A Leaf Blower In The Garage
Whether it's a large backpack leaf blower or a slim electric model, there are several great options for storing a leaf blower in a garage. 
This article will cover several ways to store your leaf blower, so it's off your garage floor and (maybe) out of sight. All you need to do is consider your garage layout and pick the best option. 
---
How To Hang Or Store A Leaf Blower
I use my leafblower for much more than simply blowing leaves out of my garage. 
Unfortunately, leafblowers have become increasingly clumsy to store as they get bigger. 
So, what are some of the best storage options to help you clear up some high-value floor space? 
When picking an option for your particular blower, cater your solution around what type of leaf blower you have. Small, hand-held blowers are considerably easier to hang or sit on a shelf, but you may need to be more creative with large gasoline blowers.  
Option 1 – Use A Wall Storage System
A modular wall storage system is one of the neatest options, which works exceptionally well with smaller blowers.  
All you need to do for this option is add hooks or a shelf to your storage system that is the right size to support your blower. The advantage of this option is that it can accommodate all of your tools, not just your leafblower.   
One thing to remember is not to put too much weight on your storage system. 
When you put too much weight on a single floating shelf, it only damages one thing. If you put too much weight on a wall storage system, your entire tool collection will come down with it. 
Similarly, avoid using cheap, low-quality wall systems. They typically have hooks that angle or bend downward under heavy loads causing your blower to slip off the hook. 
Ensure the hooks and shelves are nice and square and sit snugly in the system. It goes without saying not to use a hook or shelf that is too small.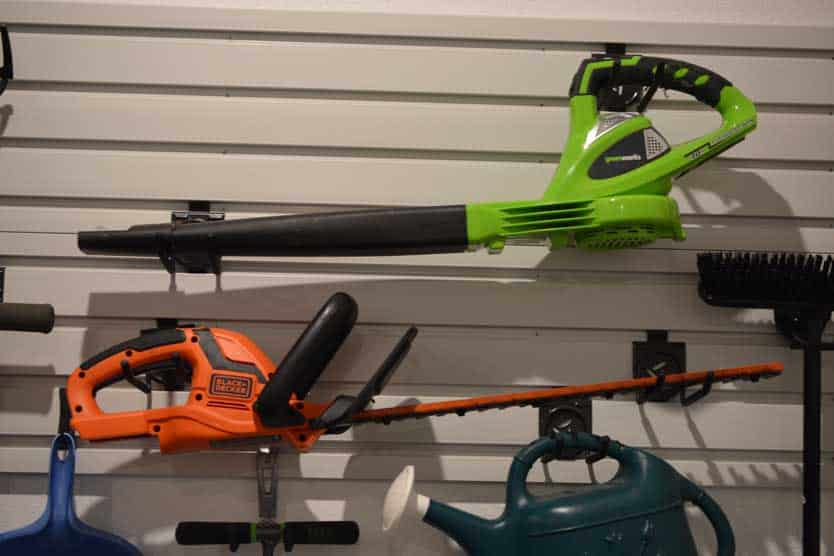 Option 2 – Use Standing Shelves
Standing shelves are a quick and clean option when you don't have the time or money to set up a storage rack. 
Standing shelves are typically sturdier than a storage system because they don't rely on wall anchors to keep your tools from falling. They also give you more breathing room to store those clumsy large blowers.
I'll admit, standing shelves don't look nearly as good as a wall storage system. It's also easy to fill your shelves with junk, expecting to find a permanent home for it later. 
Keeping them well organized is crucial.  
Option 3 – Use A Ceiling Rack
Both shelves and a wall storage system suffer the same potential drawback: sufficient floor space. This is especially true for large blowers that are bulky and have a surprisingly large footprint. 
You will need a different option if your garage is too narrow or short. 
That's where overhead storage and ceiling racks come in. 
You can get creative when placing a ceiling rack and designing one that fits your garage layout. 
Ceiling racks typically consist of a frame supporting a wire shelf to store things on top of. Some manufacturers include hooks or shelves suspended from underneath. 
They're perfect for garages that don't have enough space to accommodate standing shelves and your car. They allow you to raise items above your car with ceiling racks on either side.  
Storing your leaf blower on a ceiling rack puts it out of sight and out of mind. The drawback is that it'll be harder to reach, possibly requiring risky finagling with a ladder. 
Hanging your leafblower underneath the ceiling rack makes it easier to reach but more visible. 
If you opt for this option, double-check your leafblower's manual. Not all blowers can be hung by their handles.  
Stihl blowers, for example, have a secure hooking point at the back between the shoulder traps where you should hang them. 
Option 4 – Hide It In A Cabinet
The neatest option is to store your leafblower in a cabinet, especially if you have a spare cabinet that's large enough.  
Like shelves, the risk of cabinets is that they can quickly become messy if you aren't careful. To help prevent this, you can mount metal hooks to the back of your cabinet. This can support smaller units by themselves or hold the hose and nozzle of backpack blowers.   
This way, your blower has a fixed and dedicated space in the cabinet, and it'll be less likely to get cluttered. If you can keep your cabinet storage neat, it also means you can store more stuff inside. 
Option 5 – Buy A Specialized Bracket
Depending on your leafblower model, specialized hangers or mounts may be available. This is the ultimate solution. 
When you have a specific wall mount for your leaf blower, you can easily store it in a designated location, making it easier to find and access when needed. This can be especially useful if you have limited storage space.
It also offers better protection for your leaf blower, ensuring it fits securely on the mount and reducing the risk of damage due to accidental drops or impacts.
---
Blower Storage Tips
Like any power tool, poorly storing your blower can be bad for its longevity, so follow these tips to extend your blower's lifetime. 
If you have a gasoline-powered leafblower, avoid storing it for the winter with fuel in the tank. Gasoline deteriorates over time, becoming a sticky gel-like mess, allowing sediment and impurities in your motor. Store your blower with an empty tank if possible.  
Always clean your blower after use. Using your blower will likely create dust and debris in the air, which may lead to some of that sticking to your machine. And, as the saying goes, a clean tool is a happy tool. For example, this debris can easily block the air intake, making your blower work twice as hard and shorting its life. 
Finally, don't store a gasoline-powered blower upside down. Small-form gasoline motors are gravity fed, so it's never a good idea to be upside down. 
This can cause fuel and oil to flow in directions they're not supposed to. 
---
Wrapping It Up
There are several options to hang or store a leafblower. 
If you have floor space, then shelves or a wall storage system are great options that look neat and keep your tools together. 
Or, if you have the height, you can opt for a ceiling rack which is great for keeping things out of the way. Alternatively, you can always use a cabinet. 
Having a designated place to store your leaf blower can help you keep your garage or storage area more organized. You can create a safer and more efficient workspace by eliminating clutter and keeping your leaf blower in its proper place.
The post How To Hang A Leaf Blower In The Garage appeared first on Garage Transformed.