How to Organize With Shower Caddies In & Out of the Shower
Who knew shower caddies could be so useful in getting you organized and corralling all your household clutter? Get your home straightened out and car in order with these simple, but genius, shower caddy organization tips.
Shower caddies are handy things to use in your shower. They can hold supplies like shampoo and conditioner bottles, razors, soap, shaving gel, and all the other things you need to use during your shower.
But sometimes they don't end up in the intended spot. Make you tried one, and it didn't work. Maybe you bought a caddy on impulse and it didn't fit where you thought it would. Whatever the case may be, you may have a few random shower caddies in your home or in the basement. You're going to love this post because we have some great ideas for those shower caddies that will make your life easier! It's a painless way to get organized!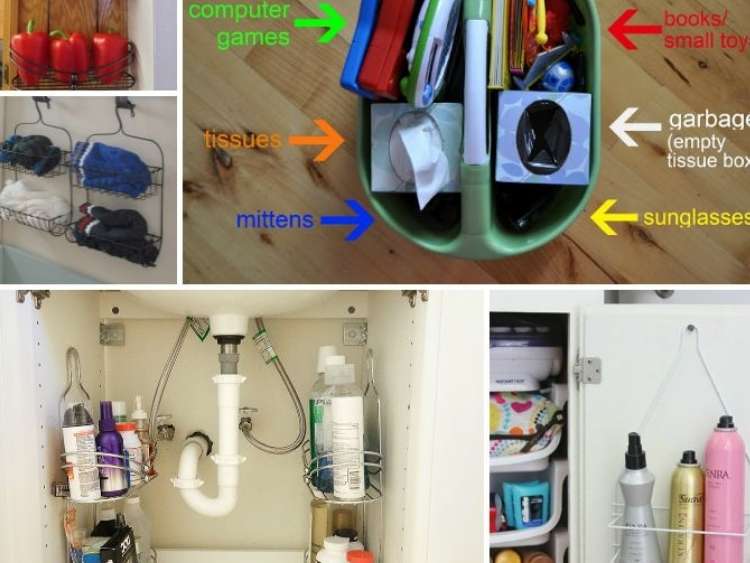 Super Smart Shower Caddy Organization Hacks
We have a couple of spares because we didn't like them for our bathroom. Little did we know how shower caddies could be so useful in other rooms of the home! Keep your kids organized in the car or tidy up around the house with these shower caddy hacks and tips.
Here are 21 crazy helpful, must know tips for getting your house and your family organized with shower caddies. You'll wish you had known about theses tips sooner because they make life so much easier!
1. Get your mudroom organized with a shower caddy!
No more dropping mittens and hats on the floor. Everyone has their own space when you assign a shower caddy to everyone in your family to store hats, gloves, scarves and backpacks in the mudroom. So easy, even your little ones can pick up after themselves.
2. Clear Kitchen Counter Clutter with a Shower Caddy
Clear up your kitchen counter space when you store produce in a wire shower caddy to keep it off your kitchen counters. It's still within easy reach, but you have more working space for meal prep.
3. Keep Movie Night Snacks In Their Place
Family movie nights will be stress-free when you give each kiddo a caddie with his or her own drinks and goodies (Thanks to reader Sabrina for sharing this photo with us on Facebook) This will keep the kiddos from fighting over which bag of candy belongs to who and it will help keep spills to a minimum.
4. Clean Up Your Car
No more messy minivans! A grab and go shower caddy works great as a car organizer for the kids' toys, books, sunglasses, tissues and other miscellaneous items in the car. You can set the caddy next to the child and they will be able to reach their own things when they need them.
5. No More Mess Under the Sink
Shower caddies aren't just for the shower. You can also use them under the sink and it can make a world of difference in your bathroom organization! No more knocking over cleaners or toiletries to find what you need. It's all right there, neatly contained.
6. Hang Your Shower Caddy On the Door
When you brought home your shower caddy, did you discover it didn't work in your shower? Is it too big for your cabinet? Not a problem. You can trim it down to fit inside your cabinet door. A custom storage unit!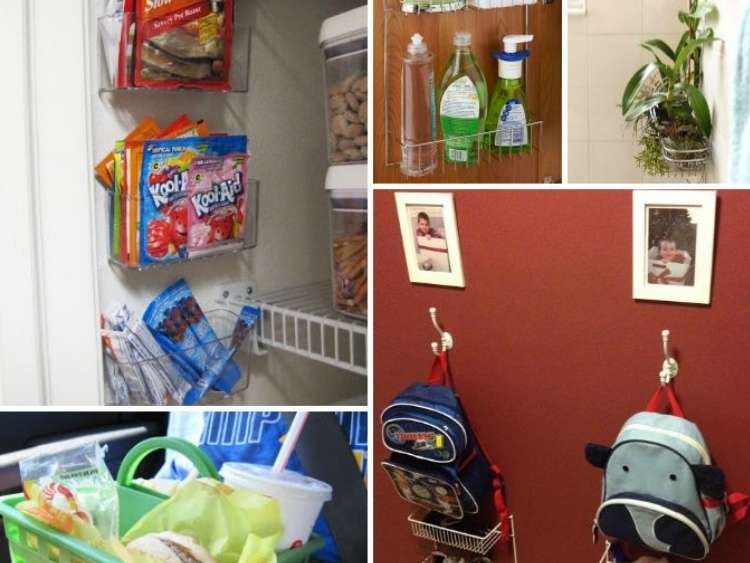 7. Use a Shower Caddy Under Your Kitchen Sink
Get an over-the-door wire organizer for a fraction of the price by using a shower caddy! Use it to organize the kitchen sink. Smart idea for storing extra dish detergent and sponges. And no more knocking things over when you need something from under the sink.
8. Kids' Organization With a Shower Caddy
Create a kids' organization station on the cheap with a couple of hooks and some shower caddies trimmed to fit your space. Hang backpacks up and keep shoes off the floor. Clever!
9. Make a Bathroom Garden
Hang a little garden in your bathroom with a loofah, flowers and a shower caddy. You need just a few supplies for this one.
an orchid (or other suitable plant)
a wire shower caddy
a bath sponge
and air plants
When you get it finished, you'll have a pretty hanging plant in your shower.
10. Make a Fast Food Tray for Road Trips
If you're often eating on the go or you do a lot of traveling with your family, a shower caddy makes a brilliant fast food tray, especially for the kiddos. It will give them some independence and save your sanity by keeping the mess to a minimum.
11. Gather Like Items Together In Your Pantry
These caddies are actually not shower caddies. These are the smaller caddies you use at the kitchen sink. They are ideal for storing seasonings and other small food items in the pantry. No more losing packets of taco seasoning or finding drink mixes from 10 years ago. You can keep everything together, neatly, in one tidy space. This is such a great idea!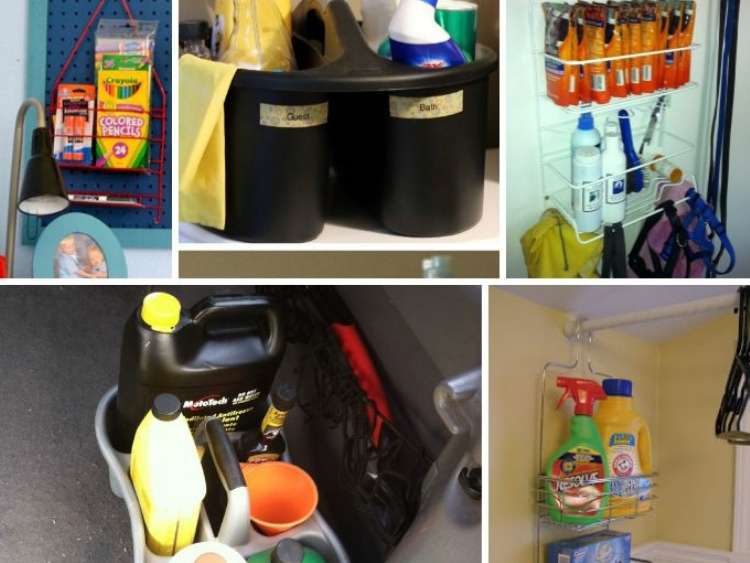 12. You Can Even Organize Your Pets With a Shower Caddy!
Animal lovers and pet owners can keep shampoos and brushes, and all the other pet products tidy in a shower caddy. You can even hang your dog's harness and leash on it! No more tripping over them where they lay tangled up on the garage floor. Oh, is that just me?
13. Drive Safer With a Shower Caddy
Be ready for a road trip anytime with a caddy full of motor vehicle fluids for your car. It's a handy way to keep oil, antifreeze, windshield washer fluid and more organized and in one spot. No more rolling and sliding around in the trunk of your car.  Just grab them when your car needs a top-off and off you go.
14. Keep School Supplies Organized
Put a caddy full of school supplies near your homework station so the kids have their crayons, calculators, pencils, etc. handy when they need them. No more excuses for them to get up and run around instead of getting their work done. It will be a sanity-saver for you!  And frankly, your junk drawer will love you for it too – no more pencil-stuffed drawer.
15. Keep Your Laundry Supplies Together
Add a shower caddy to your laundry room to hold your stain removers, fabric sheets, and detergents. This keeps them organized and out of your way so you have more room to sort and fold your laundry. It's also good for keeping the products out of the reach of children.
16. Save Time and Effort When Cleaning!
This is the super-duper granddaddy of all the tips! Create a cleaning caddy for each room so you never have to go looking for supplies! While it might seem a little indulgent to have one for each area of your house, it will save you time and effort! And as Abby points out, it's a great excuse to break out the Washi tape and label maker!
17. Organize Your Hair Care Supplies
Hang a shower caddy on the door under your bathroom to keep the bottles of your hair products together. No more digging around, knocking over bottles of lotions and creams and sprays to find the ones that belong in your hair! Your hair care supplies will be nicely contained in one neat area.
18. Pool Side Shower Caddy
Organize your outdoor pool supplies like sunscreen and sunglasses with a shower caddy! This fun tip will keep those supplies from sliding into the pool or cluttering your poolside tables. And no more having to run back into the house for the forgotten sunscreen!
19. Shower Caddy Spice Rack
Use a small shower caddy in the kitchen to organize your spices. This is especially handy if your kitchen is short on cupboard and drawer space. You can keep all those little bottles and containers together and no more tipping them over as you attempt to reach the ones you need for your dinner.
20. Use a Shower Caddy as Kitchen Decor
Shower caddies aren't just for keeping things organized. They can add a fun and decorative twist to your kitchen decor. Handy for holding things, and it's really pretty to look at.
21. Craft Room Organization with a Shower Caddy
Use a shower caddy as a ribbon dispenser! This will be especially convenient if you're one of those crafters with an endless supply of ribbon in your craft room. You also use it to hold other small craft supplies.
Genius Shower Caddy Hacks To Make Life Easier (and More Organized)!
Did you love these shower caddy ideas? Shower caddies are such an inexpensive and simple tool to help you clear the clutter and keep like items together wherever you need them in your home. Next time you are out, be sure to pick up an extra caddy so you can put it to work right away. Or order a shower caddy right now so you can get started today!
Did You Love These Shower Caddy Organization Tips and Ideas?
Here Are More Home Organization Tips:
The post How to Organize With Shower Caddies In & Out of the Shower appeared first on DIY House Hacks - One Crazy House.